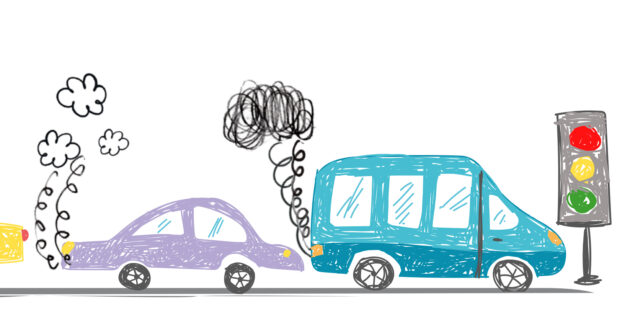 One of Scotland's leading experts on air pollution from traffic has backed calls by parents for councils to do more to protect children from harmful car emissions.
Professor Jill Belch of Dundee University, who has led key research into the link between pollution and hospital admissions, says local authorities must do more to identify the extent of air pollution around schools and find ways to reduce it.
She says the first step to understanding the extent of the problem would be to install an air quality monitor outside every primary school.
Her calls are backed by the Royal College of Physicians of Edinburgh and environmental campaign group Parents For Future, which fears children are being harmed by emissions from heavy traffic from main roads and motorways.
Last month, the Scottish Government published its Air Quality Improvement Plan, which recommended making every local authority draw up and publish an air quality action plan.
But Belch says both the Scottish Government and local authorities need to go further.
"Scotland has done well to have the highest air pollution regulations in Europe, but the World Health Organisation (WHO) now recommends even lower levels," she said. "The air quality plan is a good initiative, that the councils have to draw up their own plan.
"However, it is important that these are looked at by experts to ensure that they're adequate. There also has to be monitoring to ensure that the plans' timelines are achieved.
"The big problem with asking for reports is how they are assessed. Every council has to put in an annual report on all the Air Quality Management Areas they have, but some of these reports are absolutely worthless.
"For example, 'we have held a public consultation', or 'we have put in a bus stop". The annual reports go in but I don't believe anyone assesses their content.
"I also believe that ­failure to reduce air pollution to legal limits should be followed by obligatory low emission zones (LEZs).
"LEZs are extremely effective in reducing pollution but councils are hesitant to install them because of the cost of number plate recognition, cameras, monitoring these cameras and issuing appropriate fines.
"The problem with schools is that no-one monitors them and we do not know the air quality around them. This is why we are calling for monitors. It is very likely that the schools below Glasgow's busy Kingston Bridge which are not in an LEZ will have unacceptable levels of air pollution but the only way to know this is to monitor them."
Belch, a grandmother of two, added that levels of harmful particulates were the lowest in Europe but still above the WHO level, while nitrogen dioxide (NO2) levels, mainly produced during the combustion of fossil fuels, were around four times the WHO recommended level.
Nitrogen dioxide has been linked to asthma in children.
"This level needs to be reduced and if you look at NO2 levels in all our major cities as I did, there are under 15 streets reported where NO2 conforms to WHO advice," said Belch. "Of course, those are the streets being monitored which prompts the question of whether there are other streets where it's fine. It a huge challenge for any council to get NO2 to WHO levels and we should certainly try."
Primary school children are thought to be particularly at risk because of their higher breathing rates, and their shorter height puts them closer to car exhausts.
"Funding monitors for schools besides busy roads and motorways may be expensive, but we are talking about the health of our children here and that is vitally important," she said. "We are damaging our children in their most vulnerable years."
Belch's team's research reports that deaths from air pollution in the UK are higher by a factor of 10 than from car crashes but awareness of the effects of pollution is lacking in local governments. Admissions to Ninewells Hospital in Dundee and Perth Royal Infirmary peak on days with high pollution levels recorded. Evidence also reveals that post-mortem reports of children killed in accidents show levels of pollutants in their brains and livers.
Unborn babies have also been found to have chemicals in their brains because of the air their mothers breathe.
Scotland's first LEZ is set to come into effect in Glasgow next month. Vehicles that do not meet emission standards will no longer be able to enter parts of the city centre – and owners face fines which can run to several hundred pounds per day.
Further zones are planned in Edinburgh, Aberdeen and Dundee but the zones only apply to older vehicles. In general, only petrol vehicles registered before 2006 and diesel vehicles registered before September 2015 will be banned.
The Scottish branch of Parents For Future says councils need to properly monitor air quality around schools – and take action to improve it. The group said: "Air quality monitors need to be in schools and placed where parents drop children off. That only makes sense if there is a clear commitment to action on these results. Otherwise, it will be greenwashing. Safe school streets and alternatives to driving must be our aim for children."
The group pointed out that WHO air quality levels were constantly being broken, adding: "Creating safer streets for schools by reducing traffic and closing off those streets is vital."
Jacqueline Higgins, a parent at Swinton Primary in Glasgow, which is sandwiched between the M8 motorway and an Amazon warehouse and is six miles outside the new LEZ, said both of her children developed asthma.
"Like many parents, I desperately want the quality of air my children breathe in their school playground monitored," she said. "Nothing matters more than our children's health. Evidence firmly points to the effect toxins from car exhausts does to our children's vital organs."
Parents and doctors are calling for lower bus and train fares and better transport links in Scotland. "Until this happens, there is little incentive for people to drop their car usage," Ms Higgins said.
Three years ago, a coroner in London made legal history by ruling that air pollution was a cause of the death of a nine-year-old girl.
Philip Barlow, the inner south London coroner, said Ella Kissi-Debrah's death in February 2013 was caused by acute respiratory failure, severe asthma and air pollution exposure. He said she was exposed to nitrogen dioxide and particulate matter pollution in excess of WHO guidelines, the principal source of which were traffic emissions. The coroner said the failure to reduce pollution levels to legal limits possibly contributed to her death, as did the failure to provide her mother with information about the potential for air pollution to exacerbate asthma.
Liam Kerr, Scottish Conservative Shadow Energy Secretary, said: "The committee's recommendations were for measures that would ensure action on emissions was evidence-based and effective.
"But since they will have to be brought in by councils who have seen their budgets slashed by the SNP-Green government, the devil will be in the detail.
"The overblown rhetoric from SNP-Green ministers must finally be matched by resources and support that will allow improvement for air quality around schools."
Cosla, which represents Scottish local authorities, said: "Councils fully understand the link between air quality and the health and wellbeing of communities.
"The LEZs being created in cities across Scotland and the work by councils to encourage walking, cycling and wheeling, shows the commitment of local government to improve air quality, tackle greenhouse gas emissions and to improve health and fitness. Schools and education establishments also do their part by encouraging an active lifestyle and making it easier for pupils to get to school without a car.
"The climate emergency demands major changes in lifestyle and behaviour and the school run cannot be exempt from this change. No-one want to pollute the air and councils and schools will continue to work with parents so that the impact of cars on children's health is understood."
Scottish Transport Minister Kevin Stewart said: "Vehicle idling can be a source of air pollution in some areas and is of particular concern near schools or hospitals. For this reason, unnecessary idling is an offence. All local authorities have legal powers to request drivers of parked idling vehicles to switch off their engines, and to issue a fine if such a request is refused.
"Alongside the introduction of Low Emission Zones in Scotland's four biggest cities, the 2017 Programme for Government made a commitment to implement LEZs into all other Air Quality Management Areas where the National Low Emission Framework appraisals support such mitigation."
---
---
'We want our kids to breathe safe air. Who wouldn't?'
Campaigning mum of three Claire Larkin, of Mount Florida, Glasgow, explains why more parents are prepared to move their children out of schools near main roads
Parents are voting with their feet and are prepared to walk a distance to get to what they feel are schools with better air quality.

I know of mums who are now looking for quieter streets hoping their youngsters are not spending hours every day exposed to air polluted by traffic fumes.

My children's school is in a street closed off to cars and my first reaction was frustration and anger at the extra time I would need to walk them to school every day before going to work. But ditching the car on the school run meant helping to create a safer quality of air for my children and others.

I became inspired to join Parents For Future and, after looking at medical evidence on the effect of air pollution on children, I have become passionate about protecting my family and others. What parent wouldn't be?

Using bikes more and cars less is much healthier for me and the environment.

There is a growing movement of parents who rightly want a safer place for their children to thrive and control the damage being done to our planet.

Anyone who wants their children to breathe healthier air will want fewer traffic pollutants.

We must have air-quality monitors in schools and get down to the levels recommended by the World Health Organisation. We desperately need monitors to know what our children are being exposed to and to have the information to act to reduce high readings.

Children living in city areas are exposed to higher levels and, while work is ongoing to try to reduce air pollution, it is still too high.

Our children are paying the price.
---
---
Car idling for a minute fills 150 balloons of fumes
By Joseph Carter, head of Asthma + Lung UK Scotland
Despite being a place of safety where our children learn and play, it is a shocking fact that air pollution near schools can be particularly harmful as it can stunt the growth of their still-developing lungs.
They also breathe more rapidly than adults, meaning they take in more pollution. Children can also be more vulnerable to air pollution because they're closer to the ground or at face level with car exhausts – whether that's walking or in a pram or buggy. One minute of car idling, for example, can fill 150 balloons of exhaust fumes containing chemicals such as cyanide and nitric oxide.
From our recent polling, we found that six out of 10 Scots surveyed were concerned about air pollution around schools and rightly so.
Potentially 73% of schools in Scotland, nearly three out of four, are in areas above the World Health Organization guideline limits for particulate matter – the tiny particles in the air linked to domestic burning, traffic, and brake and tyre wear.
Not only can air pollution cause asthma in children when there is a sudden increase in pollution, it can cause asthma attacks and symptoms flare ups that can lead to hospitalisation.
There are an estimated 368,000 people in Scotland who have asthma with 72,000 of them being children.
We would encourage schools to check general air pollution forecasts regularly, and on high pollution days consider taking extra steps to keep children safe. This can include keeping windows closed and avoiding outside play and exercise. When you're taking children to and from school, try to walk as far away from the roadside as possible or take back streets.
There is a real and pressing need to test the levels of air pollution that our children are exposed to, especially around schools in areas of heavy traffic. We would ideally like these to be used to alert those who have a lung condition as they are particularly vulnerable.
---
---
The Sunday Post View: Monitors would allow us all to breathe a little more easily
Low emission zones will soon be introduced in cities across Scotland.
Whether they represent a cynical bid to make money from already hard-pressed motorists or form part of a genuine attempt to improve air quality is up for debate.
However, what cannot be questioned is the harm that can be attributed to excessive levels of pollution.
Across huge swathes of this country, we are blessed with remarkably good air quality.
In rural Scotland there is little to cause alarm, but in our most built-up, inner city areas it is a very different story.
Monitoring of air quality has been somewhat piecemeal over the years, but enough research has been carried out to suggest there is little room for complacency.
And fears that the youngest, most vulnerable members of our communities could suffer are entirely justified.
The first step toward tackling a problem is to admit it exists.
But how do we even find out if we have acute issues around our urban schools?
Professor Jill Belch has led key research into the link between pollution and hospital admissions and is concerned enough to suggest it would be wise to install an air-quality monitor outside every primary school.
Her calls are backed by both the Royal College of Physicians of Edinburgh and environmental campaign group Parents For The Future.
The latter organisation is calling for monitors to be installed alongside a "clear commitment" to then take action on any unpalatable results.
It is a far-from-unreasonable demand.
Post-mortem reports of young people killed in accidents show levels of pollutants in their brains and livers while even unborn babies have been found to have chemicals in their brains as a result of the air their mothers are breathing in pregnancy.
Meanwhile, admissions to some of our busiest city hospitals peak on days with high pollution levels recorded.
That should provide ample evidence to support the calls made by Professor Belch.
Low emission zones may ultimately go some way to reducing the amount of pollution our children are breathing in but the only way to find out is to ensure we have a proper system for monitoring air quality around schools.
We all like to think our places of education represent a safe environment in which to learn and play.
Yet research suggests that six out of 10 Scots surveyed are concerned about air pollution around schools. Sometimes the dangers one cannot see with the naked eye are every bit as damaging as those evident in plain sight.
When Government officials talk of protecting young citizens from harm, there is certainly no lack of warm rhetoric.
Perhaps it is time to back up that commitment with concrete action – and air quality monitors outside every Scottish school would be a fine place to start.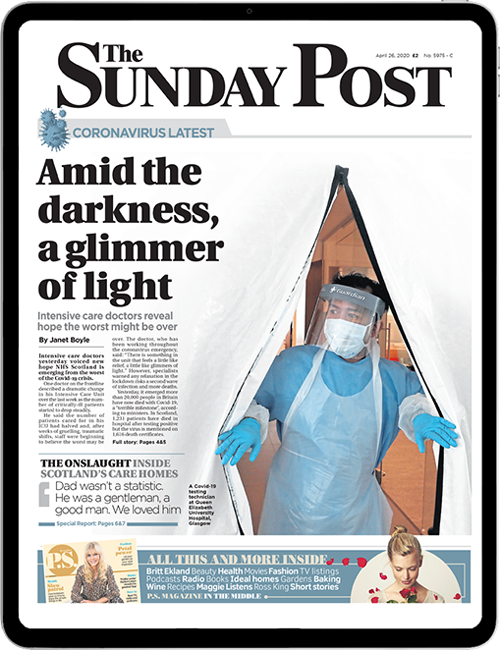 Enjoy the convenience of having The Sunday Post delivered as a digital ePaper straight to your smartphone, tablet or computer.
Subscribe for only £5.49 a month and enjoy all the benefits of the printed paper as a digital replica.
Subscribe