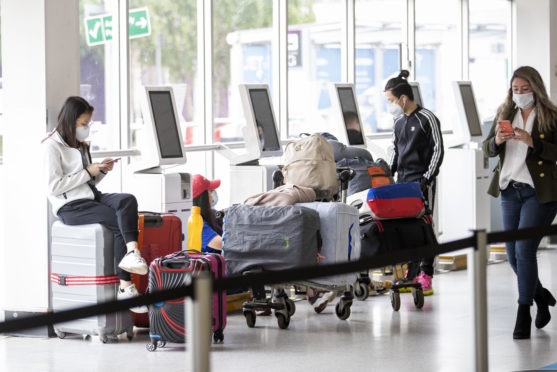 First Minister Nicola Sturgeon has announced some countries will be exempt from quarantine rules for returning travellers from July 10.
She said those travelling from the 39 countries on the UK Government's 'green' list will not have to quarantine for 14-days upon arrival into Scotland.
This includes Germany, Austria, Malta, and Australia, which have a lower prevalence of the virus than Scotland and can therefore be classed as 'low risk'.
'Amber' countries, or 'medium-risk' countries, where travellers will be exempt from quarantine from July 10 include France, Greece, the Netherlands, Italy and Poland as they also have a lower prevalence of the virus than in Scotland.
However, travellers returning from Spain and Serbia – two countries also on the UK Government's 'amber' list – will not be exempt from quarantine in Scotland due to having a higher prevalence of the virus.
She said Spain has more than 10 times the estimated rate of coronavirus in Scotland.
NS: "Let me be clear, I hope we will be able to add Spain and possibly Serbia to the exemption list, either in full, or perhaps in part, at the next review point on the 20th of July."

— The SNP (@theSNP) July 8, 2020
The First Minister said: "This has been a very difficult decision… but it is evidence driven."
The Scottish Tourism Alliance said they welcomed the "clarity" from the First Minister, but called the news that Spain is not on the list of countries exempt from quarantine a "blow".
Marc Crothall, Chief Executive of the Scottish Tourism Alliance said:
"We welcome clarity around the opening up of routes into Scotland and support the Scottish Government's risk-based approach in balancing the economic challenges with the health risks, however the news that Spain is not on the list of air bridges announced today will come as a blow to the aviation sector and our tourism industry with Spain representing a huge proportion of restart plans.
"The Spanish market accounted for 205,000 visits to Scotland in 2018 and with many Scots now expected to shelve plans to travel to the destination, it may be likely that airlines will abandon plans to capture the summer market which would have been required to avoid mass redundancies across the sector.  We are however hopeful that these both Spain and Serbia may be included at the next review point on 20 July."
Ms Sturgeon said that the lists are subject to change, and there could be a re-imposition of measures if the virus begins to get out of control again.
She added that there will not be "a way around" the quarantine rules by flying into English airports, because Scottish health officials will have the details of those who are travelling back into the UK.
The First Minister emphasised that those who travel to Scotland from countries on the approved lists will have to adhere to social distancing and hygiene measures.