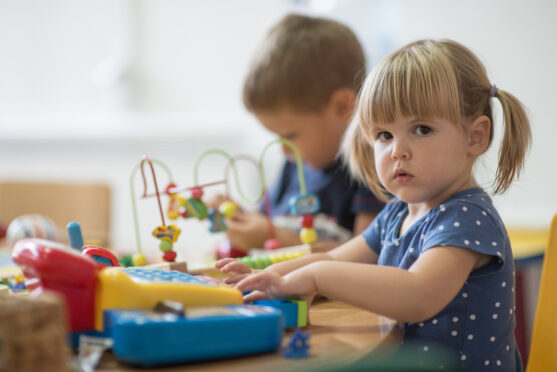 The number of pre-school children needing additional development support has surged since lockdown, a new report reveals.
Nursery staff report a rising number of pre-school Scots needing support with the lack of socialisation during the pandemic being blamed for more children failing to hit key developmental milestones.
Official analysis based on home visits by health visitors has confirmed the number of young children causing concern has climbed dramatically in recent years while teachers are reporting significantly more pupils arriving at primary with additional support needs.
The research suggests 8,097 pre-school children needed extra help in Scotland last year, up more than 1,000 on the year before, a rise of 14%.
Around one in five of all children reviewed now need extra help but early years staff say the numbers are far higher with some nurseries suggesting 50% of their children need extra support.
Areas of concern
Experts warn those numbers have serious implications for specialist services, like speech therapy and education psychology, while nurseries report a funding and staffing crisis is undermining their ability to give children one-to-one support.
Public Health Scotland (PHS) report that, overall, among children aged two and a half, there was a concern about the development of 18% compared with 15% the year before.
The increase was more notable in some areas of development, including emotional and behavioural development, problem-solving, personal and social development, and speech, language and communication.
Author of the PHS report, Lynda Fenton, a consultant in public health medicine, said the research was founded on health visitors talking to parents and checking the progress being made by children, across three age groups. She said: "It has a purpose at an individual level to make sure that children are getting the help they need but at a national level it is a way of ensuring they have the conditions to thrive.
"That's why we are concerned when we see a change like we saw last year. There is a larger number of children than we would have expected where there is a concern about the speed they are reaching key milestones."
Teachers: Young Scots' speech crisis fuels frustration and violence in schools
She said the Scottish research reflected studies elsewhere, including England, suggesting lockdown has had a significant impact.
"We looked at eight areas of development," Fenton said. "Things like vision, hearing, speech and language, emotional development, all these different areas, and what we saw was that the increase was not the same across all these areas.
"Concern increased more in those areas most influenced by the social and environmental conditions experienced by a child.
"Things like speech and language were more affected than things that might be less affected by environment like hearing and vision, which tend to be biological factors."
"We know development is influenced both by biological factors, things like genetics, pregnancy, birth, and by social environment, that is the kind of care you get, the amount of chance you get to play and explore, the amount and variety of language you hear."
Fenton said all social influences were affected during the pandemic, adding: "Things like closure of early learning and childcare, limitations on interaction with wider family, playgroups. Within the family unit, there were pressures and stresses and money concerns. All of that will have influenced the environment a child was growing up in. Those two-and-a-half-year-olds are clearly in the most affected group."
The proportion of Scots children whose development in one or more areas raised a concern was 19% in 2013/14, the first year of the survey, but steadily fell and was 14% pre-pandemic. Last year, it had climbed back to 19% with the number of children with additional needs climbing from 7,071 to 8,097.
In January, The Sunday Post revealed a survey of nursery nurses by the Royal College of Speech and Language Therapists found almost 90% had seen a rise in the number of young children struggling to talk or understand basic language since the start of the pandemic.
Fenton said: "It is helpful sometimes to reflect on those absolute numbers especially when we are thinking about things like what it means for services like our nurseries and speech and language therapy. The scale of that increase and the fact that these children are in need of some level of support implies quite a lot for the kind of services that have to respond."
She warned any assumption that children who may have missed key milestones will invariably catch up might be misplaced.
She said: "That is a bit problematic. Early childhood has these really critical periods for developing key neurological pathways in the brain so as you go through childhood your brain is making its main motorway connections all the time doing key skills and actions.
"It's really important that those motorway connections are built in the first two years or so and if you miss some of those key periods it can be quite hard to build them later."
Supporting development
The annual research, which started in 2013/14, has previously exposed a gulf in development between children growing up in more affluent areas and those from the poorest postcodes. However, according to the latest figures, Covid does not seem to have widened that gap.
Fenton said: "It would have been plausible for it to widen given the pressures of the pandemic were experienced very differently according to your income level.
"That idea of families of different income levels being in the same storm but different boats.
"So I wouldn't have been surprised if there had been widening inequalities but early childhood development is a universal process and there was an impact on all children irrespective of deprivation. To a certain extent, all children's activities and interactions were limited so it is not entirely surprising there was an impact across all children."
Speech crisis: Therapists say lockdown damaged children's language and communication skills
However, the need to tackle the impact of poverty on children's development should remain a priority. "The thing that most influences development is for families to have what they need to support it," she said.
"Having enough money in their pockets and not being constrained in giving children a good start. There is an awareness of the importance of play and speech for children, interacting with them, and access to early learning and childcare.
"There has been an impact of Covid but we cannot expect things to automatically bounce back. We really need to focus on the kind of active recovery that has children at the centre of it.
"Simple things, like not all community playgroups having restarted, should be addressed. Even though it might feel that Covid is receding the impact is continuing and the cost of living is also impacting on families.
"There is a critical need to support families living in poverty and getting those services back in place."
Staffing crisis
Rising concern among public health specialists can be revealed as private and third sector nurseries warn a rising number of children with additional needs is coinciding with a staffing crisis.
The National Day Nurseries Association represents around half of Scotland's 800 private and third sector nurseries and Jane Malcolm, national operations manager in Scotland, said: "There have always been children who cause concern as they might just be lagging behind a little but the pandemic has exacerbated it, made it ten times worse.
"Nurseries faced so many challenges relating to the pandemic and now we are starting to see the impact on the development of the children.
"The number of children with additional support needs has definitely gone up and a lot of it is around social and emotional development.
"Staff across the country are seeing the same thing and they certainly suspect it is related to Covid."
She said the rise in youngsters with additional needs demand increased specialist support but, crucially, more workers on the ground during an unprecedented staffing crisis.
"One of the biggest problems is having enough staff to offer the one-to-one support that a lot of children are needing. There is just not enough staff to do that."
'During Covid I lost my coping strategies': Lockdown caused surge in eating disorders that still needs urgent action
The expansion of promised 1,140 hours of free care for all three and four-year-olds means council nurseries poaching staff with better pay and conditions while Brexit and lower unemployment mean fewer recruits. Malcolm said: "You need experienced people, who understand how to support children with additional needs.
"We are losing those really experienced members of staff to the local authorities. It is a perfect storm, uniquely challenging.
"We need ministers to look at the funding model. We are under pressure, the specialist services are under pressure and their staff are under pressure to get round all the children that need additional support."
The Scottish Government said £1 billion is being invested in high quality early learning and childcare this year and claimed Scotland already offers parents more support than elsewhere in the UK. More speech and language specialists are being recruited while the number of educational psychologists being trained climbed to 52 in 2021/22 compared to 29 in 2016/17.
It said: "Pandemic restrictions were difficult for many children. However, they were essential in protecting people's lives and decisions to impose restrictions were never taken lightly. All children and young people should learn in an environment that best suits their needs.
"It is up to education authorities to identify, provide for and review the support they offer for those with additional support needs, which is made clear in legislation."
---
'Some rooms will have 70% of children with extra needs. These are serious figures'
Her nurseries remain full of smiling, happy children and dedicated, expert staff but, since lockdown, Carol MacRae has seen a change.
The founder of two busy nurseries in the Highlands describes the number of children with additional support needs rising significantly in recent years.
With more than four decades working in early years, she fears the scale of the additional support required has yet to be acknowledged never mind addressed. She said: "It has increased greatly post-Covid. Our nurseries have a good reputation for working well with children with additional needs but we are now seeing perhaps 50% needing extra support compared to around 30% before the pandemic. That is quite scary.
"Some of our rooms will have 70% of children with additional needs. These are serious figures and a lot more than before lockdown."
Each week, around 200 children – from babies to 12-year-olds – attend the Ankerville nurseries in Tain and Alness but, according to MacRae, staff have reported increasing concerns since the Covid pandemic.
She said a range of additional support is needed across many different areas but, overall, the development of many more children seems to be lagging.
MacRae said: "The needs can vary from child to child. They might not know how to socialise, or struggle to concentrate.
"Their language skills might not be where they should be. A small number might lash out, scratching or kicking but that number seems to be rising, too.
"Our staff have spoken about possible reasons but most think Covid is accountable because children have been isolated and the social aspect of development has been missing.
"There is also a greater awareness of these issues so that might be part of the reason for reports of rising numbers but the isolation has had a huge impact on some of our youngest children and, so far, it has been underestimated."
MacRae praises Highland Council for recognising additional help is needed but fears the demands on specialist support, from educational psychologists to speech therapists, are growing; the required administration is getting more onerous; and waiting lists are longer.
She said: "Our speech language service in the Highlands is on the ball, making sure we are hitting the right targets and, more generally, the council is good at acknowledging the help needed.
"However, there is a clear and growing need for more specialist support. We need to see more funding for children who need intensive support. Children will need extra support for different things but we have to apply for that help every term and it is time-consuming, a lot of paperwork and an extra responsibility."
Parents remain largely unaware of the rising number of children needing help.
"That is understandable," said MacRae. "They have their own child and that's their marker. They might not see what we see until they're told their child might need a little bit of extra help."
MacRae would like the Scottish Government to canvass more widely to gain a better understanding of what nursery staff are reporting and increase resources and support accordingly. She said years of discussion, strategies and policy documents have failed to deliver practical support and proper funding for a highly-trained, committed workforce.
"Childcare funding has not increased in line with inflation," she said. "Like every other business, our staff costs have gone up, all our costs have gone up.
"The Scottish Government must stop burying its head in the sand and look properly at funding.
"There is no point paying lip service and spending millions on papers and policies if we are not getting it right for the children and giving them the support they need to thrive. And, after Covid, there are many more of them."
---
'Covid impacted kids' human rights, we must mitigate that'
By Nick Hobbs, Acting Children and Young People's Commissioner Scotland
In April 2020, the UN Committee on the Rights of the Child warned of "the grave physical, emotional and psychological effects of the Covid-19 pandemic on children".
From the first days of the pandemic, our office urged decision-makers to recognise and respond to it as a human rights crisis, acknowledging the impact on rights beyond life and health. We continued to raise those concerns as it became clear, including through the independent Children's Rights Impact Assessment we published in July 2020, that the situation was having a catastrophic effect.
Closing nurseries and schools had an obvious impact on the right to education, but also affected many other human rights. Children socialise, eat, and play in early years settings and in schools. These can be the places where children feel safest, where they and their families can access support and where they develop key linguistic, motor and social skills.
The building blocks of writing – holding a pencil and letter formation – and maths, such as counting and shapes, are learned, often through play, song, and outdoor exploration. Play is crucial for developing language, gaining self-confidence, independence, and resilience.
The importance of early years education, and the work practitioners do, cannot be overstated. But during the pandemic nurseries were closed, playgroups and classes stopped for toddlers and infants, carers could not take children into nursery or be invited in for assemblies and graduations, singing indoors was not allowed, chances to play were restricted, and transition years were disrupted. As adults it's easy to forget just how large a proportion of young children and toddlers' lives have been spent in the shadow of Covid.
The longer-term impacts of this will be felt for some time to come and our response must be grounded in human rights. Failure to meet children's additional support needs in education remains one of the most common reasons for families contacting our office. Compounded by underlying issues like the cost of living crisis and inconsistent access to mental health support, failure to meet children's needs can result in them becoming distressed in school. Investment in additional support needs combined with a holistic, sensitive approach is urgently needed.
Local authorities and the Scottish Government have a clear duty to make sure disabled children and those with other additional support needs are not discriminated against and enjoy the same access to education as their peers. The negative impacts of not doing so can be long-lasting. No child should be left with reduced opportunities for work, or to access further and higher education choices, due to a failure of the State to provide the support they were entitled to from a young age.
The Scottish Government and local authorities have a duty to direct more support towards children with additional support needs. When the United Nations Convention on the Rights of the Child is finally incorporated into Scots law, legal and cultural change will follow with children's human rights embedded in budgetary decisions.
The pandemic has profoundly impacted children's human rights, but we have an opportunity to mitigate that impact and ensure young children develop and thrive.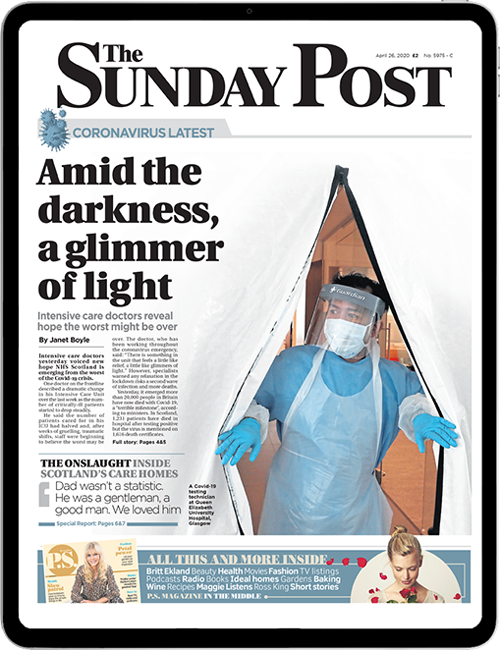 Enjoy the convenience of having The Sunday Post delivered as a digital ePaper straight to your smartphone, tablet or computer.
Subscribe for only £5.49 a month and enjoy all the benefits of the printed paper as a digital replica.
Subscribe