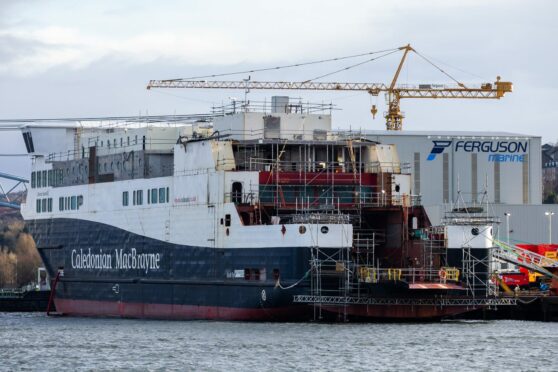 The chief executive of the quango at the centre of Scotland's ferries fiasco has insisted a public inquiry would be unhelpful despite experts warning the ships may end up costing £400 million if, that is, they are ever completed.
Kevin Hobbs, the chief executive of Caledonian Maritime Assets Limited (CMAL), rejects claims that management failure and incompetence destroyed the working relationship with the yard building the ferries and scuppered the project as costs soared.
The quango – which owns CalMac's ferries and most of its harbours – commissioned the ferries from Ferguson's, in Port Glasgow, but was accused of forcing cost increases by changing designs after the £97m contract was signed and then refusing to enter arbitration to find a way forward.
Speaking to The Sunday Post, Hobbs blamed the failure to deliver the ferries on time and on budget on the shipyard for making promises it could not keep.
However, ministers' failure to explain why they allowed the work to continue despite CMAL warning of financial exposure and persistent claims the whole process had been driven by party politics while ignoring the needs of islanders have prompted mounting calls for a public inquiry.
The Scottish Parliament's Public Audit Committee will begin an investigation this week and has called on officials to provide evidence along with former transport minister Derek Mackay. The SNP says he signed off the contract but an email belatedly found by the government shows then-finance secretary John Swinney was asked to look over the deal for "banana skins" before final approval.
However, Hobbs said a judge-led public inquiry, urged by engineering tycoon Jim McColl, the former owner of Ferguson's, would not help islanders get a better ferry service: "From a relatively small organisation's point of view, a public inquiry would absorb an awful lot of time. I'm not saying it would be the wrong thing to do but it detracts from our resources and doing what we really want to do, which is look forward and replace ferries, as opposed to looking backwards.
"We've had to do a lot of reflection and looking backwards already."
Ferguson's got the work after CMAL told ministers the yard's bid, while the most expensive, promised the best quality. The Scottish Government's subsequent refusal to scrap the contract despite CMAL telling ministers the yard could not offer industry-standard financial guarantees remains contentious after the Auditor General revealed there was no paper trail explaining why warnings were ignored.
The ferries are five years late and have already cost £250m with no clear plan of how and when they will be completed. It emerged last week that 237 faults have been found with the ferries, prompting speculation they may never be fit to sail.
Hobbs said that, if completed to standard, the quango will still buy them but only pay the market value. One way or another, all of the costs will be met by taxpayers with £250m already spent and experts suggesting the final cost could hit £400m.
Hobbs said: "We won't be paying anything like that, thank you very much. The only way we could have the ships would be to have a fair market value for them. So, it's unfortunate that they're costing the amount they're costing but that is a consequence of a very, very extended build and an administration in the middle of it.
"You can analyse this inside out and upside down, but at the end of the day we had six bids and this was the most expensive of all of them. Five other shipyards said they could build the ships for less – only slightly less – but they said they could build them for less.
"So what has gone on in that building contract is absolutely nothing to do with us. It's inefficiency of a shipyard which went into administration in 2019.
"So we will go out to three ship brokers and ask what is the fair market value of these ships if we were to build them today and we will take out a loan for that self-same sum of money and those vessels will be ours. It will cost the public purse a lot more than that, obviously.
"When you place an order for anything, whether it's a kettle from Argos through to a ship, you place a huge amount of faith in an organisation to live up to your expectations and their promises, and it didn't happen."
Hobbs took over as CMAL chief executive in March 2016, six months after ministers gave Ferguson's the £97m contract to construct two dual-fuel ferries – the Glen Sannox, which is due to serve Arran, and the as yet unnamed Hull 802, intended to serve the Hebrides.
CalMac's ageing fleet is suffering repeated breakdowns as islanders voice despair at the poor reliability of vital transport links. Asked if he would apologise to communities being failed by their ferries, Hobbs said: "Yes, absolutely. We're in a place we don't want to be. The whole reason for this organisation is to own the assets and the assets should be fit for purpose."
He said the Scottish Government has difficult funding decisions to take but blamed the ageing fleet – average age 24 when it should be 15 – on two decades of underinvestment: "I'm not saying government hasn't spent an adequate amount of money but certainly from a CMAL perspective in the past 20 years there has been an insufficient amount of money invested so what we're looking at in this decade is trying to catch up and double the rate of ferry replacements which will in the early 2030s get us back to the desired 15-year average."
He added: "We're methodically going through the vessels so there will be improvements, definitely, for the island communities, but to be frank, not all of them. That relates to money, unfortunately."
Hobbs is overseeing plans to replace 21 vessels in the next decade, backed by £580m provided by the Scottish Government until 2026.
The Scottish Government said it had invested around £2bn in ferry services since 2007.
Tycoon: The elephant in the room is quango's lack of competence
Engineering tycoon Jim McColl is clear: CMAL's competence or lack of it has caused the ferries fiasco not the shipyard.
He said: "They are still having problems in the yard almost three years on from the government taking over. The common denominator here is CMAL. It is surplus to requirements. Before CMAL you didn't have these problems."
McColl, who has previously called for a judge-led inquiry, added: "The elephant in the room here is CMAL and their lack of competence in this project. It can be exposed in a judge-led inquiry with expert determination involved, because you have to look at the technicalities here. This isn't a simple legal argument. You have to have someone that understands the impacts CMAL made and the delays they caused in the preparation of this specification.
"The Public Audit Committee are still looking at it. Perhaps they could insist on a judge-led inquiry with expert determination, and one that can be done quickly, to stop any further damage being caused by CMAL. And I say judge-led because people need to be under oath."
Another expert also questioned CMAL's competence and said it should be prevented from placing further orders.
Alf Baird, a former professor of maritime business at Napier University who sat on the Scottish Government's Expert Ferry Group which was axed in March, also criticised CMAL.
He said: "A public inquiry might be able to probe such matters in sufficient detail. My suggestion to ministers after the 801 and 802 fiasco was to stop any further orders being made by CMAL, and that advice still stands."
Mull islanders: Ferry owners wanted to steer us off course during a sham consultation
Joe Reade, chair of the Mull and Iona ferry committee, added: "There are huge sums of money being spent on Scottish ferries. The problem is the spending decisions that are being made and CMAL is at the heart of those spending decisions.
"It's a hugely slow and expensive process and what you get at the end of it is a series of vessels that are over-specified and unique.
"That is the problem and that is entirely about how well the procurement system is managed. What they should be doing is finding cost-effective repeat-build vessels and buying a lot of them."
Sheila Gilmore, chief executive of Visit Arran, who also sits on the island's ferry committee, said: "I'm really appalled at the slack-shoulderness that goes on. These people are public servants employed by the taxpayer. Get us the ferry service we deserve."
The GMB trade union, which represents Ferguson's workers, said: "There is a viable and prosperous future for Ferguson Marine and the workers and communities that depend on it, but that requires everyone pulling together."
Scottish Labour transport spokesperson Neil Bibby said an inquiry was needed, adding: "The damage the SNP has done to the reputation of this yard and Scotland's iconic shipbuilding sector is unforgivable."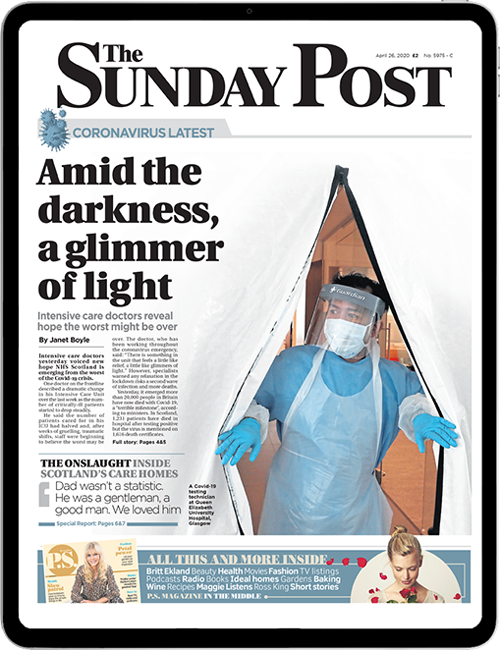 Enjoy the convenience of having The Sunday Post delivered as a digital ePaper straight to your smartphone, tablet or computer.
Subscribe for only £5.49 a month and enjoy all the benefits of the printed paper as a digital replica.
Subscribe