Mark Simmonds seemed to be leading what would nowadays be called his "best life".
He was married with children and climbing the corporate ladder but after trying to ignore the pressure he was under, he finally buckled.
After a nervous breakdown and suicide attempt, Mark stepped back from things to focus on himself and got back on an even keel.
But a decade on his world fell apart again when his daughter Emily was diagnosed with anorexia nervosa.
It sounds like a cruel blow for mental illness to hit the same family again but you could look at it from the point of view that, after everything he'd been through, he was the perfect parent to help.
"The bad news was that I'm not the most robust individual because I was always mentally suspect, and it was also difficult to have mental illness thrust back into my face," admits Mark, whose new book deals with depression, anxiety and parenting with brutal honesty.
"When you've been through it, I knew exactly what she was thinking and feeling and it was like I was being injected with a dose of depression every day.
"But the good news was that meant I completely got it, and could talk to her in a way that made sense to her.
"Mel my wife was brilliant through both situations but she's very practical and logical and found this hard not just because 'Here we go again' but because anorexia is so hard to fathom – you think, 'Just eat the food.'
"I was able to talk a language Emily got. And not just talk – it could be as simple as just listening, just hugging, just empathising.
"The father/daughter angle is interesting because there seems to be a feeling fathers could take a more active role in these situations than they have done historically.
"One of the challenges about writing the book was you had two stories but what I realised was that it's only by being able to help Emily through her illness in the last six years that I feel I can truly claim to have repaired."
Explaining his own problems, Mark says: "Pressure was building because basically I was in the wrong kind of environment. That's something you discover with wonderful hindsight.
"You go to university, you come out with a decent degree and been quite competitive so you automatically think that must lead to working for a big multinational or in the City.
"It was simply a case of being in the wrong environment for the kind of person I was, and that led to my first blip. In the book I write about a little freeze or panic attack in my mid-20s.
"I didn't understand why at the time but I think fundamentally I was an introvert working in an extrovert's environment.
"I much preferred helping people learn and develop whereas I found myself in a task-completion environment where it's all about getting things done.
"That's where things unravelled a bit. What happens is you get into your 30s and have a family and get paid more money, it becomes more difficult to get off the train tracks you're on.
"I'm asked to talk a lot about career choices and I think the earlier on that you can have greater self-awareness of how your cloth is cut, you're not going to make a big mistake like I did.
"When I had my really big blip in my late 30s I basically made the same mistake again. I loved what I did, but I thought, 'Now I've got to do something important, I've got to run my own company.'
"You feel you've always got to go up the career ladder but I didn't realise that means you might end up doing the things you're not suited to do.
"It was a ridiculous mistake and that led to my nervous breakdown and suicide attempt because you've waited all your life to get to the pinnacle and are desperate to push through but you get sucked into it until one day your brain says enough is enough.
"That's how I saw the breakdown ironically enough as a good thing because what's happening is the brain's saying, 'You obviously couldn't make the right decision yourself so I'm going to take it out of your hands.'
"I'd been off work for four months, nothing had worked and it had got to the point where I wasn't communicating with anybody.
"My kids were back for the holidays and I couldn't see how I could be in the same house, and my brain was telling me 'You're doing nobody any favours, it'd be much better if you weren't around.'
"People ask, 'How did you get out of your depression?' and I say, 'I cycled into a 10-ton truck' but you can't hold that up as best practice!
"In my case all the medications and talking therapies didn't work, it was as if I had to get to the lowest possible point and realise how close I'd come to death.
"I was much clearer about things from that point."
---
Breakdown And Repair by Mark Simmonds, published by Trigger Publishing, is out now and is available at https://www.amazon.co.uk/Breakdown-Repair-Fathers-Success-Inspirational/dp/1912478994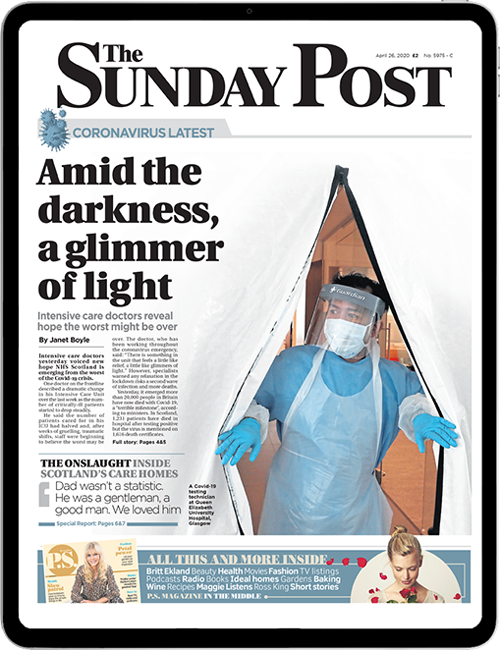 Enjoy the convenience of having The Sunday Post delivered as a digital ePaper straight to your smartphone, tablet or computer.
Subscribe for only £5.49 a month and enjoy all the benefits of the printed paper as a digital replica.
Subscribe