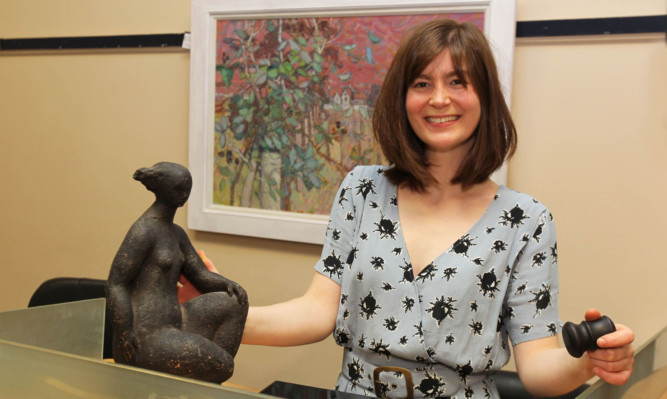 "I'm on the road to antiques stardom … but only just!"
Natasha Raskin has a dark secret.
The bubbly Scots star of Bargain Hunt is about to get behind the wheel in BBC1's Antiques Road Trip for the first time tomorrow but it could all have been different, thanks to an embarrassing fact she kept to herself until the last possible moment.
"I'd been doing Bargain Hunt when the executive producer of Antiques Road Trip called to ask if I wanted to audition for the show," Natasha explains.
"It was intense. I had to go through three or four auditions until finally I got to come in for a big meeting, where a panel of people, including the director, were looking me up and down thinking, 'Is she going to be OK'?
"The thing was I had something quite important I really needed to get off my chest I couldn't drive!"
'I'll be watching from behind a cushion': Meet Roo Irvine, the new expert on the Antiques Road Trip team
Given the show revolves around two antiques experts driving around Britain (the clue's in the title, folks!) it was a fairly big deal that the 28-year-old didn't know her accelerator from her elbow.
"It was like a dirty secret," laughs Natasha (something she does a lot). "I thought, 'I have to tell them', so before the meeting started I said I had something to confess . . . and they all burst out laughing and said, 'It's OK everyone says they don't watch the show'!
"So the moment passed and we moved on. But eventually I HAD to tell them. They couldn't believe it. It had all been sweetness and light up till that point, but then it all got a bit grave."
The producers were willing to give her a chance, but on the condition she passed her driving test quickly!
She took an intensive course and failed . . . twice.
"There's nothing like STV phoning to check up on you to help you fail," chuckles Natasha, rolling her eyes.
Thankfully, with the clock ticking down to the start of filming, it was a case of third time lucky. Since then she hasn't looked back unless she's reverse parking, of course and she'll be seen on screen driving a lovely cream Triumph TR6.
"Now you can't get me out of the driving seat," exclaims Natasha.
"My partner in crime on Road Trip, Charlie Ross, says I'm like Stirling Moss."
Natasha Raskin has never been so busy with FIVE TV shows to juggle
She's certainly in the fast lane when it comes to her rising TV profile. As a regular on Bargain Hunt she's quickly become a favourite thanks to her warm, quirky character.
In real life she's the same full of jokes, giggles and self-deprecating quips. That's a winning combination and it's no surprise she's becoming an increasingly familiar face on our screens.
But a career on the gogglebox wasn't on the cards just a couple of years ago.
The Glasgow-born daughter of successful artist Philip Raskin and his wife Barbara, who together once owned renowned restaurant The Inn On The Green, Natasha studied law, rather than anything arty, before dropping out after a year to return to her home city to study History of Art. She wasn't exactly the model student, though.
"I was quite naughty," Natasha admits. "I was always socialising or going to work in the restaurant so I had to pull my socks up for the final year."
After graduating she set up an art supply business with her dad, but it was a chance invitation from Glasgow auction house McTear's asking her dad to sell his work there that unexpectedly set her on course for TV stardom.
"I'd never been to an auction," says Natasha. "So I went along with him and it was such a buzz I immediately got him to ask them for a job.
"At first there wasn't an opening, but I phoned and phoned and finally they gave me an internship in 2011."
Natasha Raskin loved her time in America working on the Obama campaign
To begin with, her job consisted of packing and shipping artworks, but with a personality as lively as hers that was never going to be enough.
"After six months I said, 'You have to let me on the rostrum'.
"I don't know what gave me the confidence but I did it … and it was horrific! My mum stood at front and filmed me. I watched the film later and was horrified I had this big red face."
But despite the inauspicious start, Natasha had been bitten by the bug. More to the point, the punters loved her. Her cheerful disposition, attractive smile and outrageous puns were a big hit in the hall.
When TV came a-calling it was no surprise she caught the eye of the Bargain Hunt producers. In early 2013, just a year after her first auction, she began filming the first of 20 episodes of the show.
She remembers the first episode well.
"My rival expert was fellow Scot Paul Laidlaw, who had never been beaten. I bought a plough, and was told it was 17th Century but was probably more like 1970s. I had to kiss a farmer to get it. Amazingly, it made a huge profit and I beat Paul!"
Since then she's become a firm favourite with viewers. But with a public profile has come some rather unexpected developments.
"I rarely go on Facebook, but one of my pals said I should check my messages after I'd been on TV. It was all men sending me pics of themselves naked except for a guitar and the like! And there were some little old ladies with their cats, too."
Her fan-base may be as eclectic as the antiques she picks up on Bargain Hunt, but the days of being an unknown in McTear's shipping department are going, going, gone.
And now she finally has her driving licence there's no doubt she's on the road to success.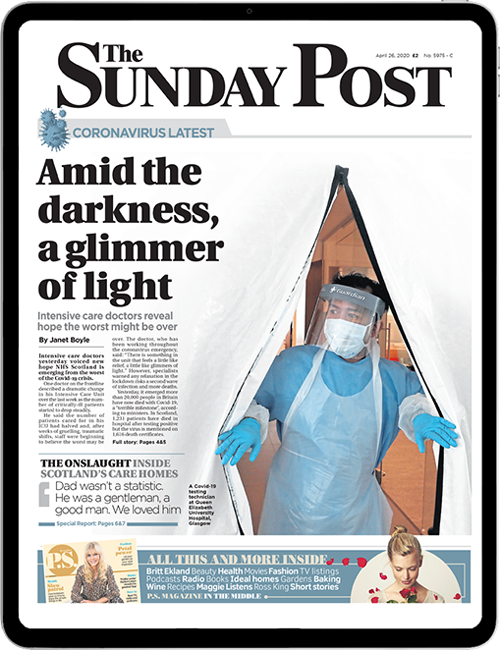 Enjoy the convenience of having The Sunday Post delivered as a digital ePaper straight to your smartphone, tablet or computer.
Subscribe for only £5.49 a month and enjoy all the benefits of the printed paper as a digital replica.
Subscribe