Being hit with bills for a credit card she had paid off left Jan Jolliffe fuming.
High Street bank Santander sent demands every six months to the 53-year-old divorcee for more than £4,000 each time.
The mum of one, of West Boldon, Tyne and Wear, had built up a huge debt of £28,000 when she was left "unable to say no" to offers of credit.
Jan, who suffered two strokes a decade ago, managed to clear all her debt, with the kind help of friends and family, including the outstanding balance on the Santander card back in December 2011.
So she was amazed when she received a demand from the bank to repay £4,146 in June last year.
It was followed by two more for the same amount in July and December.
Jan said she sent numerous letters complaining to Santander and was told that the problem was with the company's internal IT system.
She was told that her account could not be closed. A representative from Santander's complaints resolution team contacted her in January and told her "a couple of hundred" of their customers were in the same situation.
Santander said they would resolve the problem by changing the account address from Jan's home to that of their own offices.
That way, when demands were issued in error, they would return to the bank.
But Jan feared that the continued demands even if they never reached her would affect the credit rating she had worked so hard to improve.
She received a letter from Santander on January 16, saying it would take four weeks to investigate.
That was not good enough for Jan and she emailed Raw Deal to see if we could bring the episode to a close.
She told us that it was "unacceptable" she was being hassled for a debt she no longer owed.
We contacted Santander and the problem was soon sorted.
A Santander spokesman said: "Due to a technical error, payments to a small number of customers' accounts were not accurately reflected on their outstanding balance.
"The appropriate adjustments have now been completed and we are working with credit reference agencies to ensure these customers' credit records are correct.
"We apologise to Mrs Jolliffe for the inconvenience caused and will be offering her a gesture of goodwill."
Santander's complaint referral team sent a letter to Jan this week.
It said that her account had now been deleted from the files of credit reference agencies, meaning the problem would cause no adverse effects with her credit rating.
The company has also paid two cheques for £50 and £200 as a goodwill gesture.
A delighted Jan said: "Results at last!
"It has only taken 17-and-a-half months but I am positive that it is thanks to the Sunday Post's involvement."
Have you got a problem?Email your address and daytime/mobile number to rawdeal@sundaypost.com or write to Raw Deal, PO Box 6816, Dundee, DD1 1WB (include SAE).Briefly outline the problem and how you'd like it resolved.Include contact details of the other party and any customer ref/order numbers.By requesting our assistance you agree for your name, location and a photo to be published.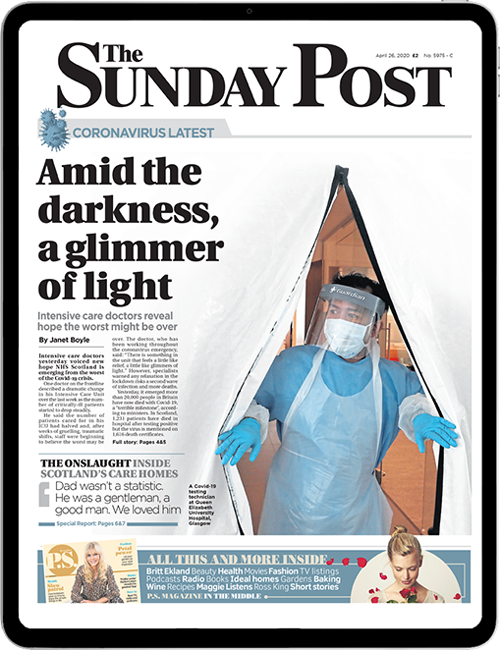 Enjoy the convenience of having The Sunday Post delivered as a digital ePaper straight to your smartphone, tablet or computer.
Subscribe for only £5.49 a month and enjoy all the benefits of the printed paper as a digital replica.
Subscribe