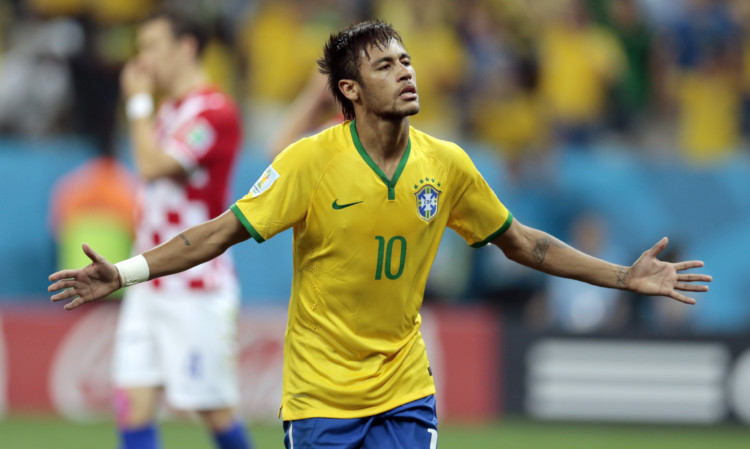 Brazil hauled their World Cup dreams back from the brink of disaster as Neymar served notice that this is going to be his tournament.
The 22-year-old Barcelona forward scored twice the second a controversial penalty after Croatia had taken a shock lead through a Marcelo own goal.
Yet the man on whose slim shoulders the hopes of a nation rest was probably lucky not to be shown a red card after appearing to whack Luka Modric across the face with his arm just before he equalised.
Chelsea's Oscar scored in stoppage time to produce a flattering scoreline that enterprising and ultimately unlucky Croatia didn't deserve.
Never has a host been under so much pressure to perform, especially in view of the civil unrest that has flared in the lead-up to the tournament and in Rio during the game.
Big Phil Scolari had not sought to hide from it on the eve of the tournament. "To all Brazilians I want to tell you the time has arrived. This is our World Cup," he said.
What wasn't in the plan was for Niko Kovac's team to start like a train and go ahead inside 11 minutes through Marcelo's calamitous self-inflicted wound.
Ivica Olic had already delivered one wicked cross that David Luiz had dealt with, then saw his far post header fly just wide.
But the warnings weren't heeded and Olic's cross was touched on by Nikica Jelavic and turned past Julio Cesar by the Real Madrid full back.
Keeper Pletikosa fisted away Paulinho's shot then saved superbly from Oscar.
Neymar was fortunate to be shown only a yellow card when he caught Modric with a flying arm in the 27th minute. A less lenient ref might have shown red and punctured the bubble of Brazil's World Cup, maybe fatally.
Yulchi Nishimura's decision had an immediate consequence because two minutes later Neymar picked the ball up midway inside the Croatian half and struck a low left foot shot from 25 yards which sneaked in off the foot of the post.
The early disaster rectified, it should have been the cue for the Brazilians to seize control, but it didn't happen.
Sure, they established possession superiority but after the electric opening 30 minutes, the game descended into the familiar pattern of tournament openers make sure you don't lose.
But a second moment of controversy again in Neymar's favour changed the outcome in the 71st minute.
The Japanese ref awarded the softest of penalties when Dejan Lovren put his hands on Fred's shoulders and the striker collapsed.
Neymar's stuttering run-up didn't fool Pletikosa and he got a good hand to the strike, but the power was just too much.
He was probably denied a hat-trick a few minutes later when David Luiz got in front of him to head an Oscar cross over.
Croatia were again aggrieved by a refereeing decision after what would have been a late equaliser was ruled out because of Olic's challenge on Julio Cesar.
Cesar saved unconvincingly from Modric and Perisic but in the 91st minute Oscar broke away to stab the third past Pletikosa.