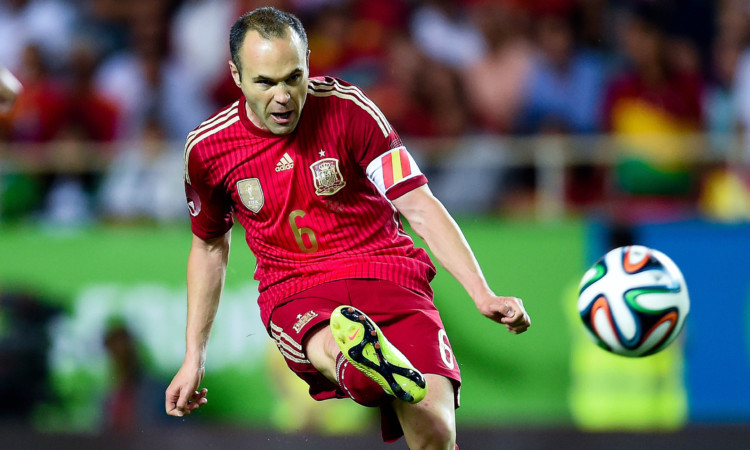 Iniesta will pull the strings for defending champions Spain.
SPAIN
Head coach Vincent Del Bosque. After taking over from Luis Aragones, who led Spain to success in Euro 2008, Del Bosque went one better by winning the 2010 World Cup, and two better by retaining the European Championship in 2012.
Won five La Liga titles with Real Madrid as a player in the Seventies and two more as the club's boss. Has also won the Champions League twice, making him the only manager to have won the three most prestigious trophies.
How they qualified Found themselves in a tricky group with France but came through unscathed. Struggled for goals, with just 14, but conceded fewer than any other European qualifier.
Most valuable player Andres Iniesta. The man whose goal won it for them against Holland in 2010 has just turned 30 and this will probably be his last tournament at the real peak of his powers. Del Bosque has described him as "the complete footballer" and he can do just about anything.
Prospects There's a suspicion that the golden era of Spanish football is nearing its conclusion. They have a really tricky group but do not rule out one last hurrah.
HOLLAND
Head coach Louis van Gaal. The "Iron Tulip" will fulfil his ambition of managing in the Premier League next season, but for the new Manchester United boss the immediate future is orange.
This is his second spell as Dutch manager and the first ended in resignation after he failed to qualify for the 2002 World Cup. He falls out with players, press and directors and once dropped his trousers to show his Bayern Munich players he had the courage to drop any of them.
How they qualified Almost faultless. They dropped points with a draw in Estonia but won nine out of 10 and scored 34 goals.
Most valuable player Robin van Persie. It is stating the obvious but as captain, leading goalscorer and most famous player, the Manchester United man is crucial to any Dutch success.
Prospects This is the "Group of Death" and a good team will be going home early. If van Persie and Arjen Robben fire, the quarters are possible.
CHILE
Head coach Jorge Sampaoli. An Argentine whose playing career was cut short early when he suffered a double leg break at 19. He managed in amateur and "B" league football and came to national attention when a newspaper showed him coaching from the branches of a tree after he had been denied access to an away game.
How they qualified Lost three qualifying games on the trot when Claudio Borghi was sacked and Sampaoli brought in. They won four and drew one of their last five to finish third in the South American standings.
Most valuable player Alexis Sanchez. Has had a bit of a rollercoaster time at Barcelona since Pep Guardiola paid £22m to take him from Udinese. In November he scored both goals when Chile beat England at Wembley.
Prospects In any other group they'd be a shoo-in to progress but they've got to finish ahead of either Spain or Holland make the last 16.
AUSTRALIA
Head coach Ange Postecoglou. Greek-born but emigrated to Australia aged five. Played his football in Aussie leagues and won just four caps. The 48-year-old is the country's most successful club coach with seven major trophies. Took over as Socceroos coach late last year.
How they qualified Bye to the third round where they won their group easily. Finished runners-up to Japan in fourth round to clinch unconvincing qualification under German manager Olger Hosiek. Two consecutive 6-0 friendly defeats saw Postecoglou replace him.
Most valuable player Mile Jedinak. A key player in Crystal Palace's remarkable Premier League survival under Tony Pulis, who describes him as "a real soldier". Skippered the team and ran everything from central midfield.
Is his country's current Player of the Year and was appointed Aussie skipper last month, even though there were doubts over his World Cup fitness after he picked up an ankle injury in Palace's final game.
Prospects Were the lowest-rank country in the draw last December and are very much a team in transition. They will be lucky to take a point.
Report by John Barrett and Adam Lanigan