It was a little while before I began automatically picturing Theresa May whenever I saw or heard the words Prime Minister.
When she first took up the reins, I kept writing David Cameron and then having to press delete. Force of habit, I guess.
It is taking me even longer to get used to Philip Hammond as Chancellor.
Even now, four months after he was sacked, George Osborne persistently pops into my head and I have to remind myself he's no longer at the helm.
At the Tory party conference, the now not-so-new chancellor (yes, one Mr Hammond) had lots to say in his speech.
Although not proposing to end austerity altogether, he set out a radically different plan for the economy – ripping up his predecessor's deficit reduction commitments.
But his delivery was underwhelming – some described the address as "that of a bank manager".
So when he takes to the despatch box on Wednesday, he will be keen to assert his authority, to look the part.
The Autumn Statement is his first set-piece in the Commons and will be his first big test in the driving seat.
After all, it is no ordinary "fiscal event" as these things are officially dubbed.
As well as his debut, it is the first since the UK voted to leave the European Union.
And, with Office for Budget Responsibility (OBR) forecasts to unveil, he won't have the luxury his boss enjoys of simply deferring to the default "no running commentary" answer.
These are reportedly expected to reveal Britain faces a £100 billion black hole as a result of Brexit.
This would be the most damning indication so far of the financial impact of the June vote, although of course the forecast, is precisely that, a prediction and thus uncertain.
Hammond would not have been armed with all of this detail at the time of his Birmingham speech – seven weeks ago.
But with hindsight, it's clear he was anticipating the worst and sought to get ahead of Wednesday's prognosis.
With entirely understandable caution, he was doing the groundwork, paving the way for his big day.
Admitting the Brexit negotiations would be a rollercoaster ride for the economy and country, he abandoned Osborne's goal of getting the UK's finances into a surplus by 2020.
Instead he promised to shore up the raft, to take "whatever steps are necessary to protect this economy from turbulence".
There were a few modest give-aways and he intimated tax cuts to stimulate activity could have a role in boosting confidence, alongside interest rate reductions.
It is likely the Chancellor will now move forward in the same vein.
With additional borrowing predicted, a large stimulus package is hardly on the cards, but analysts are anticipating some help for the so-called "Jams".
The latest acronym to be adopted by Whitehall officials, it refers to families who are"just about managing".
Policies thought to be under consideration include a freeze in fuel duty, confirmation of an increase in the tax-free personal allowance and bolstered support for childcare.
This would tally with the Prime Minister's pitch to working class voters at conference – her pledge to run a country that works for everyone.
There is unlikely to be any help for the women adversely affected by the accelerated state pension increase, however, despite repeated calls by the SNP for the chancellor to use his mini-Budget to "right the injustice".
Ian Blackford and Mhairi Black made an 11th-hour plea last week, but the pensions minister ruled out reversing the speeding up of the equalisation process in no uncertain terms.
Whatever Hammond says when he gets to his feet, not everyone will be happy and it is bound to be over-shadowed by the OBR forecasts.
But a good performance would help make the job his own, dispelling any remaining Osborne ghosts from the front bench.
If he again adopts the guise of bank manager Phil, then so be it.
Perhaps a bank manager is exactly what Britain needs as it negotiates Brexit and beyond.
---
READ MORE
Lindsay Razaq: Fear and loathing in USA as racial tensions bubble to the surface
Lindsay Razaq: It's a sad fact, but it's a win-win for triumphant Donald Trump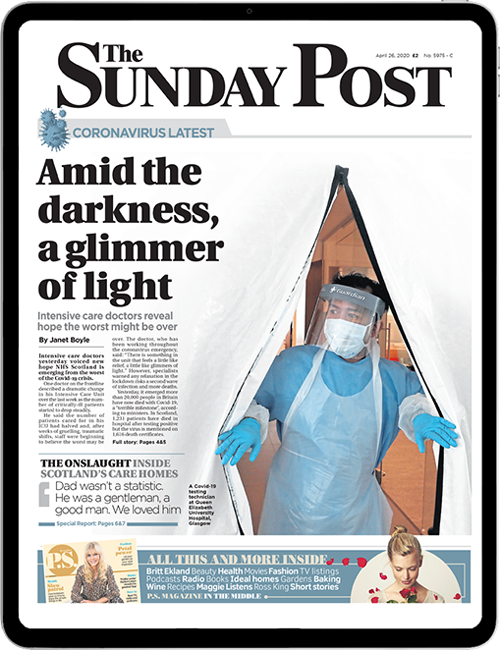 Enjoy the convenience of having The Sunday Post delivered as a digital ePaper straight to your smartphone, tablet or computer.
Subscribe for only £5.49 a month and enjoy all the benefits of the printed paper as a digital replica.
Subscribe