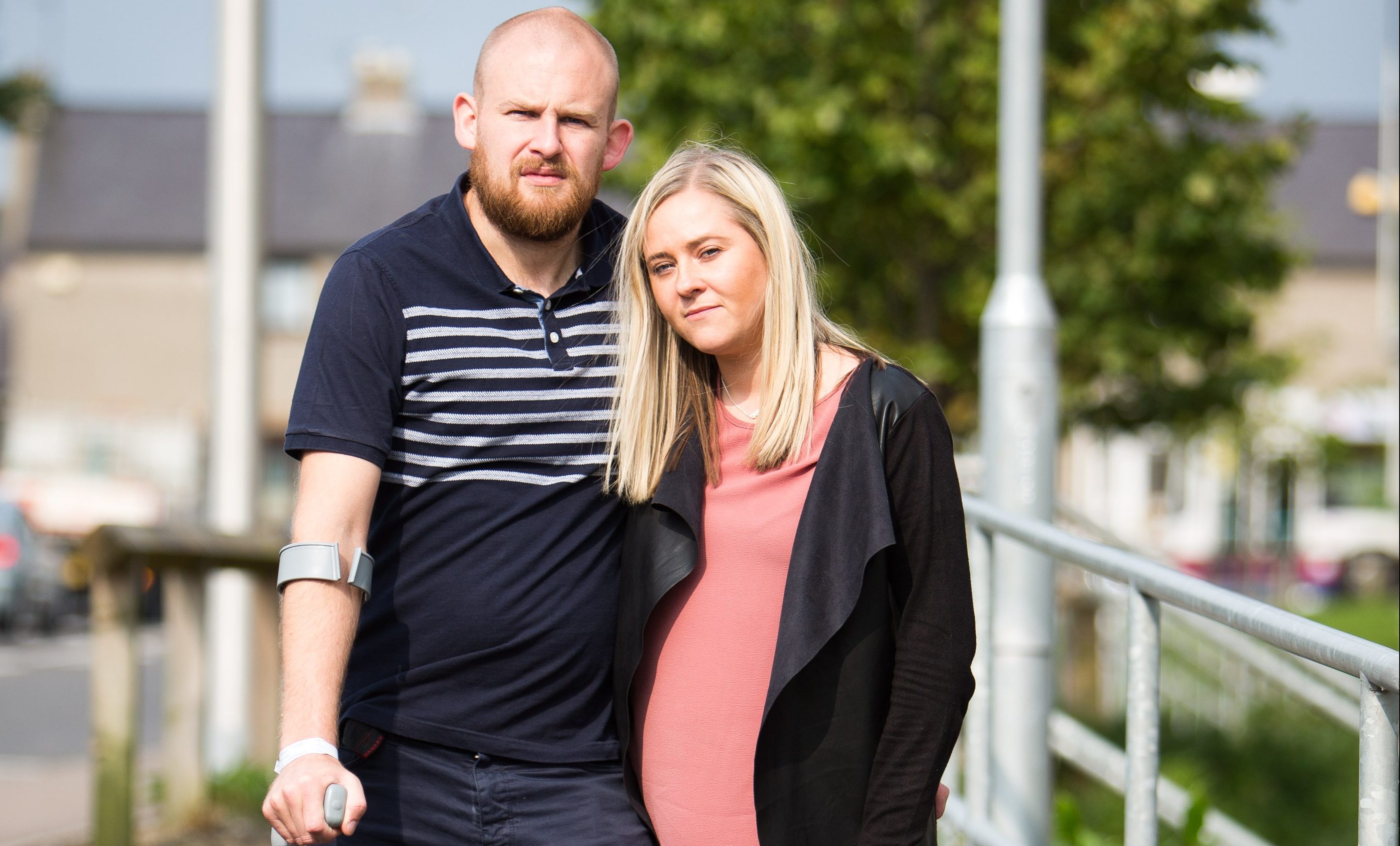 A DAD-OF-TWO who went to  buy a remedy for a cold ended up in A&E paralysed from the waist down – just one hour later.
Now insurers are refusing to pay out on his critical illness cover, leaving Paul Forbes and his family at risk of losing their home.
Doctors say Paul's illness is a mystery. The self-employed plumber from Aberdeen was in hospital for six weeks and is still in rehab.
He has no feeling in his feet, groin and buttocks and is in constant pain, although he can take steps with crutches. Specialists cannot say whether he will be able to walk unaided again.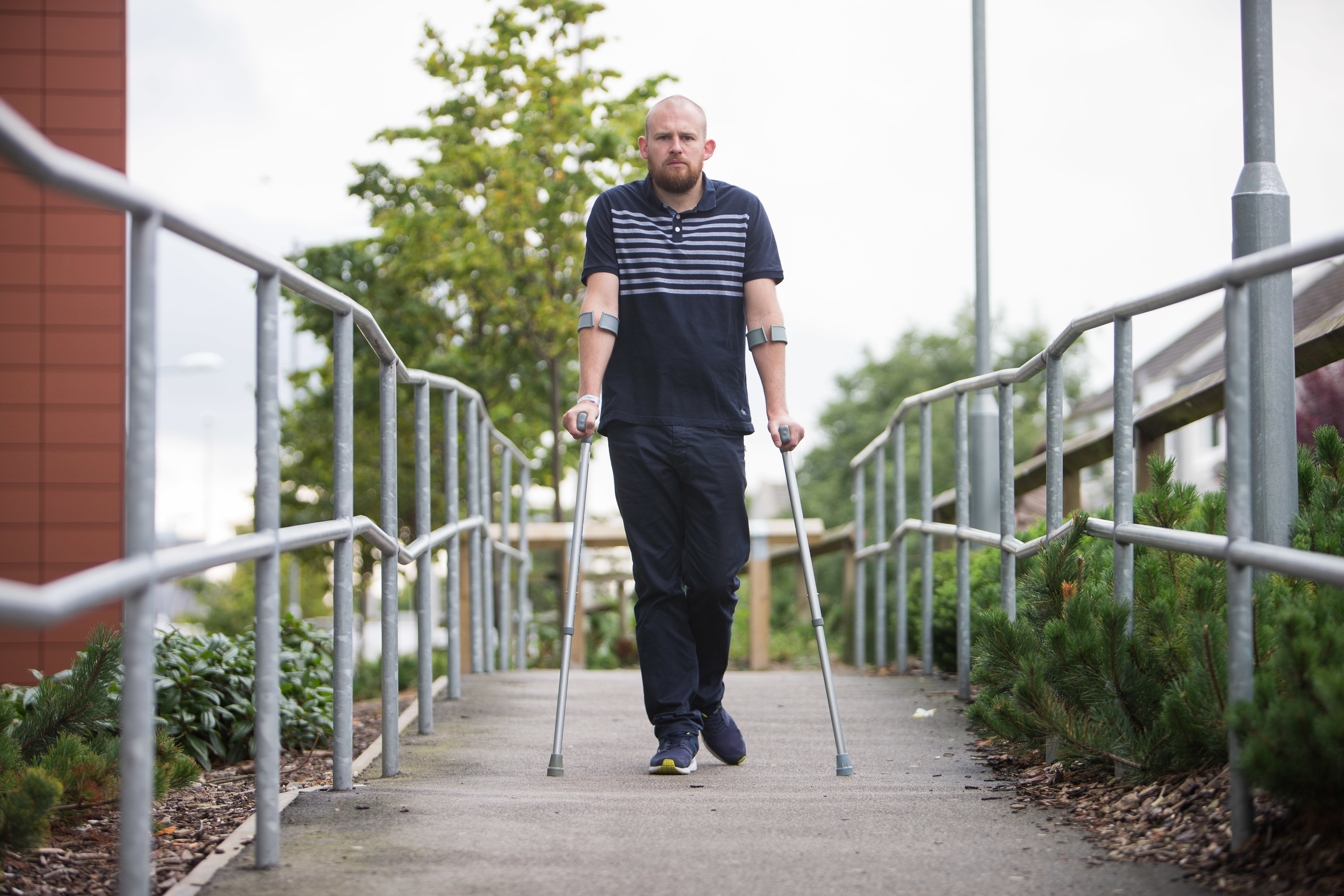 Paul, 31, says Friends Life – part of the Aviva group – will not accept his insurance claim because doctors are not able to provide a firm diagnosis for the condition.
He told the Sunday Post: "It is a terrifying situation to be in. I feel like a ticking time bomb. How can I plan a life for myself and my family?
"The doctors do not know what caused the paralysis. It might have been viral, an injury or even Multiple Sclerosis. They may never know. All that they can tell me is that I have inflammation in the lower part of my spine."
Paul has had the critical illness insurance policy since 2013 and pays around £500 a year for it. Yet insurers have said that without a diagnosis, he cannot make a claim.
"I called them and described my condition," Paul said.
"They said it wasn't a critical illness. I was completely paralysed from the waist down for eight days, and can't walk unaided or work now. How is that not critical? I have paid the
premiums every year and now I want the company to do what they promised in the sales pitch and look after me."
Paul, who has worked since school and invested in a new van the week before he was struck down, said: "I can't work like this. I can't drive. I can't kneel down and work hands-free on a job.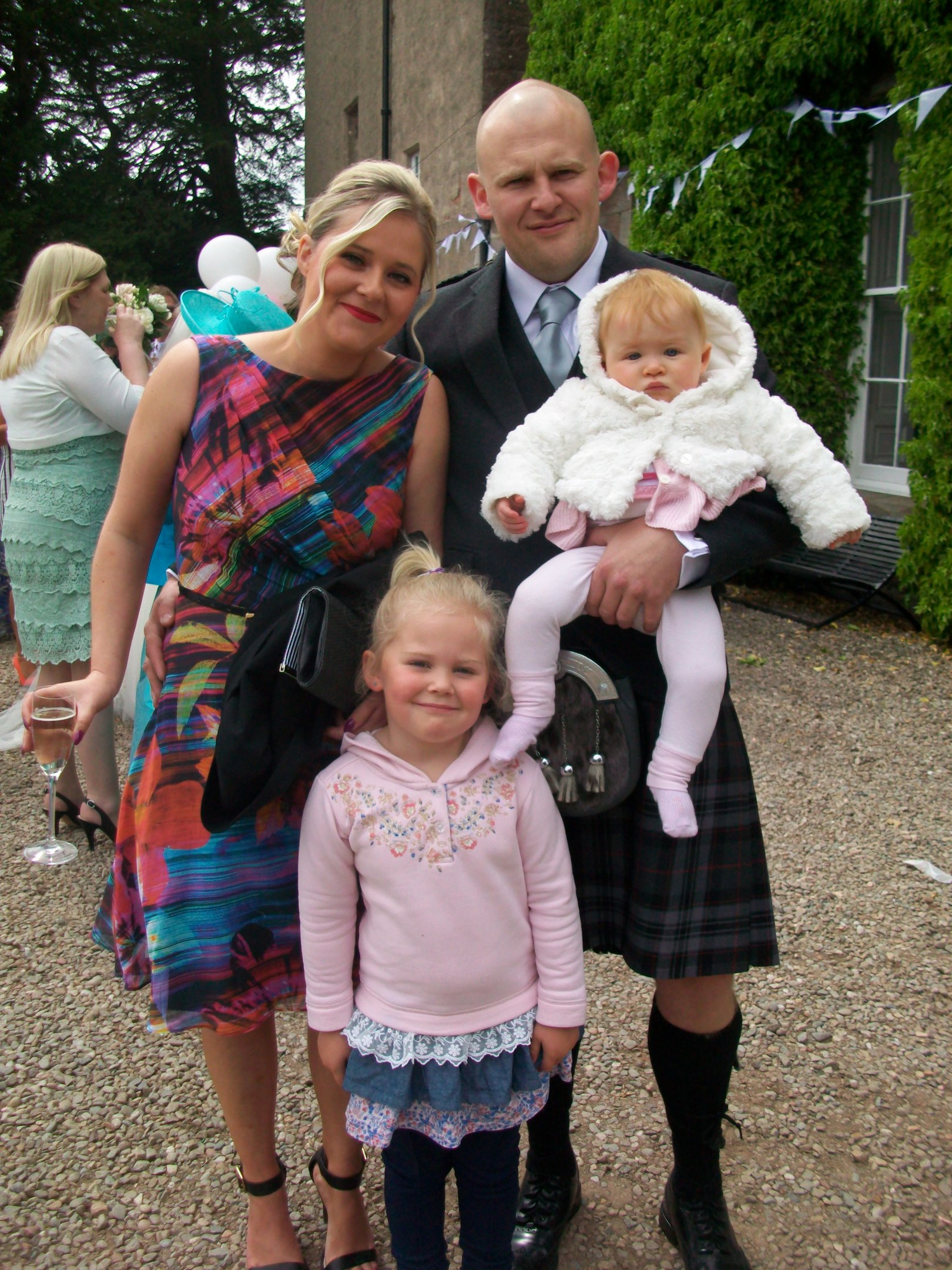 "I have to hold on to something. I can't balance on roof joists or even lift my tool bag.
"If I can't work, then I can't pay my mortgage or put food on the table.
"My partner Kerrie works, but it doesn't bring in nearly enough to keep the family. I don't know what we will do. I can't even bend down to change my baby's nappy or to play with my kids."
Paul – dad to Olivia, five, and Georgia, two – had been suffering with a cold on July 29 and went to the Asda store in Aberdeen's Garthdee for a flu remedy.
He said: "I went to work as usual and at about 11am drove to Asda to get flu capsules for my sore throat and runny eyes.
"By the time I got them, I started to get cramps in my legs. I made my way back to the van but it felt like walking on the moon; I had no sense of my feet touching the ground.
"Then the pain started. It was excruciating, from my back down to my toes. I felt so ill, I knew it was serious.
"I had made an appointment for the GP but knew I needed to go to hospital, so I called Kerrie and she took me to Aberdeen Royal Infirmary's Accident and Emergency department."
Paul was seen quickly and was given an MRI scan.
"Within an hour of having that scan, I could not feel anything from my waist down," Paul said.
"It was petrifying. I didn't know if I would ever walk again."
The young dad endured two painful lumbar punctures (in which a needle is used to draw fluid from the spine); a further three MRI scans (radiological tests that look at bones, muscles and tendons); a CT scan (which takes x-ray images of internal organs) and two nerve conductions (electrical shocks used to detect nerve conditions).
Doctors initially diagnosed the rare and potentially deadly Guillain-Barre syndrome, which occurs when the body's immune system attacks its central nervous system.
They began intravenous immunoglobulin treatment to fight it but Paul reacted badly and developed blood poisoning which could also have killed him.
He was immediately taken off the treatment and given antibiotics.
The terrified dad was then told one of the test results showed he could have Lyme Disease – a serious inflammatory condition caused by bacteria transmitted to humans by ticks.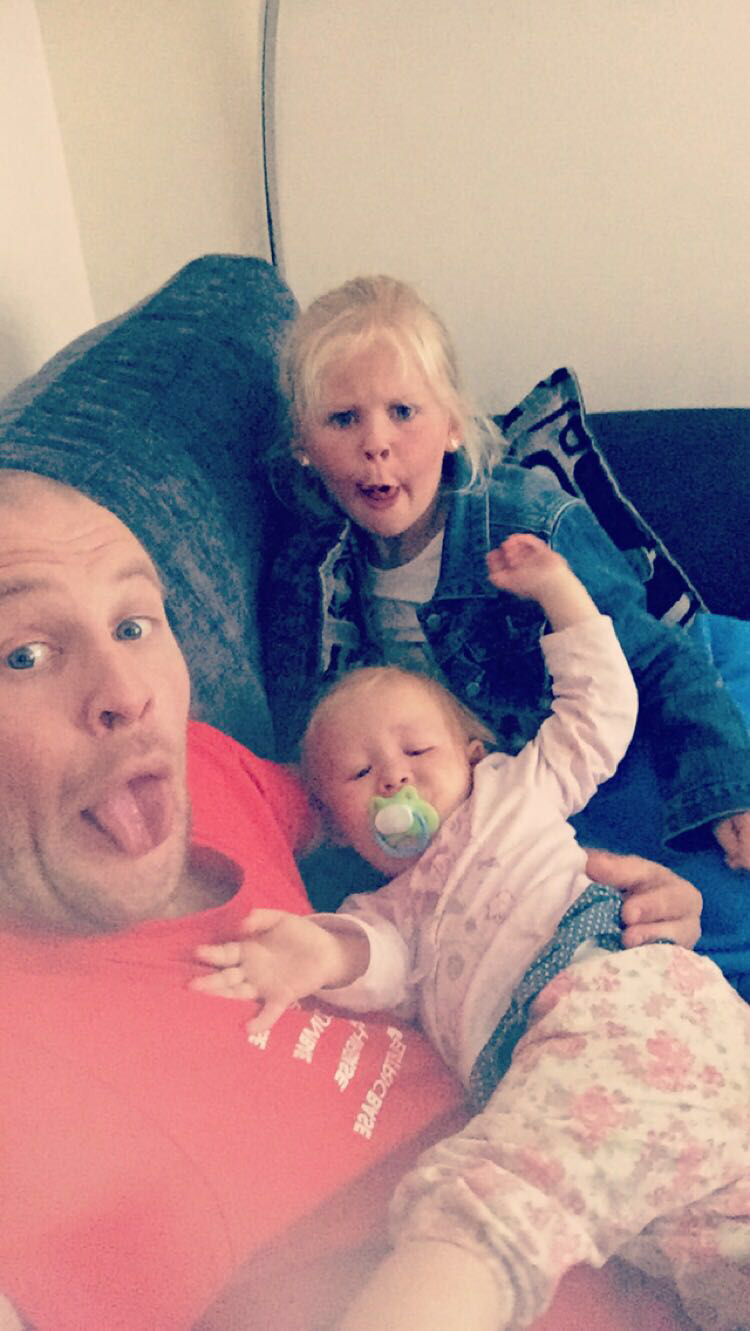 He was given more antibiotics before discovering the original test might have given a false result.
Another test was done but its result was inconclusive.
He said: "I had 10 consultants and a bunch of students looking at my case at one point, but there were still no answers.
"One told me I was a complete mystery. They were cold and clinical.
"Another even said that I should be glad I could walk with sticks. But I am only 31, that's no life to me.
"I have had to re-evaluate my whole situation."
Paul – who is now a patient at the city's Woodend Hospital – said doctors have told him there will be no more tests or treatments. But he is living in hope of a second opinion.
He explained: "Although I am a positive person, I became depressed. I was in tears a lot.
"At one point, I didn't know if I would ever walk again, if I would be able to teach my youngest how to ride a bike or if I would ever walk my girls up the aisle.
"All kinds of things go through your head. I still don't know what the future holds for me."
Paul wants a second medical opinion – something he said his insurers can provide as part of the policy he took out.
But that requires a diagnosis.
The Friends Life Individual Protection plan – with more than £100,000 worth of cover – promises members like Paul that it aims "to provide you and your dependants with protection should serious illness or incapacity affect the member's ability to work and cause you financial hardship."
An Aviva spokesperson said: "We are very sorry that we have been unable to consider Mr Forbes' claim while his condition is being investigated and the diagnosis is unknown.
"We have spoken again to Mr Forbes and now understand the very difficult and worrying position that he is in.
"We have also spoken to his adviser and we are working with him to understand how we can support Mr Forbes with a potential claim on his critical illness policy."
---
READ MORE
Simple bit of kit may have saved our son's life
Late politician's brother won't let freak accident ruin his life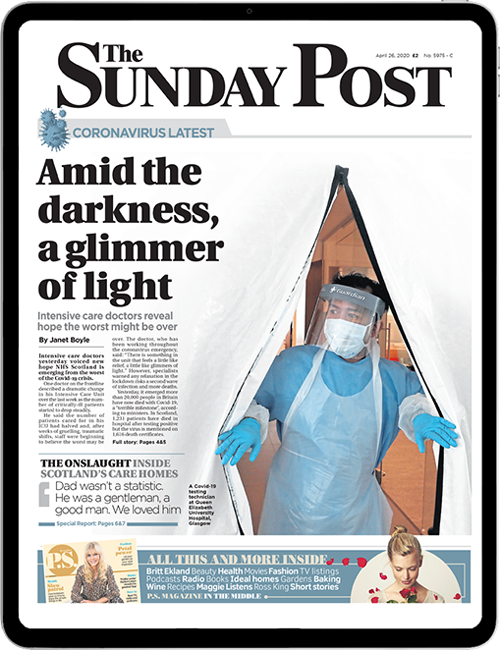 Enjoy the convenience of having The Sunday Post delivered as a digital ePaper straight to your smartphone, tablet or computer.
Subscribe for only £5.49 a month and enjoy all the benefits of the printed paper as a digital replica.
Subscribe