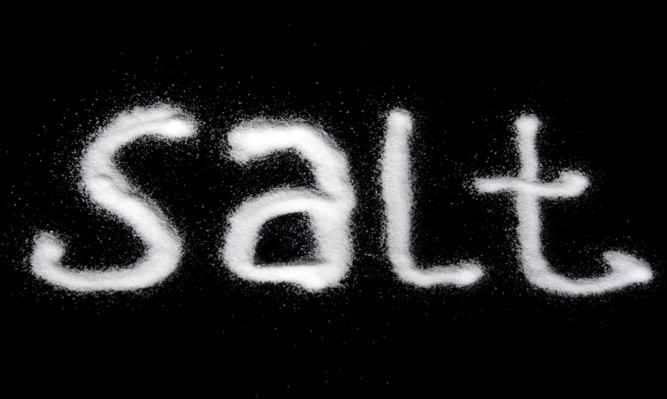 Scots are eating the salty equivalent of 14 bags of crisps every day.
That's the same as eight million teaspoons of the white stuff across the country.
Treating illnesses caused by consuming too much salt is costing the NHS in Scotland an estimated £30 million a year and the sum is rising fast.
There are claims the Scottish Government is failing to tackle the health timebomb after Westminster announced action last week.
Katharine Jenner, of Consensus Action on Salt and Health said: "If each of us ate a pinch of salt less a day, we would prevent an estimated 2,000 deaths a year in Scotland."
The recommended maximum amount of salt an adult should eat every day is just 6 grammes.
But Scots are believed to be putting away well over 8g.
A diet high in salt is linked with a host of serious health issues, including cardiac disease, kidney problems and stomach cancer.
Our own investigations reveal how a typical day can easily see people exceed the recommended salt levels by up to three times, with the ingredient often being found in unlikely places.
Dr Catherine Hankey, a nutritionist at Glasgow University, says food manufacturers use salt as part of an unholy trinity of ingredients that includes fat and sugar.
She said: "Some foods like bread, cheese and ham need salt to be made.
"But food manufacturers soon found that salt acted as a cheap flavouring agent and have never looked back.
"The food lobby is very powerful and for some it's not in their interest to reduce salt levels.
"I can think of several large companies who make both salty snacks and soft drinks. The argument is by reducing the salt they use they could also reduce the number of drinks they sell.
"There are other parts of Europe tackling the problem better than us.
"If the Scottish Government is to act instead of relying on voluntary codes, they will need to bare their teeth. So far they haven't done enough."
Katharine Jenner, of CASH added: "There's no need for food to contain so much salt.
"Traditionally most food was low on salt but after the war producers found it could cover up the sins of bad processed foods.
"There's a lot of work going on to reduce it in the industry.
"Some companies are reducing the size of the salt granules.
"They're just as effective as bigger granules but mean they use less.
"It's a step in the right direction but more needs done."
A spokeswoman for the Food Standard Agency Scotland, tasked by the Scottish Government to tackle salt, said: "We are working with the food industry, including manufacturers, retailers and the hospitality sector to reduce the salt, fat and added sugar content of products.
"We are working to update the existing 2012 Food Standards Agency salt targets."
A-salt on our health
Gordon believed he had a low salt diet. But his findings will shock you . . .
BREAKFAST Bowl of cereal and two slices of toast and lemon curd (no butter).
My bowl of Kellogg's Cornflakes has plenty of salt equivalent to more than half the levels found in seawater.
But it's not just cereal I'm getting a salty fix from.
My tasty toast and lemon curd isn't salt free either. And that's without butter.
A single slice of Mother's Pride Scottish Plain contains nearly 0.5g of salt. Even Asda's Chosen By You lemon curd contains 0.3g per 100g of salt.
TOTAL: 0.85g.
11 O'CLOCK SNACK My elevenses consisted of two fingers of Dean's shortbread fingers, where more salt was lurking.
TOTAL: 0.5g.
LUNCH Two sandwiches and a cup-a-soup.
I thought I'd get a bit of salt in my lunch, but not the overload I discovered, which turned out to be more than my entire day's limit.
My two self-made sandwiches, containing Morrisons antipasto selection of hams, had a corking 4.6g of salt in the meat alone. Even the Dijon mustard contained 0.3g of salt per teaspoon.
Added with bread (2g) and a Sainsbury broccoli and Stilton soup in a cup (1.5g) I was already way over my daily limit.
TOTAL: 8.7g.
DINNER Morrisons four cheese ravioli and a garlic baguette.
I was sure I was going to find a lot of salt in my ready meal and I wasn't wrong.
The pasta dish contained 2.5g and the garlic bread 2g leaving me wondering if I should have cooked my own.
TOTAL: 4.5g.
EVENING SNACK Two slices of cheese on toast.
Cheese manufacturers can't really avoid using salt, as it's a preservative.
But is 1g every three slices in Cathedral City's sliced cheddar really necessary?
Two slices of bread means I'm putting away another unwanted salt load.
TOTAL: 1.7g.
DAY'S TOTAL 16.25g = nearly three times the RDA for salt.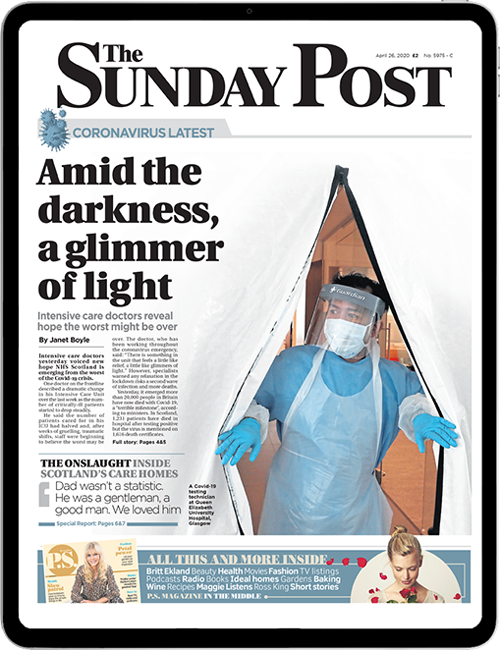 Enjoy the convenience of having The Sunday Post delivered as a digital ePaper straight to your smartphone, tablet or computer.
Subscribe for only £5.49 a month and enjoy all the benefits of the printed paper as a digital replica.
Subscribe