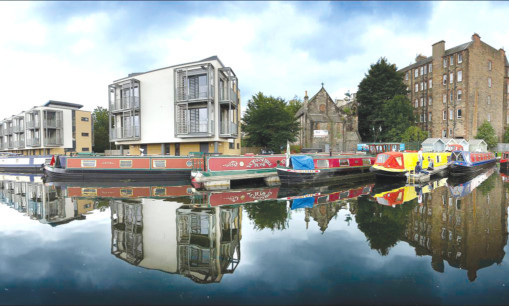 Thousands take the plunge for a life on water
Growing numbers of UK homeowners are swapping bricks and mortar for life on canal boats. More than 15,000 people now live on Britain's waterways as a way of cutting costs.
Families, couples and singles wanting to become "live-aboards" can buy a boat for as little as £20,000. In comparison, the average house price in Scotland is now £153,102 and £242,415 in England putting home ownership out of many people's reach.
Roger Yorke, of the Residential Boat Owners Association (RBOA), said: "There is a growing number of live-aboards on Britain's canals. It's not surprising, given the cost of housing. Even paying £10,000 a year for a marina berth in London is cheaper than the cheapest flat in the same area.
"In the North of England, I've been quoted as little as £1,500 a year for residential mooring, which includes electric charges and secure parking."
Boat owners in England also have to pay about £800 for a licence from British Waterways and about £300 for marine and contents insurance. In Scotland, a licence is £145 and mooring fees can vary from £2,000 in Glasgow to £4,000 in Edinburgh.
Scottish Canals launched its Living On Water campaign to encourage boat living last year. Its showboat, Blue Hue, is moored at Edinburgh's Leamington Wharf.
Markus Kroner, estate manager at Scottish Canals, said: "The canals of Scotland are undergoing a renaissance and are busier than ever. More and more people are leaving the land behind for a life on water."
The RBOA suggest potential buyers try a holiday hire boat before taking the plunge. Roger, who lives with wife Maureen on their canal boat, Ramyshome, said: "People should go and hire a boat in October or March. Then they will get a feel for whether they can cope with living in the limited space and being out when it is cold, wet and dark in the winter."
But for many, living on the canal has brought a new lease of life.
Mike Martin gave up the terraced cottage he shared with partner Sue Pursglove, 56, after he suffered a stroke. Mike, 63, was in hospital for three months and was partially paralysed down his left side. Doctors even told Sue he may never walk again.
The couple were advised to sell their home in Colne, Lancashire, and buy a bungalow for disabled people so it would be easier for Mike to get around.
Instead, 18 months ago, they bought Tanglewood, a 57ft long, wide-beam canal boat for £20,000 and set about renovating their new home.
Mike, a father-of-two, said: "When the doctors said to Sue I might not walk again, I thought, 'I'm not having that I'm a fighter! The boat has really helped me.
"My left arm and leg are affected but I'm more mobile now from living on the boat because I have to make myself do a lot more."
Their unusual way of life also cuts utility bills they buy coal and wood when they need it and other costs associated with living on dry land..
Former chartered surveyor Mike said: "Pound for pound, it is a much cheaper way of living and it is such a stress-free way of life.
"Our neighbours are swans and ducks. It's idyllic."