DONALD TRUMP should remove his name from Turnberry golf course because his political rants have damaged his brand, according to one critic.
The US presidential hopeful was in Scotland over the last 48 hours officially opening Trump Turnberry following a £200 million refurbishment of the Ayrshire golf resort.
But Mark Singer, a writer who spent weeks with Trump for a profile piece on the property magnate, believes the businessman's involvement could prove harmful to the historic course.
"He should take his name off Turnberry," Mark said. "I can understand it's one of the most important golf courses in the world, but putting his name on it is a liability rather than an asset.
"There was a Trump course due to be used over in the States for a golf tournament and they moved it to Mexico just to stick it to the guy."
Mexico flags flew at homes near Trump's first Scottish golf course in Aberdeenshire yesterday to greet his arrival in response to Trump's vow to build a wall between America and Mexico.
It was the 70-year-old tycoon's first trip to the UK after a spat with David Cameron following Trump's comments about Muslims.
Mark continued: "I think he has damaged his brand hugely.
"It's not inconceivable that one day the Trump brand will be worth very little – if he was stock I wouldn't buy him.
"These buildings with his name on them around the world are built with someone else's money. The investors thought it was a safe investment and that might still be the case if he loses the election but boy, has he really damaged his name."
Mark believes Trump's increasingly nasty and offensive comments are actually an attempt to sabotage his campaign because he never intended to get so far.
"He is doing all he can to subvert himself and I think subconsciously at least he is trying to commit political suicide," said Mark, who has written a scathing book about his time with Donald, called Trump & Me.
"In the past he had always pretended he was going to run for president, but he was just keeping his name out there.
"In 2011 he made noises that he was going to run but said he couldn't because of his TV show, The Apprentice.
"He never intended to get this far, I believe, but then the ego took over. He's a megalomaniac and has profound insecurity.
"Trump doesn't want to lose but he doesn't want to be president either. He doesn't want to be nuanced or deal with the issues.
"He has no ideology or core belief and the Republicans have a candidate they can't control. It's not about the party, it's all about him. He is so self-involved.
"Over the last few weeks I've come to think he hasn't the slightest chance of being elected. He has made more and more incendiary comments."
It's 20 years since Mark was tasked by his editor at New Yorker magazine to spend time with Trump for an article.
Their relationship, Mark says, was "cordial" as the writer joined Trump on his private plane, office towers, casino resorts and penthouse apartment.
"We were using each other – he wanted publicity and I wanted access.
"I never thought of him back then as dangerous, but I do now."
Trump was furious with the finished article and it sparked a series of back-and-forth insults and retorts.
One of those comments from Trump adorns the cover of Mark's book. It reads: "Mark, you are a total loser! And your book (and writings) sucks!"
When Trump responded to a New York Times review of another of Mark's books with a withering letter to the paper, the title shot up the book charts, so Mark sent him a cheque to show his gratitude.
"I sent him $37.82 – and he cashed it! I have his letter framed on my wall."
Trump & Me is released by Penguin on July 5.
---
READ MORE
Donald Trump's Turnberry golf resort set to open after £200m refurbishment
I'm frightened that Donald Trump might become the US president and try to colonize us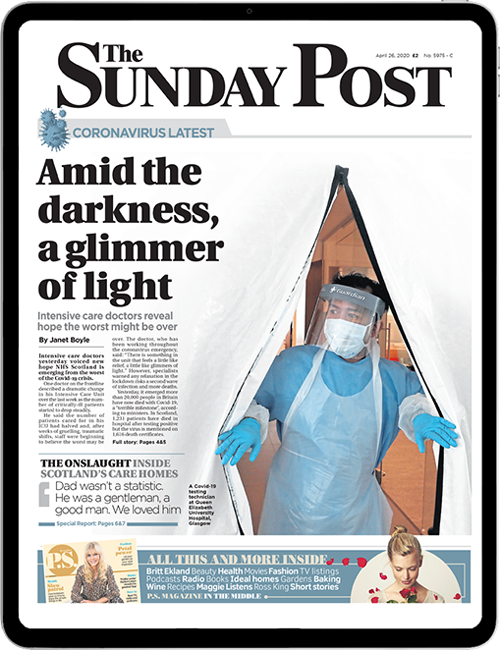 Enjoy the convenience of having The Sunday Post delivered as a digital ePaper straight to your smartphone, tablet or computer.
Subscribe for only £5.49 a month and enjoy all the benefits of the printed paper as a digital replica.
Subscribe