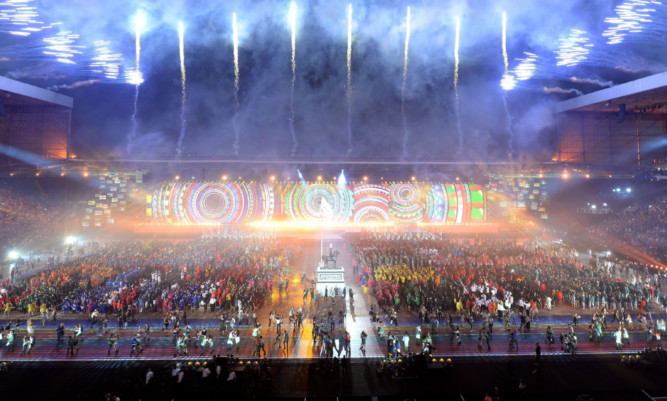 ALMOST 40 people who travelled to Britain for last year's Commonwealth Games have been 'lost' by the Home Office.
A year on from the acclaimed sporting festival in Glasgow, UK Government officials have admitted they don't know where 39 foreign athletes, officials or the family members who accompanied them are.
They say a further 21 have applied for or been granted political asylum while six have requested permission to stay through other means.
Among those seeking asylum is Sierra Leone sprinter Jimmy Thoronka, who vanished soon after the Glasgow Games ended.
He was later found to have spent the winter on the streets, having failed to return to his Ebola-hit West African home. He is now in Home Office accommodation awaiting a hearing.
Two other sportsmen known to have absconded following Glasgow 2014 were Benon Kizza, 27, and Philip Pariyo, 26, from Uganda.
The pair have since been granted asylum for five years.
Tory MP Philip Davies, who uncovered the figures, said: "It is absolutely ludicrous that people who have come over to represent their countries in the Commonwealth Games have stayed on and claimed asylum.
"If these countries persecute their top athletes, I am pretty sure they'd have been suspended from the Commonwealth.
"This just goes to show what a soft touch we are."
105,000 competitors, coaches, officials and their family members were granted clearance to travel to Scotland for the Games.
Officials from the Home Office were "unable to confirm" the departure of 39 of them, but added that "does not mean that they did not leave".
Laurie Ray, of Positive Action for Refugees and Asylum Seekers, said: "The ability to claim asylum doesn't make us a soft touch it makes us signatories to the refugee convention.
"I also find the notion that just because somebody is a sportsman they wouldn't be subjected to persecution, slightly odd.
"And to say that all members of the Commonwealth are upholding human rights is quite ridiculous."
Gary Christie, of the Scottish Refugee Council, said: "The 21 people who applied for asylum after the Games would have to prove to the Home Office, like all refugees, they would be likely to experience persecution if they returned to their home countries.
"Many Commonwealth nations, such as Uganda and Sri Lanka, have terrible records of human rights abuses and violently repressive regimes.
"It is illegal to be gay in 42 out of the 53 Commonwealth countries.
"Being a professional athlete does not exempt people from persecution.
"Mr Davies should be using his position as an MP to condemn human rights abuses wherever they occur across the Commonwealth, rather than attacking the tiny number who have sought our protection."
A Home Office spokesperson said: "The UK has a proud history of granting asylum to those who genuinely need it and every case is carefully considered on its individual merits.
"Where people establish a genuine need for protection or a well-founded fear of persecution, refuge will be granted.
"If someone is found not to need our protection, we expect them to leave the country voluntarily.
"Where they do not, we will seek to enforce their departure."