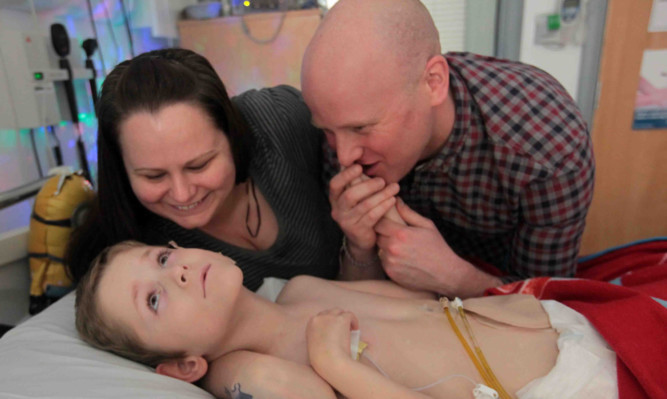 HEARTLESS benefits bosses are scrapping a severely disabled boy's financial lifeline because he's too poorly to qualify.
Dylan Kirsopp, seven, suffers cerebral palsy, epilepsy and a rare condition which means he cannot eat and has to be fed through a drip.
The battling youngster requires round-the-clock care from mum Mandy, 35, and 37-year-old dad John.
But now the family are braced for a devastating blow as Dylan's disability benefits are set to be axed.
The family are even losing their special wheelchair-adapted car because Dylan is in hospital and not at home.
Speaking from her son's bedside, Mandy said: "It feels like we're being punished because Dylan is too ill."
Dylan and twin brother Murray were born prematurely at 23 weeks and, weighing little more than 1lb, they faced a battle to survive.
Murray recovered well and, aside from being autistic, is a perfectly healthy little boy.
But Dylan has a catalogue of severe problems including cerebral palsy and epilepsy, and more recently he was diagnosed with intestinal pseudo-obstruction.
It means he will never be able to eat food and must instead receive nutrients through a drip into his vein.
He has already been in hospital for the past nine weeks and faces another lengthy spell of treatment, as doctors battle to find a way of feeding him that doesn't leave him in agony.
Mandy, who quit her job as a customer services office manager to become Dylan's carer, has been at her son's side 24 hours a day, six days a week during his latest stay in hospital, with John taking over one night a week.
But Department For Work and Pensions rules state that if a child is in hospital for 12 weeks or more, the Disability Living Allowance (DLA) will be stopped, along with the Carer's Allowance, as it is deemed to be the hospital providing his care.
"I think it's really, really unfair," said Mandy. "When you're in the hospital 24 hours a day with your child, you are giving them as much if not more care than you would if you were at home.
"Yes, the nurses are here to provide a medical service, but they're not the ones who are sitting up all night cuddling him when he's unwell.
"They're not the ones changing his nappies every time he needs it, they're not the ones bathing him or sorting him out, changing his bed.
"Yes, they can do those things but I am doing it because he's my son and I love him and I would never just leave him in hospital.
"I'm giving him as much care as I would do at home, if not more."
When Dylan's DLA and Mandy's Carer's Allowance stop in three weeks' time, it will wipe out more than half the family's income.
It means they will have to survive on John's wage as a part-time warehouse worker, for which he gets working tax credits. They also receive housing benefit.
Their wheelchair-friendly car, provided as part of Dylan's care package, will also be taken from them, leaving them without any means of transport.
She said: "It's like they're saying after 12 weeks you're not giving any care so you can go and get a job.
"After 12 weeks in hospital who's going to leave their child and get a job? Who's going to look after the bairn in the meantime?
"Who's going to look after him when I'm out there working? It's absolutely ridiculous."
Following Dylan's birth, Mandy and John, who previously enjoyed a successful career as a sales rep, were forced to sell the home they had hoped to raise the family in and move into a council house with better disabled access.
And now, to make the family's financial plight even more perilous, Dylan has been referred for a 300-mile transfer to Great Ormond Street Hospital in London, for specialist treatment.
With their DLA and Carer's Allowance lifeline, worth £600-£700 a month, set to be swept away, Mandy, from Gateshead, fears for the future.
She added: "It is just going to cripple us. Most of our income will be gone and we will have to rely on the support of other people.
"We are already looking at as many money-saving tips as we can and living on as little as possible.
"But then, with Great Ormond Street on top of it, it is going to cripple us. I don't know how we will get through it."
Una Summerson, of disability charity Contact a Family, said: "We want to see the unfair rules that remove vital DLA from disabled children like Dylan when they are in hospital to be urgently scrapped.
"Most of the children affected by this rule are likely to have severe disabilities or complex health needs and the welfare system should be there for them and their families when they need it most."
The Department for Work and Pensions said: "DLA provides a financial contribution towards severely disabled children's care or mobility needs.
"Those needs are met in full by the NHS when a child is in hospital so stopping DLA prevents double provision.
"This Government is committed to supporting disabled people, spending around £50 billion a year on disabled people and their services."
Dylan's story comes in the week a leaked document revealed the Government was considering slashing Employment and Support Allowance for disabled people by up to £30 a week.
Can you help?
Friends are rallying round to raise as much cash as they can during the family's hour of need. If you'd like to donate, visit http://www.gofundme.com/dylank
WHATEVER YOU DO, DON'T BE ON BENEFITS AND GET ILL
FALLING ill and being admitted to hospital can have serious financial consequences for people who receive benefits.
Patients who stay in hospital are deemed to have had a change of circumstances and must notify the Department for Work and Pensions.
The DWP does not stop paying every kind of benefit when a claimant goes into hospital and it depends on a range of factors.
For example, Disability Living Allowance for children under 16, which Dylan receives, stops after 12 weeks which could be one stay or several where the gap between the hospital stay is less than four weeks. For adults over 16 on DLA, payments stop after four weeks.
Those claiming child benefit are able to claim for the first 12 weeks their child is in hospital and can only carry on claiming if they are buying things specifically for the child.