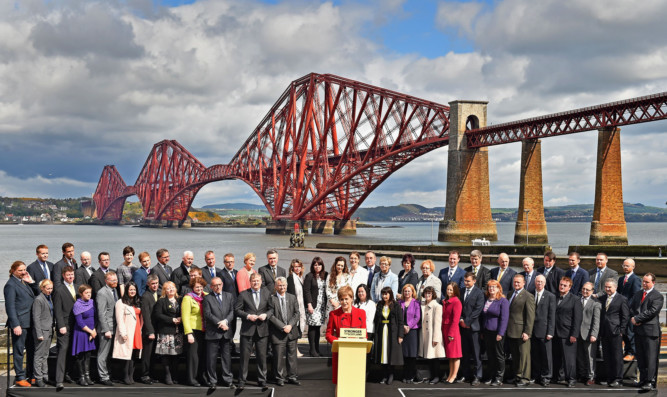 Nicola Sturgeon introduced her whole band of new MPs to the world yesterday in the shadow of the iconic Forth Bridge.
Standing before the 56 freshly-elected parliamentarians, the First Minister said: "No longer will Scotland be sidelined or ignored in Westminster. Our voice will be heard. Our interests will be protected."
The newbies make a mixed bunch with a comedy entrepreneur, an ex-Bollywood actress and a TV anchorman among their number. Some are destined to become political stars while others will wilt in Westminster. We've picked out the ones to watch.
The most high-profile winner on election night was Mhairi Black, the 20-year-old student who toppled Labour's General Election supremo Douglas Alexander in Paisley. As well as taking her seat in parliament she's got a dissertation to finish this month. As the youngest MP since the 17th Century she'll stand out and previously talked of "putting the nut in" No voters after the referendum.
Until Thursday, Roger Mullin was a serial loser who had contested five election campaigns unsuccessfully. But he came good last week and how. Mullin overturned a massive Labour majority in the Kirkcaldy and Cowdenbeath seat that used to be held by Gordon Brown. He's taken on assignments around the world for the UN teaching political decision making.
Hopes will be high that Tommy Sheppard has got some good jokes lined up for his maiden speech in the House of Commons. He runs The Stand comedy club in Edinburgh and has been an integral part of the Edinburgh Festival for years. He only joined the SNP in the aftermath of the referendum but he's expected to bring some colour to the Commons.
John Nicolson may be a familiar face from his time on TV presenting the likes of BBC Breakfast and news programmes like Panorama and Watchdog. He also anchored the BBC News channel during the 9/11 terrorist attacks so brings media expertise and coolness under pressure to the SNP operation.Lib Dem minister Jo Swinson put up an almighty struggle, but he squeaked home in East Dunbartonshire.
Hannah Bardell worked for STV and GMTV before Alex Salmond persuaded her to join the party machine. She looks the complete political package with an impressive CV that includes having run Salmond's office for three years before leaving to gain experience in the oil and gas sector and working in the US State Department. Aged just 31, she's one to watch.
Chris Law is set to be one of the few MPs with a ponytail and beard. His background is as colourful as his look with stints doing cookery courses, motorbike tours of the Himalayas and in the financial sector. He came to prominence touring Scotland on a Green Goddess fire engine distributing pro-Yes literature during the referendum campaign and strolled to victory in Dundee West on Thursday.
Stephen Gethins was Alex Salmond's Europe expert and the party's been keen to get the brainbox on the front-line for some time. His experience of the European Parliament means he's likely to play a key role in devising the party's response to the EU referendum that seems inevitable now the Conservatives have a majority.
Tasmina Ahmed-Sheikh has attracted attention for being both a Labour and a Conservative supporter before settling on the SNP. Close to Alex Salmond, she's also a lawyer and a Bollywood film star of some reknown. The success of Ukip's David Coburn stopped her getting into the European Parliament a year ago, but she saw off Gordon Banks in Ochil and South Perthshire last week.
Natalie McGarry was a high-profile campaigner during the referendum and heavily involved in Women For Independence. She claimed one of the big election scalps when she beat Labour's Margaret Curran. Intriguingly, her partner is the only Conservative councillor in Glasgow. A keen user of Twitter, the Westminster press pack will be following her feed closely.
Philippa Whitford is a consultant surgeon and breast cancer specialist who came to prominence in the referendum with her eloquent warnings of the threat to the NHS from privatisation. With Nicola Sturgeon announcing the SNP bloc will vote on reserved health matters if there's a consequence for Scotland she may have a starring role at Westminster.
Michelle Thomson founded the Business for Scotland group in the run up to the referendum and travelled the country making speeches. With that background she must fancy her chances of being handed a portfolio in the business department. She also faced a strong Lib Dem challenge last week, but saw off nuisance calls campaigner Mike Crockart in Edinburgh West.
Top lawyer Joanna Cherry is strongly tipped to shine in front-line politics. She was made a QC in 2009 and has impressed with an approachable style and attention to detail. She founded Lawyers for Yes last year and will have savoured scooping Alistair Darling's old seat last week given he chaired Better Together.
Related stories
Jim Murphy feeling the pressure as Labour MSPs and unions call on him to quit
Sunday Post Opinion: The people have spoken – Westminster must deliver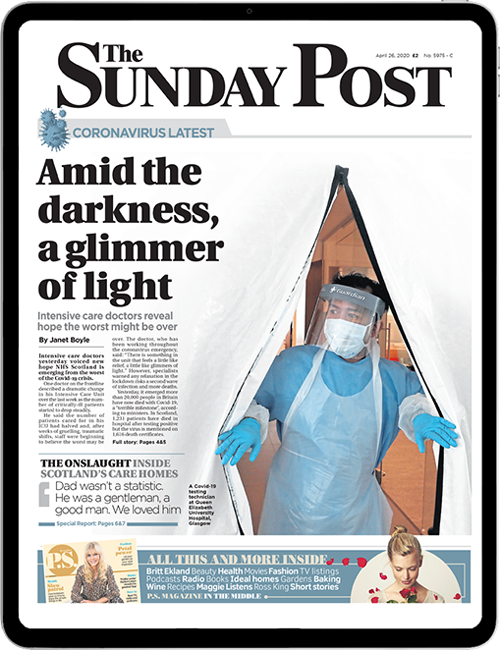 Enjoy the convenience of having The Sunday Post delivered as a digital ePaper straight to your smartphone, tablet or computer.
Subscribe for only £5.49 a month and enjoy all the benefits of the printed paper as a digital replica.
Subscribe