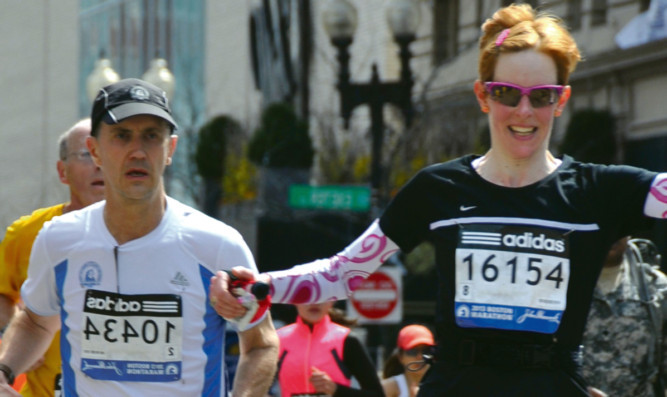 Scots mum just escaped marathon blast after battling from brink of death to run.
Marathon-running mum Lynn Burnet is gearing up for the afternoon school run.
The athlete has only just returned from Boston to her Scots home and is already juggling domestic demands. She is not complaining.
"I try to find the blessing in each day," says Lynn, with good reason. Lynn, who completed the Boston Marathon just minutes before it was rocked by two terrorist bombs, survived along with her eight-year-old son Caleb and daughter Hope, 5. Her mother, sister and brother also made it out safely. Three people died in the blasts, including Martin Richard, 8, who had been cheering on his father. More than 140 were injured.
Today Lynn relives those terrifying moments and reveals her remarkable fight back from the brink of death last year to qualify for and compete in the world's oldest and most prestigious human endurance run.
Lynn, 39, who suffers from a gut condition which almost saw her starve to death in 2012, says: "I am still trying to reconcile myself with what happened in Boston. I have an eight-year-old son and it doesn't bear thinking about.
"The little boy who died had only come out to watch his daddy run."
Lynn, who has joint British-Canadian nationality, had been staying in Canada with her family and drove to the city to compete alongside her brother David Holder, 37. Her youngest child Joshua, 3, was at home in Nairn with his dad Andy Burnet, 46, who runs the town's Havelock House restaurant and hotel.
Lynn had crossed the finish line in three hours and 38 minutes, collected her foil blanket and medal, changed her clothes and was looking for her family when the first bomb went off.
"I was asking directions to the family waiting area when I heard the sound," she says.
"I remember looking at another runner and her looking at me you could just sense something was terribly wrong.
"I forgot I had just finished a marathon and got to the family area as quickly as possible. I saw policemen running by with a look of panic in their eyes.
"I had this overwhelming sense of urgency I had to find my family and leave."
Within 13 seconds of the first blast, a second rocked the scene. Lynn says: "When I got to them I saw my mum first. She had hold of my son and my sister had my daughter. They were safe. My brother was there too, he'd crossed the line 38 minutes before me."
They headed for their car and went back to the hotel to let Andy and other relatives know they were safe.
But Lynn says: "We just wished we could do something for those who were injured. A lot of them were spectators just there for the spirit of the day. People have had to endure amputations, their lives have changed forever.
"How can anyone be so sick as to do something like that? When I saw pictures of the suspects on TV I was really angry.
"The terrorists tried to destroy something great. We want to claim back the day and not let them win.
"Boston is a special marathon, you have to run a qualifying marathon to be able to take part. For people to cross that line and get the medal is really something.
"I really feel not only for those who lost their lives and the injured, but also for those who got to the 24-mile mark and had to stop."
Lynn may not have made it to the race herself, had it not been for the lifesaving intervention of medics and dieticians at Raigmore Hospital in Inverness. She suffers from the auto-immune condition coeliac disease more specifically non-coeliac gluten sensitivity. Her body cannot digest sugar from fruit, and she also can't tolerate dairy or food containing gluten. But it wasn't until the 5ft 7in athlete's already slim frame plummeted from nine stone to nearly seven in a matter of months that the cause was detected.
Lynn says: "I'd been training for the Loch Ness marathon when I started to have gastro-intestinal problems. I found out gluten could be a problem so I avoided that and began to feel better."
But Lynn was still being plagued by occasional tummy pain and decided to eliminate dairy from her diet, too. She completed the Loch Ness event, qualifying for Boston, a long-held dream.
She decided to tackle the Edinburgh marathon in May 2012, but on the advice of her doctor had introduced some gluten back into her diet. Lynn admits: "Something was really wrong I was losing weight and feeling terrible. I showed up at the start line in Edinburgh already feeling fatigued and sapped of energy."
Problems hit in mile 20 when she was crippled by agonising abdominal pain. Lynn was checked by medics, but continued, amazingly completing the race in three hours and 53 minutes.
When she got home she went to her GP and was admitted to hospital, where she remained for two weeks. Doctors fitted her with a nasal gastric tube through which fructose, gluten and lactose-free food was pumped direct into her stomach via her nose. A hospital dietician then discovered she suffered from fructose mal-absorbtion.
Medics believe the condition was sparked by stress after the death of her father five years ago, shortly before Hope's birth. Eventually they came up with a diet that she could tolerate. She left hospital and begun to manage on her own, visiting the dietician at regular intervals.
Lynn says: "At first people thought I was suffering from anorexia, that I had chosen not to eat. The problem was that I was eating but still losing weight. The other issue was that I had developed a paranoia about food I didn't know what was going to hurt me.
"I was starving to death despite eating. When the doctor said he was going to admit me to hospital I thought 'thank God'. Once the fructose mal-absorbtion was diagnosed, things started to improve. My weight increased I'm 8st 3lbs at the moment and I was able to achieve my dream and complete the Boston Marathon."
She is considering running the same event next year, but admits her terrified firstborn doesn't want her to. "We'll have to see," she says. "I used to be a great planner and very much in control, but I am humbled by life now.
"You just don't know what's around the corner."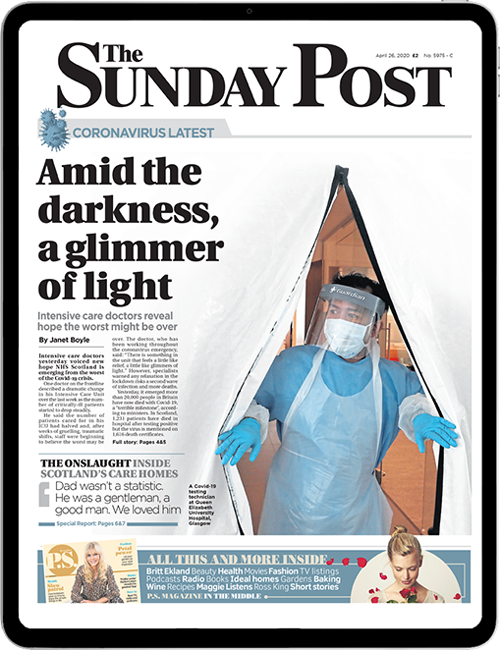 Enjoy the convenience of having The Sunday Post delivered as a digital ePaper straight to your smartphone, tablet or computer.
Subscribe for only £5.49 a month and enjoy all the benefits of the printed paper as a digital replica.
Subscribe