PRESTWICK AIRPORT chiefs have been accused of blowing sky-high sums – despite owing the taxpayer £25 million.
The nationalised hub was bailed out by the Scottish Government with a huge loan three years ago.
Yet a Sunday Post investigation can reveal there has been a huge seven-figure spend on travel, consultants and severance payments over the last two years.
This comes despite the loss-making Ayrshire airport needing to find a further £4.5m for capital projects – such as runway repairs – next year.
Bosses of the airport have splurged:
£661,548 on redundancy payments for 23 workers.
Just under £600,000 on management consultants, including £10,000 on an executive team-building course one month before top bosses quit.
Almost £1500 for stays at five-star hotels such as the Bellagio in Las Vegas and the Intercontinental in London.
Labour MSP James Kelly said taxpayers would be "outraged" at any suggestion of cash being frittered away.
"The SNP Government must get a grip on this situation and be completely transparent about how taxpayers' money is being spent," he said.
Earlier this year The Sunday Post revealed taxpayers would have to wait at least a decade before there was any chance of a return on the nationalised airport.
Figures show Prestwick has shed nearly two million passengers in the space of just seven years, and twice missed growth targets.
And now expense claims released under freedom of information laws show former finance boss Tom Wilson stayed at the five-star Intercontinental hotel in London for £262 in 2014, while ex-commercial officer Graeme Sweenie claimed a £1171 five-night stay at the Bellagio resort in Las Vegas during a conference on new routes in 2013.
More recent claims show current chairman Andrew Millar, who banks £300 for every day he works, is claiming £30 in petrol for his daily commute from Glasgow to Prestwick.
The state-owned airport has paid out £661,548 in redundancy payments to a total of 23 workers in the last two years, along with £578,058 on consultants.
The haul included £15,248 on a four-day team-building workshop for the leadership team in December 2014 with another £10,000 "team building event" taking place just seven months later and only four weeks before the £100,000-a-year chief executive Iain Cochrane and commercial officer Graeme Sweenie both quit the ailing airport.
A total of £6,000 was spent on an "executive team structure and salary review" last year, along with £90,000 on executive search recruitment.
Just over half of the consultant spend has been on the bid to build a spaceport at Prestwick, but half of these costs will be met by South Ayrshire Council.
Tory MSP Alex Johnstone said: "When the Government took over the airport it said it was going to whip it into shape. Instead, things only seem to be getting more ludicrous."
A Glasgow Prestwick Airport spokeswoman said the airport faced "a significant challenge and the business model moving forward needs to be both re-designed and delivered rapidly so the airport can look forward to a profitable, sustainable future."
She added: "When the new board was appointed it identified that this fundamental repositioning of the airport required new vision, leadership and expertise."
Problems for Prestwick if duty cut is axed
THE ailing airport is facing a fresh crisis because of doubts over plans to cut the amount of tax paid on airline tickets.
The SNP have long campaigned for a 50% cut in Air Passenger Duty (APD) when Holyrood takes control of the levy in 2018.
The party's plan to cut the "tourism tax" could save families hundreds of pounds on the cost of a holiday and bring in an estimated one million extra passengers to Scotland every year.
However, the Greens, Lib Dems, Labour and Tories all announced in their Holyrood manifestos that they are against the 50% cut so, as things stand, the policy has no chance of being approved by MSPs as the SNP no longer has a majority.
Prestwick was banking on the tax cut to boost passenger numbers by more than 300,000 with former chief executive Iain Cochrane describing the APD cut as "critical" and current bosses admitting it would make "a significant difference" to "business development efforts".
Michael O'Leary, the chief executive of Ryanair – Prestwick's last remaining passenger airline – has said new routes are only possible with an APD cut.
An airline insider said: "For struggling operations like Prestwick the cut is a vital lifeline for its future as a functioning passenger airport."
It is estimated an APD cut would hand Prestwick an extra 345,000 passengers a year by 2020.
---
READ MORE
Fears troubled Prestwick Airport will not show profit for at least TEN years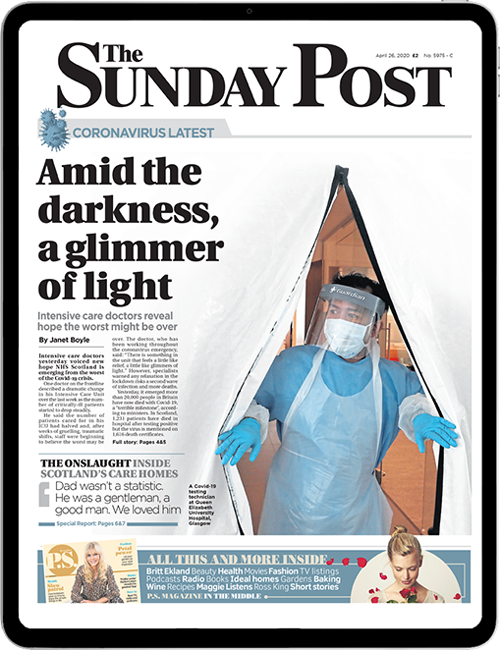 Enjoy the convenience of having The Sunday Post delivered as a digital ePaper straight to your smartphone, tablet or computer.
Subscribe for only £5.49 a month and enjoy all the benefits of the printed paper as a digital replica.
Subscribe