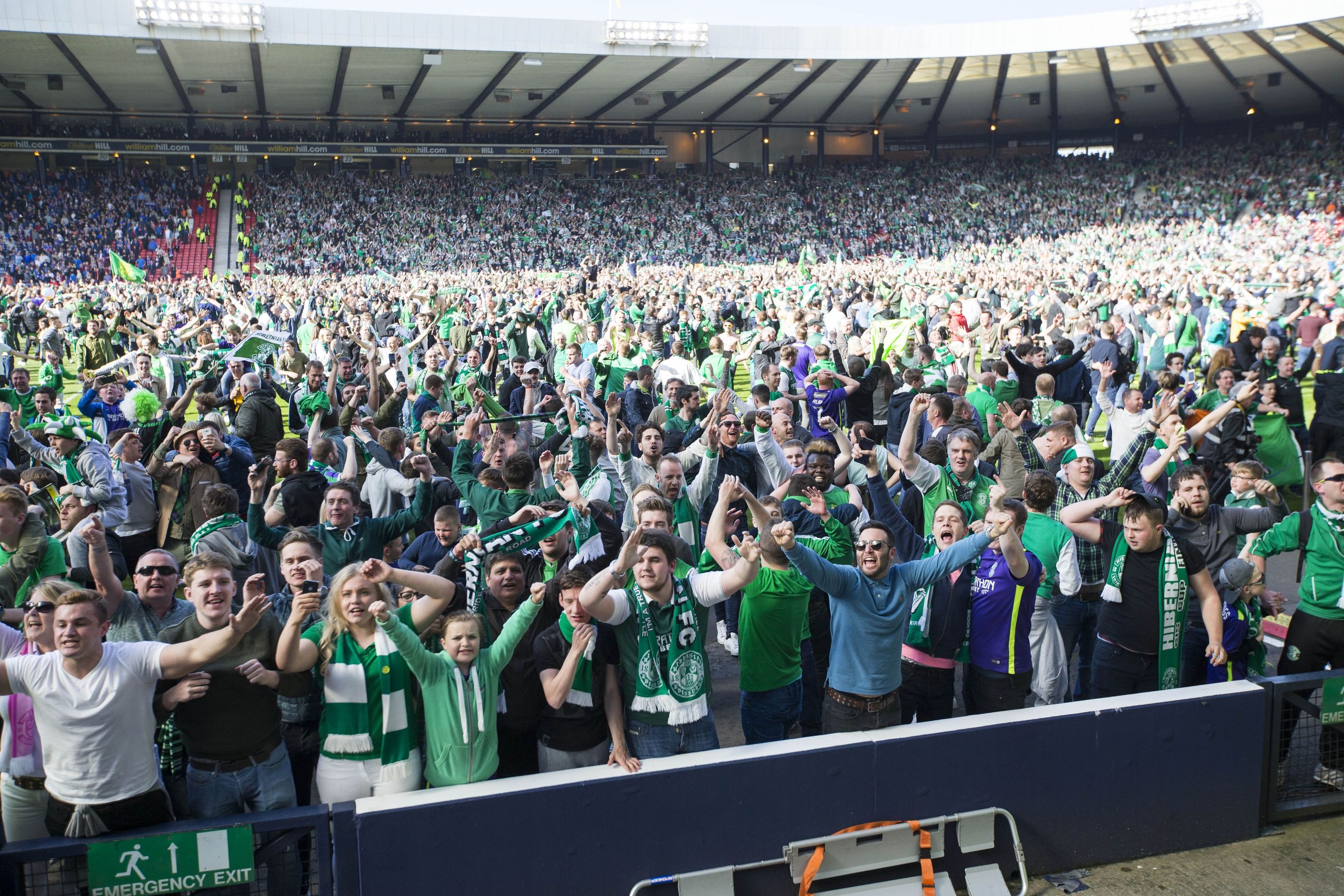 IT was a scene Hibs fans feared they'd never see – their team lifting the Scottish Cup.
Jubilant fans cheered for joy as a late header from David Gray sealed the win that wrote them into the history books after 114 years of hurt.
Amid the ecstatic scenes a handful of fans began to trickle on to Hampden's hallowed turf.
No one seemed to bat an eyelid.
History had been made – "let them have their moment" – seemed to be the order of the day.
But the trickle quickly turned into a terrifying torrent, with hundreds of fans spilling on to the pitch in a matter of seconds.
Pockets of fighting are said to have erupted, with claims that six Rangers players were attacked.
---
READ MORE
Alan Stubbs will donate Scottish Cup medal to charity
Cup shame as Hibs fans' euphoria turns to trouble
Hampden pitch invasion brings back memories of past troubles
Rangers 2 Hibs 3: History boys end 114-year Scottish Cup hoodoo
---
Unconfirmed reports last night suggested Rangers talisman Kenny Miller was "knocked out".
One fan watching, Rodger Williams, 53, a neutral football supporter, said he feared people would be killed in the stampede.
"There was no control at all," he said. "The way people spilled on to the pitch was terrifying. People could easily have been badly injured.
"It put me in mind of the awful scenes we saw at Hillsborough."
Hibs fan Mark Guargilo, 37, from Edinburgh, said he was ashamed of the scenes that marred the game.
"I ended up getting punched in the mouth by one of our fans," said the print worker from Leith.
"It was just barmy, I've never seen anything like it before in my life.
"I was about eight or nine rows back from the advertising hoardings and could feel my feet going. I thought I was going to go under and get trampled.
"As I struggled to pull away from it, the atmosphere changed and someone in one of our tops lashed out at me.
"I ended up with a thick lip and embarrassed for what I'd seen. Shameful scenes."
Rangers fan Murray Scougall said: "The minute the full-time whistle went we could see Hibs fans coming on.
"At first I thought it was just going to be a handful but then more and more came on.
"The police were nowhere to be seen and the stewards couldn't cope.
"There were thousands of Hibs fans running down. Their aim seemed to be to goad the Rangers fans.
"About 150 Rangers fans went on to the pitch.
"It's just as well the majority in the stands showed restraint. If they hadn't there's no way the police could have done anything.
"When we left the ground there were streams of police vans and cars trying to make their way through the crowds.
"But they didn't even have their sirens on. They were just sitting in the traffic alongside the fans."
Another fan, who'd been seated in the disabled section, said police in riot gear showed up "much too late to protect" fans.
MSP Adam Tomkins was at the game and said he was scared by the sudden surge of supporters.
He wrote on Twitter: "Well played to Hibs. But their fans' pitch invasion was disgraceful and frightening."
Thousands of people reacted in horror on Twitter to what they had seen on television.
A number of tweets related to a yob apparently attempting to punch a police horse.