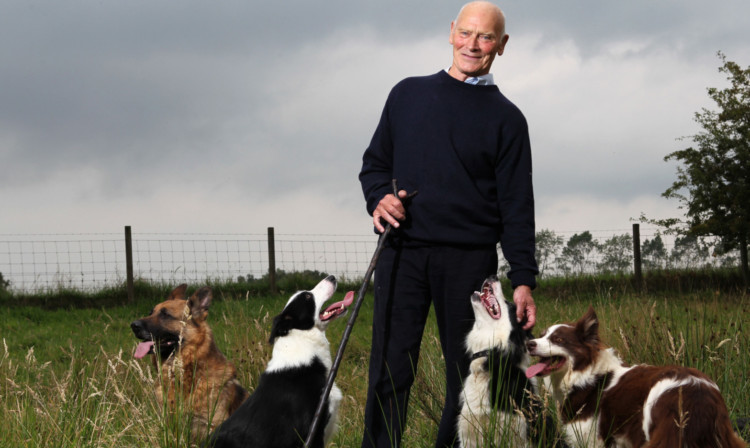 Meet Scotland's answer to Cesar Millan.
Dog whisperer Cesar Millan found fame and fortune thanks to his ability to rehabilitate tearaway canines.
The Mexican millionaire has his own TV series, books, live tours and A-list friends.
But decades before Cesar was born, a Scottish gentleman was forging the same reputation for his ability to "communicate" with our four-legged friends.
Jim Fraser spent a childhood in and out of foster homes as the Second World War raged overhead, and in those days Jim considered the dogs that would follow him to be his only friends.
Over time he realised he had a natural ability with the animals and forged a lifelong career of rehabilitating and training domineering dogs.
Septuagenarian Jim is now better known as Scotland's Dog Whisperer and, while he doesn't have Millan's millions, he's never been in greater demand to deal with today's pampered pooches who are leaving their owners barking mad.
"The problems start when owners treat their dogs as people," said Jim, who lives in Drymen, near Stirling. "I treat them as dogs. That's not to say they don't have fun. But when they're told to lie down, they do. They won't move until I tell them.
"The modern way of caring for a dog seems over the top to me. People give dogs special toys and God knows what else. Basic discipline seems to have gone and it's about how much they can pamper dogs.
"People are reliant on training dogs with treats and titbits, but that doesn't work. Once the treats are gone, the dog stops listening and doesn't show respect.
"The last couple of years have seen a big increase in exasperated owners contacting me."
Jim says he can turn any misbehaving dog around in four hours, no matter the breed or age. And that's without a word in anger.
"They all have the same basic instincts," he continued. "You develop an understanding with the dog, rather than bully them.
"A dog will watch body movement. I don't touch dogs and I don't issue commands.
"I use body language I'll turn my back or, if it starts to run, I'll turn quickly and it'll back down. A dog eventually thinks it's outwitting me by doing what I want it to do and, rather than feeling dominated, realises that's the way to be rid of me."
Of course, Jim didn't know any of this while he was being followed around by dogs as he grew up.
"If the matron had a dog in any of the homes I stayed in, it would follow me, but I had no idea why.
"I worked on a dairy farm near my foster home in Glasgow and began looking after a pup there.
"When I moved to a farm near Killearn they had a couple of dogs, natural workers, I spent a lot of time with. Even when I was in Kenya on National Service I befriended a stray dog there.
"I found it difficult to comprehend other people couldn't communicate with dogs."
Back home, a farmer called Geordie Campbell took Jim under his wing and helped him hone his talents. Jim went on to spend many years training security dogs before setting up his dog whisperer business.
Training the dogs is the easy bit, according to Jim, it's often the owners who need persuading.
"The minute I walk in the door I'm reading the people as well as the dog. How they treat it, talk to it, and so on.
"Dogs that are snappy are often the ones allowed into the bedroom and given free rein.
"A dog's mind doesn't know when it's gone far enough, they just keep dominating.
"People get carried away, saying their dog loves them so much it won't allow anyone else near them. But that's not the reason, it's because the dog thinks the owner belongs solely to them and hates seeing anyone else coming close.
"I was at a house the other week where the dog would go for the husband every time he stood up, and that was because the dog thought it owned the wife.
"It's sometimes tough to turn the owner's mind around, but when they see the difference in their dog after just a couple of hours, they are stunned.
"I've had owners crying because their dog has changed so much.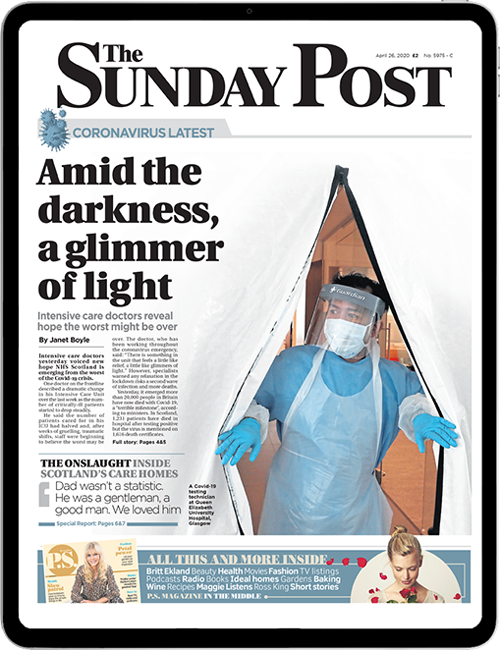 Enjoy the convenience of having The Sunday Post delivered as a digital ePaper straight to your smartphone, tablet or computer.
Subscribe for only £5.49 a month and enjoy all the benefits of the printed paper as a digital replica.
Subscribe