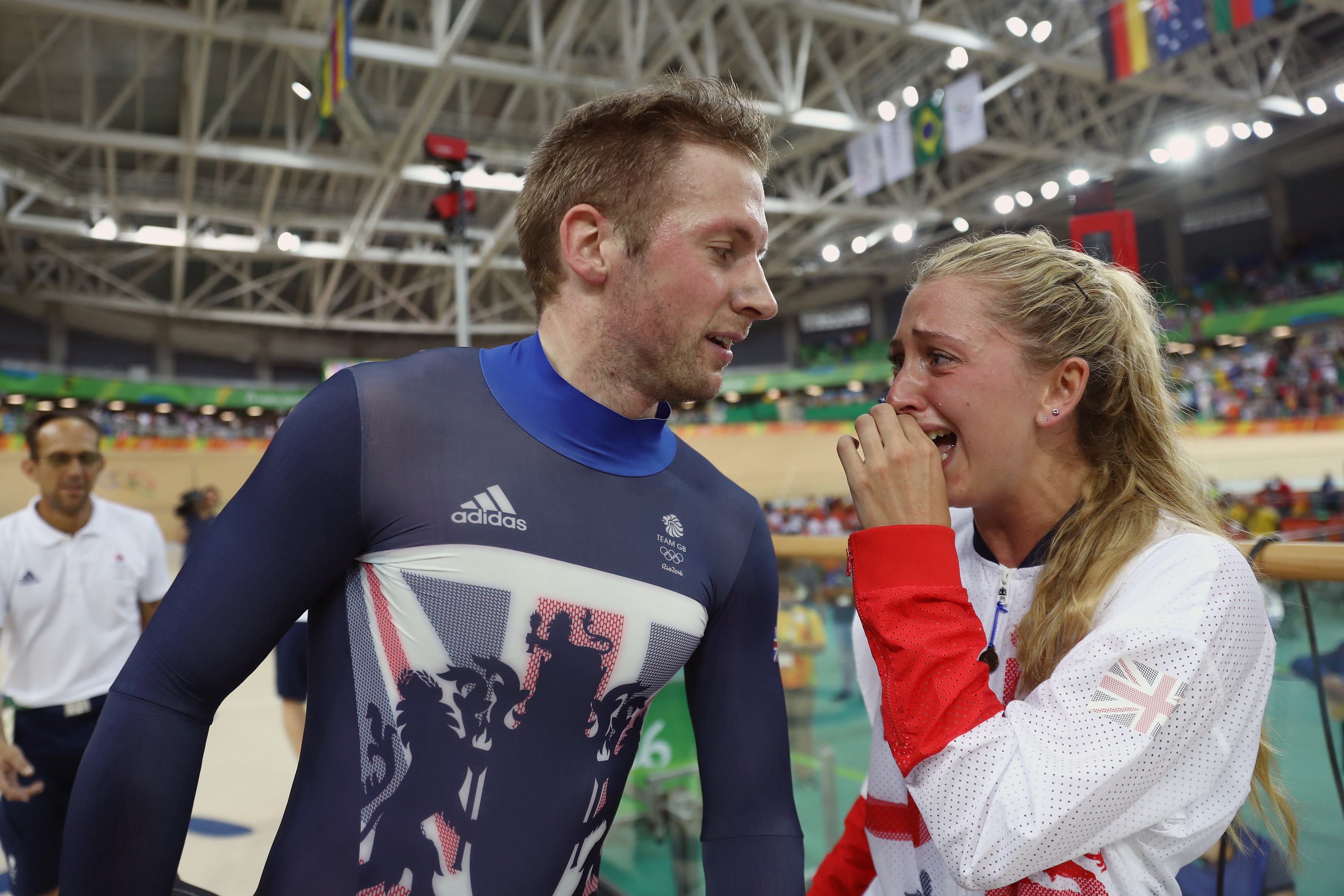 BBC commentator Chris Boardman caused a storm during coverage of cyclist Jason Kenny's win in the Rio velodrome last week.
A sexism row flared up after he made comments about the way Kenny was looking at his fiancée, Olympic hero Laura Trott, after their gold medal wins.
As Kenny and Trott embraced, Boardman said: "She's doing the emotion for both of them really, isn't it? He's looking at her going, 'What's for tea?'"
But was the comment an example of casual sexism or simply a light-hearted throwaway remark?
Our writers have their say.
Was Boardman wrong? On your bike! – By Chae Strathie
I HAVE a confession to make.
I'm not proud of it, but I need to get it off my chest. Maybe then I can finally be free of the guilt and the shame.
Here goes. Deep breath…
I once asked my wife "what's for tea?"
There. I said it.
Please don't judge me too harshly – I was young and stupid. I knew not what I was saying.
After several months of intensive counselling my wife was eventually able to get over the shock of what I'd asked her.
She's a strong woman, so the mental scars did heal over time.
Of course, I'm being flippant. I would never be so thoughtless as to ask her directly what's for tea.
Whenever we want to know the answer to that question we do it through a series of subtle hand signals, eyebrow wiggling and whistles, so as not to offend each other.
The thing is sometimes I DO ask my wife what's for tea… on the evenings she is making it.
It's because I'm a curious sort, and have an interest in what I might be putting in my belly.
And then there are other times, when I'm doing the cooking, when she asks ME what's for tea! Can you imagine?
What a progressive household we live in, full of non-gender-specific questions about evening meals.
What a time to be alive.
So do I think Chris Boardman's comment was sexist?
Nope.
I think he was commenting on the apparent lack of excitement or emotion in Jason Kenny's reaction, rather than how he might view his wife's "role".
If the reactions at the velodrome had been reversed, Boardman might just as easily have said that Laura Trott looked like she was asking Jason Kenny what's for tea.
We can't know if he would have said that or not, because it didn't happen.
If anything, his remark was a light-hearted slight on Kenny's underwhelmed reaction, rather than an offensive sexist remark aimed at Trott.
To combat this nonsense, we should all make a point of asking each other what's for tea this week.
Hell, you could even ask your other half (of whichever sex) what's for breakfast or lunch! Why not throw in some interrogation about elevenses as a well, just to be really daring?
Of course, I understand why people are particularly sensitive to remarks that either are or could be perceived as sexist.
Both casual and blatant sexism is something women have had to endure for time immemorial, and it's shameful that it endures to this day.
For instance, the furore about what Helen Skelton chose to wear in Rio was genuinely offensive and depressing.
Only if John Inverdale had rocked up on screen in a short skirt and heels would a presenter's choice of clothes have been worthy of comment.
Thankfully that didn't happen – it would have put me right off my tea.
Remark feeds into a bigger problem – By Ali Kirker
MOST people probably thought nothing of Chris Boardman's comment when they heard it.
And when the fuss kicked off, they shook their heads in exasperation. Calm down dears, indeed.
And I get why people think that.
But here's the thing. It's all part of a bigger picture. Thoughtless sexist comments like that go on all the time.
So there was lots of talk about it being Jessica Ennis-Hill's first Olympics since becoming a mum. What an "inspiration" she was for working mothers everywhere.
I didn't hear anyone say that mega medal winner Michael Phelps was an inspiration for working dads, did you?
Similarly, presenter Helen Skelton's outfits have caused no end of comments.
Shock! Woman in boiling Brazilian sun wears shorts!
Helen "flashes her curves" in her latest look. But I heard no comments on Sir Chris Hoy's shirt or that Matt Baker was showing off his waist in a figure-hugging outfit.
And it's not that long ago that tennis player Eugenie Bouchard was asked to "give us a twirl and tell us about your outfit" after a match. When was the last time Andy Murray was asked to give us a twirl?
I know. You'd avoid me on a fun night out.
But, as I said, bigger picture. Could it be that the fact women are treated so differently in these seemingly trivial ways adds to the more serious issues?
For instance, a report last year suggested it will take more than 100 YEARS before women can expect equal pay with men.
It means young women just coming into the workplace have no hope of earning the same as men in their lifetime.
Other reports have suggested women are often "thought to be more competent" if they wear make-up in the workplace.
And throughout David Cameron's stint as prime minister, how often did you read about Samantha Cameron's outfit choices or how trim she was looking?
But I haven't heard much comment on what Theresa May's husband dresses like or if he's a "stunner" in the suit he's wearing (no offence, Philip. I'm sure you are).
Thankfully, there are plenty of enlightened men out there. Back to our own Andy Murray, a shining example.
Not only did he create headlines when he hired Amelie Mauresmo as coach but when he won his fabulous Olympic gold and interviewer John Inverdale claimed he was "the first to win two tennis gold medals", Andy was quick to put him right and point out that actually, both Serena and Venus Williams had won more.
Go Andy!
I'd hate to get to the stage where a man feels he can't compliment a woman.
A wee bit of flirting or banter can brighten anyone's day.
And I don't have a problem with Chris Boardman. We all say silly things now and again.
But it's such a shame that all this rubbish is still going on.
Because as any fool knows, if women actually ruled the world, it would be a much better place!
Something in the way they look? Olympic heroes Laura Trott and Jason Kenny.
---
READ MORE
Tantrums: crying shame or enough to make you scream?
Is there too much naked flesh on TV?