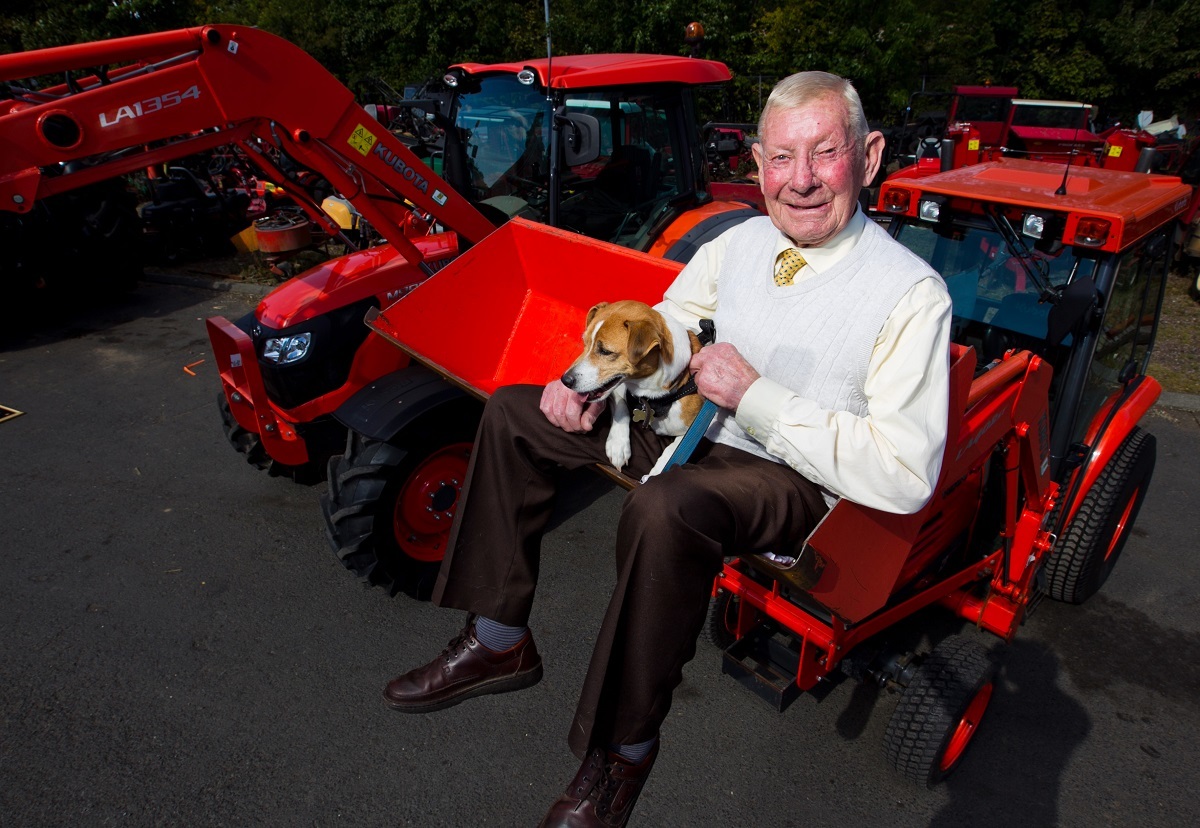 IT'S August 1952 and young Jimmy Kerr has just turned up for his first day at work.
The fresh-faced 15-year-old left his school days in Currie, near Edinburgh, behind him and joined the world of employment at Henderson Grass Machinery in Haddington, East Lothian.
His pay is £6 a week not to be sniffed at for a teenager back then.
Jimmy's boss hands him a bike, complete with basket on the front for dropping off spare parts to customers, and he sets off to earn a crust for the first time. Fast forward 63 years to the present day . . . and Jimmy is still in the same job!
Even the bike is still in good nick at the offices of Hendersons though at 78 the loyal employee has long since swapped it for a car.
At a time when most would be happy to put their feet up and relax after a lifetime of work, Jimmy insists he could never quit.
In fact, he says retiring would kill him.
Irrepressible Jimmy is one of the country's top agriculture machinery salesmen but credits his job with giving him more than a pay packet. He told The Sunday Post he can't see himself EVER retiring.
Jimmy said: "I would be at a loss without somewhere to go in the morning. If I stop working I'll die."
He covers hundreds of miles a week selling machinery to farmers in far flung places. And his sales figures are incredible.
The granddad-of-four, who still treasures the letter he got from his bosses offering him the job, said: "Today I visit the farms of the sons and grandsons of the first folk on my early sales trips."
Jimmy's perfect work record was broken only by his national service in 1958, when he served tours of duty in Korea and Aden, losing two good friends in action.
"I was lucky I was not killed and able to return safely to my family and work. I will be forever grateful for that," Jimmy said.
But his devotion to his job has come at a cost. He blames it for the failure of his marriage to Evelyn, 70.
"If I am honest, I spent too much time on the road and years away from my wife and two lovely daughters, Debbie and Karen.
"I'm still on good terms with Evelyn, and see more of my grandchildren, too. But working is a huge part of my life."
Jimmy was given a bike when he started work back in 1952 – and it's still around
Another amazing reason for his marathon work record is a heart transplant he got 26 years ago.
Against his family's wishes he kept working while ill and was at the Royal Highland Show when he got a call to get to the Freeman Hospital in Newcastle immediately.
"I couldn't stay off work even though I knew my life was on the line," he said. "I thought if I die then I want to go at work."
Ailing Jimmy was transferred by police escort to hospital.
"Doctors believed the new heart would give me five more years of life but I've beaten that five times over and they are stunned," he added.
"Without it I wouldn't be here today. I never met the donor's family but would love them to know how well it has worked out."
The athletics enthusiast believes he may be one of Britain's longest serving employees.
But he hates any mention of retiring. "Don't mention the R word," he said. "I want to drop while I'm still employed.
"I won't last long if I leave my job."
His daughter Debbie Kerr, 46, believes work is keeping her dad living.
"If dad wasn't employed we would have a problem on our hands," she said. "I can't imagine him sitting at home or strolling about a golf course.
"But none of this would have been possible without the heart transplant.
"It's given us decades more of dad and allowed him to live to see all his grandchildren."
Expert Professor Cary Cooper, 75, said meaningful work helps extend people's lives.
He said: "It true that 70 is the new 60 and people are healthier than ever before.
"We stay more alert if we have workplace challenges and company of fellow workers."
The head of Organisational Psychology and Health at Manchester Business School added: "It is very possible for people to carry on working way past the current retirement age as long as the pressure and physical demands are reasonable."
Last year researchers revealed four out of five workers over 55 want to work past retirement.
And in June a report revealed Britain is failing to maximise the potential of its "golden age" workforce. The report placed the UK 19th in the developed world for keeping older folk in work.
PwC's golden age index combines employment rates, earnings and training for employees aged over 55. Despite more than one million over-65s working here, Britain is three places lower in the index than a decade ago.
Do you know anyone who has worked as long as Jimmy? Get in touch with us on 0141 5672776 or email jboyle@sundaypost.comIn my view
Prof Ewan MacDonald, 68, Head of the Healthy Working Lives Group, Glasgow University and grandad-of-four
People are born to work because we all need a purpose and the social and financial rewards it brings.
Evidence suggests that some people who retire early will die earlier if they do not have structured activity.
Worklessness is an important cause of health inequalities, social exclusion and death.
Stopping work can take up to five years off your life because you can be left with no purpose or pressure as well as the effects of less money.
Older people have a tremendous amount to offer employers. Experience and work ethic are just two qualities.
Around 50% of young people today will live to 100 so it's vital to stay well. That involves exercise and anything that raises your heart rate to give it a good work-out.
I work five days a week with three at the university and two in occupational medicine examining and treating patients whose health impacts on their work.
I swim, cycle, hill-climb, sail, fish, walk when I can and babysit my four grandsons.
Grandchildren keep you fit. They're great for your health.