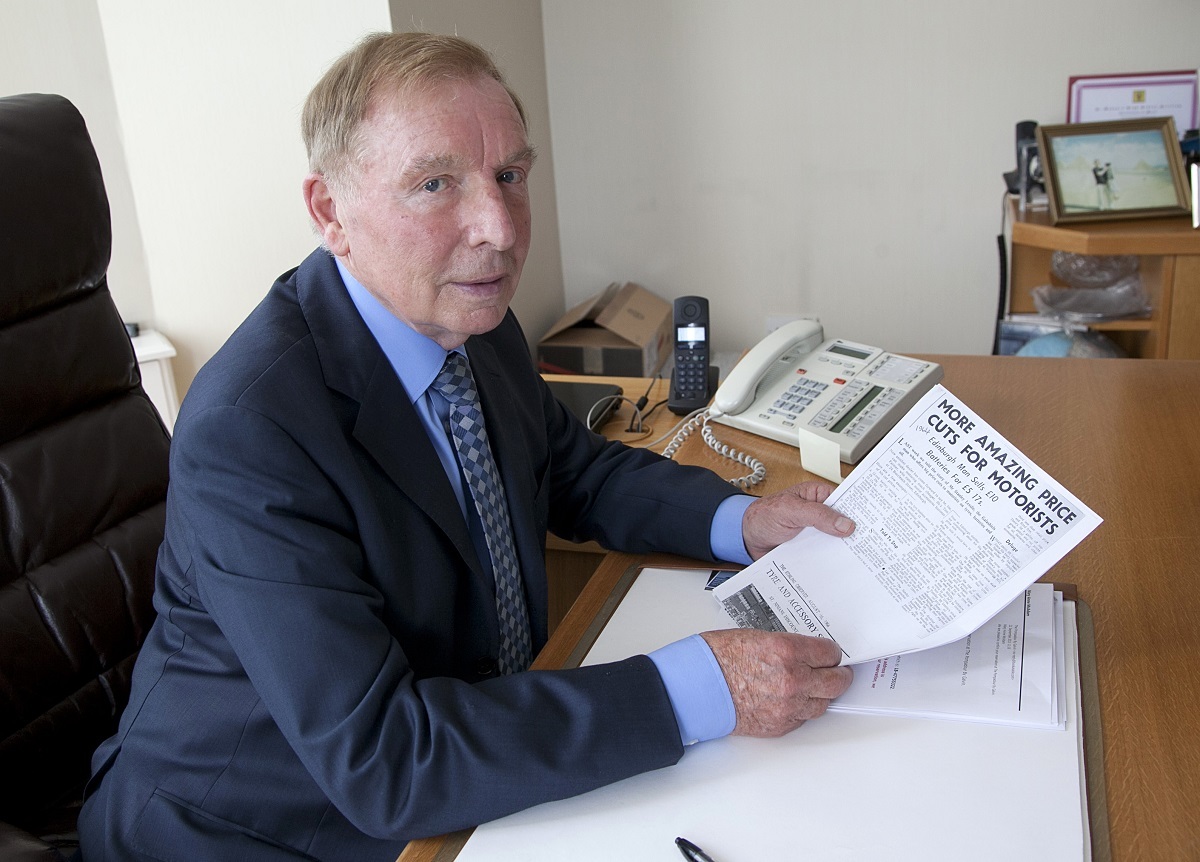 MILLIONAIRE Kwik-Fit founder Sir Tom Farmer keeps a cutting from The Sunday Post to remind him of how far he's come.
He may be worth a cool £130 million and is feted by politicians and royalty, but we can reveal Sir Tom puts a sizeable chunk of his early success down to a small article in this newspaper.
Back in 1964, we published a series of stories about a new wave of businessmen taking advantage of a law change to be able to legally sell discount goods.
One featured Sir Tom, then 23, who had just set up business in a rented tenement building in Edinburgh's Bucchleuch Street.
The effect was electric with motorists queuing round the block to grab a bargain on anything from engine oil to tyres.
"Until then, I was just making enough money to pay the rent, and my mum housekeeping and leave enough to go out dancing on a Saturday night," revealed the tycoon.
"On the day the article was published, I had been to mass with my future wife Ann and we went to Bucchleuch Street.
"When we turned the corner, there were about 20 cars there.
"The business took off from there. It became a Mecca."
He still keeps a copy of the auspicious article on the first page of his scrap book.
A painting of the shop hangs on his office wall to remind him of his roots.
"When I'm feeling nostalgic, I'll have a read of the article," added Sir Tom, who owns Hibs FC.
"I'll never forget the memories from the days I first started out."
The picture of the first tyre shop Sir Tom Farmer owned that hangs on his wall in his office
That year, the resale price maintenance law had been abolished, ending the obligation for retailers to sell goods at standard prices.
This opened the door to quick-thinking entrepreneurs like Sir Tom.
He started passing on major discounts, including selling £10 car batteries at nearly half-price and £1 spark plugs for 15 shillings (75p) much to the disgust of the product's manufacturers.
They were angry his advertised discounts were revealing to the public their huge profit margins.
Many cut off his supplies in protest, leaving him with just one tyre distributor in Edinburgh and one in Glasgow, with the rest coming from England.
"They didn't want the manufacturers to know they were supplying to me," said the 75-year-old grandfather-of-four. "It was a bit cloak and dagger."
Opposition to his business model finally waned and he sold up just four years later for a massive £475,000.
He retired, aged 29, to the US with Ann, living there until returning to the UK to create Kwik-Fit.
Sir Tom was made a CBE in 1990 and Commander of the Royal Victorian Order in 2009.
In 1997, Pope John Paul II bestowed upon him the Knight Commander with Star of the Order of St Gregory the Great, the highest honour the Roman Catholic Church can give a layman.
Two years later, he sold Kwik-Fit to Ford for £1.2 billion.
Despite his success, Sir Tom Scotland's 38th richest person revealed the key to his happiness was not his fortune but his wife Ann keeping him grounded.
The couple celebrated 49 years of marriage on Thursday.
"I met and married the girl next door and her support surpasses anything else that's happened in my working life," he said.63 years on the job and still going strong – Meet the man who wants to work until the day he dies – click here to read more