ON Nova Scotia's Bay of Fundy, I heard a yelp of excitement aboard our Zodiac rigid inflatable boat.
Our captain confirmed one of my fellow whale-watchers had spotted a humpback breaking the waves ahead of us.
Soon, I was watching the magnificent beast spouting several times before diving once more to the depths.
I had the good fortune to see another two humpbacks before our Ocean Explorations boat headed back for the shore.
A memorable moment on my first trip to Nova Scotia and an experience I would recommend to anyone who enjoys getting close to wildlife they would never normally see.
Whale Watching on Brier Island (Scott Munn)
Before tourists headed to Canada to experience the relaxed, picturesque maritime province of Nova Scotia, many British immigrants arrived, leading to the name, meaning 'New Scotland'.
I saw a fascinating illustration of this in the pretty town of Pictou, where a museum pays tribute to 189 hardy Scottish immigrants, who left home during the 18th Century Highland Clearances.
A recreation of their ship, the Hector, gives a sense of the horrific conditions the Highlanders endured for three months. I'll never complain again about flying economy class after seeing the pitch black and airless living conditions below decks on the little ship, which was crewed, believe it or not, by children aged 12 to 14.
A slightly larger vessel was in port when I got to the beautiful city of Halifax, the province's capital.
On its way to Boston in the US, Cunard's flagship Queen Mary 2 was there to mark to 175th anniversary of the company's first passenger ship voyage, from Liverpool to Halifax.
There were huge celebrations for a favourite son of Halifax, Samuel Cunard, who founded the famous cruise ship line that carries his name.
I was lucky enough to be shown around some of the luxurious QM2, which has two large theatres, including a planetarium, a 3D cinema, and all the facilities needed to pamper the 2,600 passengers on their lavish £1,600-a-head cruise.
I found out more about the history of Cunard at the city's fascinating Maritime Museum of the Atlantic.
Remnants from the tragic liner Titanic were brought ashore at Halifax and are also on show.
I marvelled at the maritime artefacts and the moving personal stories that go with them. Fans of the Titanic movie can see the original piece of wood that was recreated exactly as the raft Jack and Rose clung on to at the end of the film.
It's thoroughly recommended for those who enjoy exploring history and the human endeavour that goes along with it.
After my whale-watching treat, there was more wildlife to look out for as I took to a boat once again canoeing through Kejimkujik National Park on waterways traditionally used by Nova Scotia's native people, the Mi'kmaq.
This scenic wilderness is home to owls, woodpeckers and bears!
As we paddled, we saw a beaver's lodge, although none of the inhabitants made an appearance.
Keji also offers a chance to learn more about the culture of the Mi'kmaq, as well as camping, hiking and cycling if you're looking for a place to enjoy some activity to work off all the delicious Nova Scotian food.
The waters of New Scotland offer up no shortage of mouth-watering fruits of the sea.
I tucked into large, juicy scallops, delicious salmon and haddock and tasty mussels.
Lobster may be an expensive dish in the UK but it's so plentiful here that the locals remember being embarrassed to have the 'cheap' food in their school packed lunches.
The excellent places I ate in included Stories Casual Fine Dining in Halifax, DesBarres Manor Inn in the seaside village of Guysborough and the relaxed Lincoln Street Food in the colourful town of Lunenburg.
No trip to Nova Scotia would be complete without a visit to Peggy's Cove, a quaint fishing village that's a Mecca for cruise ship passengers from nearby Halifax.
Peggy's Cove is famed for its picturesque setting, with houses perched along a narrow inlet and on boulders facing the Atlantic. It's a preservation area, but still an active fishing community.
I enjoyed a relaxing packed lunch, sitting on the rocks by the historic Peggy's Point Lighthouse, one of Canada's most photographed settings a delightful spot to round off my fantastic tour of Nova Scotia.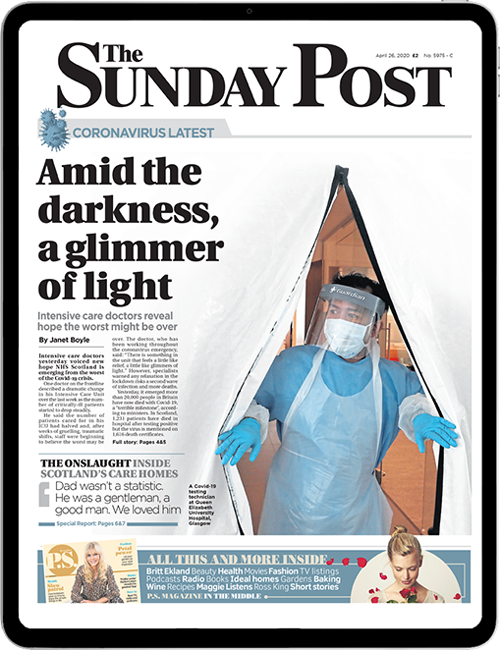 Enjoy the convenience of having The Sunday Post delivered as a digital ePaper straight to your smartphone, tablet or computer.
Subscribe for only £5.49 a month and enjoy all the benefits of the printed paper as a digital replica.
Subscribe