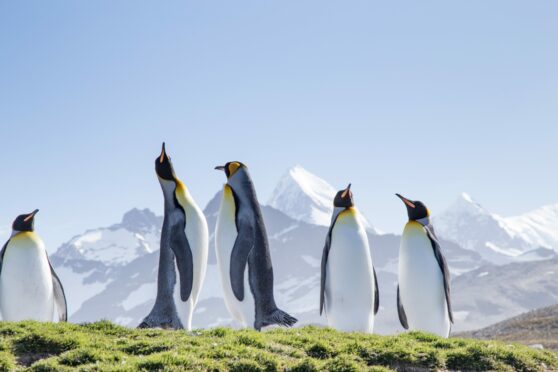 The short walk to work is no chore for Deirdre Mitchell and Helen Balfour as they encounter elephant seals, fur seals and battalions of penguins, with the snow-peaked mountains towering in the distance reflected in a still bay that opens out to an endless ocean.
If their morning commute is unusual, their workplace is even more so. The Scots duo are among a small, all-female team that has travelled 8,000 miles to reopen possibly the world's most remote museum on the island of South Georgia in the southern Atlantic. They are based in Grytviken, the only inhabited settlement of the British Overseas territory of South Georgia, that lies about 1,000 miles from both the Falkland Islands and the most northerly tip of Antarctica.
"I love being somewhere that is so wild and the landscape is breathtaking," said Mitchell, 35, the museum's director from Inverness, who is now on her third visit to South Georgia. "It's an adventure. You get to do so many incredible things. I've gone hiking up mountains that very few people get the chance to see let alone climb, and I've helped to weigh fur seal pups and Gentoo penguins, alongside the work I do at the museum. You do something different every season."
Dundee-based charity, South Georgia Heritage Trust (SGHT), has run the museum since 2005, on behalf of the government of South Georgia and South Sandwich Islands.
Despite its remote location, 15,000 cruise ship tourists visit the museum each season. It aims to conserve the island's heritage and fragile ecosystem, previously decimated by the whaling industry and seal-hunting.
Through unique exhibits, it tells the story of South Georgia as a base for Antarctic exploration, most notably, Sir Ernest Shackleton, who famously sailed from Elephant Island in Antarctica to South Georgia and trekked across the island to raise the alarm that his crew needed rescued.
A new addition this year is Shackleton's original "Crow's Nest", a lookout barrel from his fourth and final voyage The Shackleton-Rowett Antarctic Expedition, which returns to South Georgia for the first time since 1922. Other items, such as taxidermy albatrosses and whalebones, explore the island as a home to incredible wildlife and as a key hub for the whaling industry from the 1920s to 1960s.
South Georgia has strong ties to Scotland, as many Scots during the early to mid-20th Century would travel south every year to work in the whaling industry, including many from Shetland. The museum sits on the site of a former whaling station, surrounded by great rusting ghosts of old vessels and the inner shells of buildings stripped for asbestos; the remains of the area's bloody past.
The island holds a special significance for Balfour, the museum's assistant, whose grandfathers and a great-grandfather worked in the whaling industry and spent time at Leith Harbour, just north of Grytviken.
"It is quite eerie to walk around because you get a sense of what happened here and how devastating it was for the whale population," said the 23-year-old from Lerwick, Shetland.
"It is interesting for me as both my grandads were whalers. It wasn't a job they particularly loved doing. They did it because there wasn't work elsewhere. It's sad that people had to make a living doing something they didn't like. It's been moving to visit and walk around here. Seeing the exhibits in the museum gives me a sense of what the work and life was like for them here."
Her grandfather, James Balfour, first visited South Georgia in 1952. After a decade in the trade, he was on board one of the last whale catchers to work out of Leith Harbour.
Her other grandfather, Alan Leask, travelled to the island aged 16 and worked two seasons in the whaling station's mess hall, while her great-grandfather, Thomas Balfour, also worked on the island in the 1930s, having previously been at the Salvesen whaling station at Olna, Shetland.
"My grandad Jimmy worked on the whale catchers up in the barrel on lookout duty," said Balfour. "He didn't like the job and it was hard work but he had really good friends and learned to speak Norwegian fluently. I think the camaraderie during the whaling period really kept a lot of people going."
James Balfour died in 2005 but her other grandfather, Leask, now 81, shared his memories of the island with his granddaughter before she left.
"Jimmy, who worked on the catchers, would have witnessed it first-hand but my grandad Alan was working in the mess hall, which was still hard work but a bit more removed," she added. "He told me stories about the people from Shetland he got to know through whaling. He was from Yell so, on the boats, he actually met people from other parts of Shetland he hadn't been to before."
Balfour said she experienced a similar feeling to her grandfather when she first arrived at South Georgia. "He said he could just remember seeing the snowy peaks along the mountain ranges and being taken aback by the incredible landscape," she added.
"I felt exactly the same. When we first got here it was sunny, the mountains were still covered in snow and I was completely in awe of the whole landscape."
She added: "It's funny we've gone full-circle. My grandad Alan is happy I have the chance to come here and work in the museum. Hopefully, I can get a boat to Leith Harbour and take some pictures to show him how things have changed since he was here, and there's things he might still recognise as much of what was left has been well-preserved."
The museum team also includes curator Jayne Pierce, from Bath, senior museum assistant Lauren Elliott, from Portsmouth, and curatorial intern Aoife McKenna, a recent graduate from the University of St Andrews.
For the next five months, they will live together at King Edward Point, a British Antarctic Survey research station just half a mile from the museum, alongside a small team of scientists and technicians. Altogether, their small community, which also includes government workers, a doctor and postmaster, will total 20 at the most.
There is an abundance of local wildlife to keep them company, including large colonies of penguins, elephant seals, fur seals and sea birds.
Mitchell said: "The whaling industry on South Georgia closed down in the 1960s when it became unsustainable as the population numbers had declined so dramatically. It had a hugely negative impact but thanks to habitat restoration projects run by SGHT, many species including whales and seals, who were also over-hunted, are starting to increase in numbers. That's especially true of humpback whales, which we often see in the bay from the museum."
Mitchell admits their neighbours can be distracting at times. She said: "There's hundreds of elephant seals on the beach right next to out accommodation which can get very noisy! The mothers have just left the babies so they can get quite inquisitive. A few of them have come up to explore our accommodation. Ultimately, we're in their territory so we have to work around them."
As well as the museum and research station, there is also a beautiful white church in Grytviken built by Norwegian whalers in 1912. The cemetery is famously the resting place of renowned explorer Sir Ernest Shackleton, who died in 1922 in his cabin on board the exploration ship Quest, while anchored off South Georgia.
"It's a tradition for people to 'toast the boss' when they visit Shackleton's grave with a wee dram of whisky and pour some on his grave because it's said he liked his whisky," said Mitchell. "People are often quite surprised because they come here thinking it's so remote, almost the end of the Earth, and then they find our little community and museum.
"We'll have 118 ships visit us during the season and that will increase to two ships per day for the week around Christmas because everybody wants to be somewhere amazing at Christmas. And there's not many places better than here."
Both Mitchell and Balfour have no reservations about spending the next five months in such a remote place. Any downtime will be spent exploring the island or indulging in crafts; knitting jumpers for Mitchell and lino printing for Balfour, who is already feeling inspired by her scenic surroundings.
"We've seen penguins, seals and sea birds pretty much every day since we got here," said Balfour.
"Because there's other people around and we have such a nice little community, it doesn't really feel as remote as it actually is."
They see the opportunity to live in, explore and preserve the history and legacy of South Georgia as a privilege.
"At the height of summer we have close to 24 hours of daylight so that means that, after work, we have the opportunity to go out and explore. I do a lot of walking and hiking when the weather is nice, although it can get very windy," added Mitchell.
"It does feel normal to me now so it's only when I'm sitting on top of a hill and all I can see is ocean in all directions that I realise I'm on this tiny island in the middle of the Southern Ocean with the next community hundreds of miles away. And I think just how special and rare that is.
"It's just a rewarding place to live and work and I feel, through our work with the SGHT, we're doing something positive that will benefit this remarkable little island and that's a good feeling."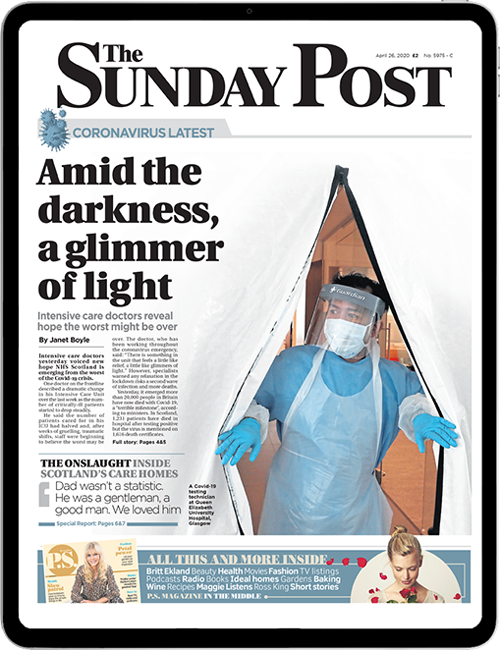 Enjoy the convenience of having The Sunday Post delivered as a digital ePaper straight to your smartphone, tablet or computer.
Subscribe for only £5.49 a month and enjoy all the benefits of the printed paper as a digital replica.
Subscribe