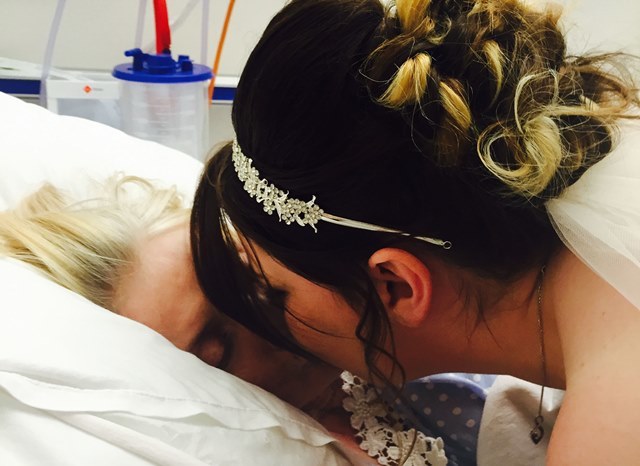 CLUTCHING a posy and looking stunning in her gown and tiara, blushing bride Sarah Dawson places a tender kiss on her mum's cheek.
The intimate moment was captured at a hospital bedside wedding blessing hastily arranged to allow dying mum Rosanne to witness her daughter's big day.
The heartbreaking ceremony was organised in just four hours.
Flowers were hurriedly bought by an off-duty nurse and lovingly arranged in an ad hoc collection of vases found by staff at the hospital she was being treated at, Forth Valley Royal Hospital in Larbert.
In another touching display, nurses also formed a 'ceremonial arch' with their hands for Sarah, and fiance Mark Barlow, to pass through.
Instead of champagne, medical staff toasted the moment with cups of tea and digestive biscuits.
A takeaway was ordered later in lieu of a lavish wedding breakfast.
"Although she was heavily sedated to quell the pain, Mum understood everything that was going on," said mother-of-two Sarah, 22.
"We made our vows beside her bed and she looked up and smiled.
"A tear rolled down her cheek… it was a moment I will never forget."
Sarah was originally due to get married next summer.
But after her mum was diagnosed with pancreatic cancer she brought the date forward originally planning to marry on October 31.
However, Rosanne, 51, knew she wasn't "going to make it" and told Sarah she was unlikely to be there for the re-arranged date.
So the bedside blessing was arranged with incredible speed and dignity.
"Mum was deteriorating and it struck home exactly how little time we had left with her," Sarah explained.
"You always think you have more time but, as so many folk know, it's never the case.
"We spent that Friday night by her hospital bed with the family.
"Dad and I came back to my parents' house around 10am on the Saturday and it was then I knew what I had to do.
"It was vital to me that she should not miss out on the wedding and I knew I would move heaven and earth to make it happen.
"I told dad I was going to arrange a wedding ceremony that day, October 10, for Mum.
"I called Mark and he agreed it was a wonderful idea for my mum."
Word spread to close family with phone calls to the hospital.
A side room at Rosanne's ward was set aside for the ceremony and the hospital chaplain was asked to officiate.
But there was a problem.
Sarah's dress was still in the wedding shop. It had been lovingly chosen by Sarah and her mum in June.
"I have wonderful memories of the two of us in the shop picking out the right dress," Sarah said.
But staff were working on the assumption the order had been placed for a wedding not due to take place until next July.
"I called the shop and they vowed to do everything possible to make it happen," she added.
"I had no shoes, veil or bouquet, but the shop arranged everything.
"The shop gifted the veil and found me a glamorous pair of shoes to wear."
Back at her home in Tillicoultry, Clackmannanshire, Sarah carefully unwrapped the dress, slipped it on and walked down the stairs.
"My dad, Bob, just looked up and his face said it all.
"He just beamed with pride. It was then I knew we were doing the right thing for mum," Sarah added.
After a quick drive to the hospital Sarah arrived to meet dad Bob, 53, sister Heather, 28, brother Iain, 26, Rosanne's sister Agnes Schroder, 56, her daughter Pamela, 36, and other close family.
"I was fulfilling a promise I made to my mum to marry my teenage sweetheart," said Sarah, who was given a special hand-made paper posy by the bridal shop.
"It was very special.
"A simple and touching ceremony that will live with all of us forever."
Rosanne passed away last week at home with her husband by her side.
"She was sleeping on the couch, holding dad's hand, and when he woke up she had gone," said Sarah.
"It would be so easy for us to fall to pieces but mum built a strong family so we celebrate her life."
The bustling family home, nestling in the shadow of the Ochil Hills, exudes love.
"Rosanne was so family-centred," said Bob, a furnace worker with a local glass company.
"It will be so hard to cope without her but my children and seven grandchildren are my rock.
"I always imagined I would die first but cancer is cruel and ends so many promising lives."
Rosanne was a gifted singer and athlete.
As a schoolgirl she beat Olympic bronze medallist Linsey MacDonald in inter-school championships.
"Mum was also a talented singer who could fill a local venue with her powerful songs."
Her favourites, Wind Beneath My Wings and The Rose will be played at her funeral due to take place on Thursday along with Bob's favourite, A Whole Lot of Rosie.
She and Bob met at a local club when Rosanne was only 15.
"From what I gather, dad chased mum for weeks before she agreed to go out with him," Heather said.
"They were inseparable from their first date.
"But we will look after dad, mum can be assured of that."
The hospital ceremony was a blessing and not legally binding. The couple will legally marry next summer.
And there won't be a dry eye in the house when they say, "I do".
Glassworker Mark, 27, said: "We have lost a lovely woman, one I was proud to know.
"Having our wedding blessing for Rosanne was a joy.
"It was the least we could do."
Sarah her married life stretching out before her just hopes she can be as warm, loving and adored as her mum.
"She was very special and my best friend.
"I'm just so pleased she got to see me marry."