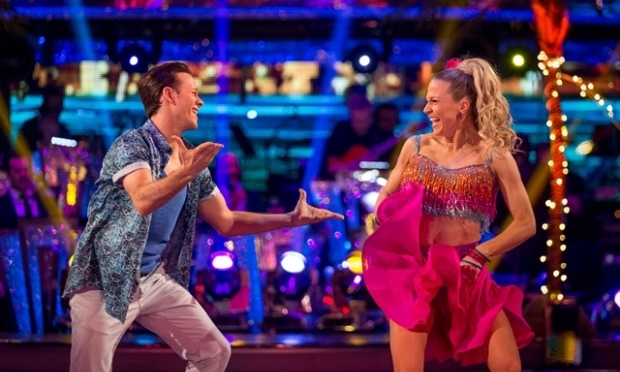 Kellie, 39, who plays the Queen Vic landlady Linda Carter, told The Sunday Post how she's had to battle all the way to try to reach next week's final.
And she says only the amazing support of pro partner Kevin Clifton has got her through it.
"I've had an issue with my left hip since week two," Kellie confided before last night's semi-final. "It's never gone away and I don't think it will until I stop and rest. But you just get on with it.
"I'm much more toned than when I started but I'm also in much more pain.
"There have been times I've literally been asleep standing up. And if I'd been dancing with anyone other than Kevin I don't think I'd have been able to do it.
"But he's kept the whole thing so joyful it's made the whole experience for me."
Fitting in EastEnders filming and Strictly rehearsals has made 16-hour days the norm.
That's made home life with husband Paul and her young son Freddie a rarity.
"I haven't really done anything but Strictly and EastEnders for the past few months," she admits.
"But we knew what this was going to be like before I started. And I also knew that it wasn't going to last forever.
"I don't feel like I've lost my friends and my husband is also an actor so we're used to working very intensely for a short period and not seeing much of each other."
Kellie and Kevin did an American Smooth to Let's Face The Music And Dance last night, as well as a Rumba to Eva Cassidy's Songbird.
And, despite the punishing schedule, Kellie admitted that she's praying she makes it through tonight's results show and into next week's grand final.
"I'm enjoying everything so much that I'm not going to complain about this.
"It'd mean a lot to make the final but I can't even believe I made the semi-final.
"I've truly loved every second of it."
And Kevin, who has been a runner-up on each of his two years on the show – with Susanna Reid and Frankie Bridge – is hoping to make it third time lucky.
"I'd be made up if we made the final," he confessed. "At the start I was very much teaching Kellie how to dance.
"Now I just feel like she's my dance partner.
"Every week she gets better and better and she deserves to be in the final.
"I'd love her to have the experience of having completed the whole series."
But Kellie already has one eye on
post-Strictly life.
"I'm dreaming of sitting on my backside when this is all over, watching box sets and eating rubbish," she laughed.
Strictly Come Dancing: The Results BBC1 tonight 7.20pm.