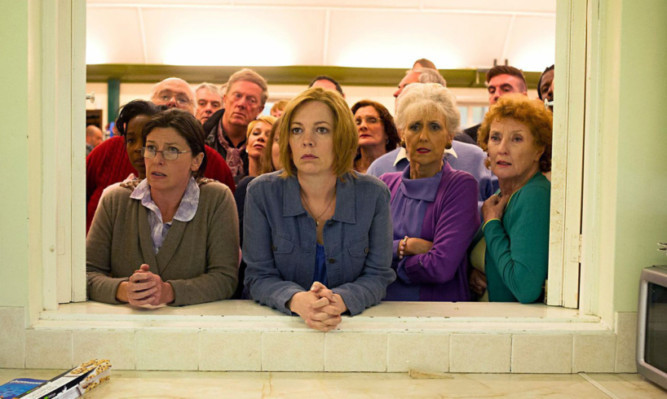 Great movies made by BBC Films.
London Road 2015
She was assured in Accused, brilliant in Broadchurch and terrific in Tyrannosaur but Olivia Colman still had one big fear approaching her latest dramatic performance.
"I was terrified of the music," the three-time BAFTA winner reveals.
"I'd only ever sung in the school choir before, as part of a group, or enthusiastically in the shower at home."
It may be a surprise that a film depicting the hunt for one of Britain's most notorious serial killers of recent times features musical numbers for its cast, including Tom Hardy and former EastEnder Anita Dobson, to sing.
But London Road is nothing if not original, taking the verbatim testimonies of the residents of a street in Ipswich at the centre of the 2006 killings of five women by forklift truck driver Steve Wright and setting them to music.
"I'd be surprised if you left the cinema humming a tune," says Olivia.
"Musicals are not really my bag, to be honest, but you know why the songs are in it.
"If you can get people to sing along, in a very cold, calculating way, maybe they'll buy the soundtrack.
"But this one, I really think it's there to enhance the mood of what's being said at the time, to heighten it and make it theatrical.
"It doesn't seem like it's ever trying to shoehorn it in. I do find songs in the middle of a film peculiar a lot of the time."
Originally a stage production, London Road is the latest film from BBC Films, which celebrates its 25th anniversary this year.
Although a regular on BBC TV, in comedies Twenty Twelve and Rev, as well as new spy drama The Night Manager, which will air later this year, in-demand Olivia has not worked with the BBC's film arm since playing a nudist bride-to-be in 2007's Confetti, which she describes as "the worst experience of my life."
Along with co-star Robert Webb, she tried to sue the production after alleging that assurances regarding how much of their bodies would be on show in the finished film were reneged upon.
The 41-year-old actress, currently pregnant with her third child, admits it has made her wary of trusting directors ever since but any concerns she had about the sensitive aspects of London Road were soothed by meeting the real-life people portrayed in the film.
"They were all so excited about the film, so it was nice," states Olivia.
"I wouldn't have wanted to do something that was insensitive to the people who suffered so much.
"The worst thing in your imagination is to lose a child and these families all lost their daughters.
"I wouldn't be interested in doing something that makes money out of that. But that's not what this is about."
Truly, Madly, Deeply 1991
The first film to have a BBC Films credit saw Alan Rickman and Juliet Stevenson combine to great effect in this fantasy musical romance.
Setting out its stall for working to a tight budget from the very beginning, some of the film was shot in Juliet Stevenson's own flat in Highgate, north London.
I.D. 1994
An early sign that BBC Films was prepared to push the envelope, this film saw Reece Dinsdale as an undercover police officer who is seduced by the lifestyle of the football hooligans he is supposed to be investigating.
A sequel, with the working title of ID2, has just gone into production.
Billy Elliot 2000
Still the most profitable BBC Films movie ever made, its all-round success included three BAFTA wins and three Oscar nominations.
One of the BAFTAs was for 13-year-old Jamie Bell in his debut role.
He hadn't told his classmates he could dance. A Best Actor trophy was one way of letting them know.In The Loop
Philomena 2013
Dame Judi Dench has been a regular for BBC Films, with appearances in Iris, Mrs Henderson Presents, Notes On A Scandal and My Week With Marilyn.
But it was in this adaptation of the heartrending story of Irish single mother Philomena Lee that she left her most lasting impression.
Miss Potter 2006
By 2006, BBC Films could attract some of the biggest names in the business.
Renee Zellweger earned her sixth Oscar nomination for her role as a young Beatrix Potter, dominated by her mother.
Ewan McGregor played the publisher who encouraged her to express herself.
Made In Dagenham 2010
The true story of a group of sewing machinists at an Essex car factory whose 1968 walk out over working conditions led to the introduction of the Equal Pay Act.
Sandie Shaw, who sang the film's title song, used to work as a punch-card operator in the Ford plant depicted in the film.
Iris 2001
Three more Oscar nominations came BBC Films' way for Iris, and their first win.
Jim Broadbent picked up the Academy Award for Best Supporting Actor for his performance as John Bayley, a man struggling to cope with the onset of wife Iris Murdoch's (Judi Dench) Alzheimer's disease.
An Education 2009
Another three Oscar nominations (and a healthy profit) for this drama based on the memoirs of Lynn Barber.
Carey Mulligan was 22 when she played the 16-year-old Jenny, who quits her studies after falling for an older man, but her assured performance proved a graduation of sorts to her own career.
In The Loop 2009
The US actors on this Anglo-American collaboration, a spin-off of The Thick Of It, took to Armando Iannucci's improvisational style with gusto.
Peter Capaldi called cut on a row between his Malcolm Tucker character and US General Miller (James Gandolfini) as he thought The Sopranos star was about to hit him.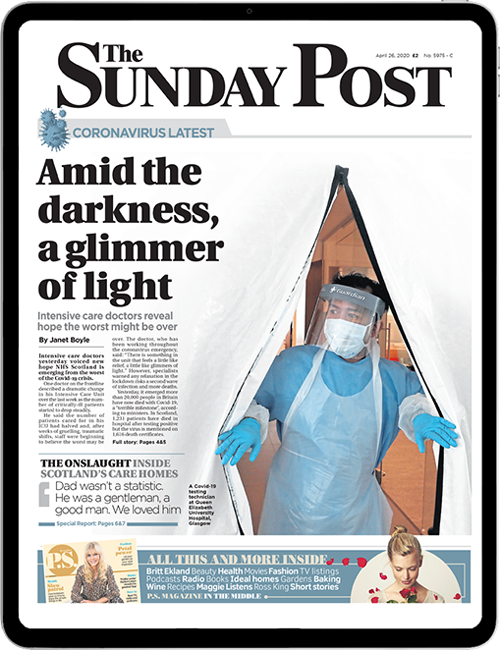 Enjoy the convenience of having The Sunday Post delivered as a digital ePaper straight to your smartphone, tablet or computer.
Subscribe for only £5.49 a month and enjoy all the benefits of the printed paper as a digital replica.
Subscribe