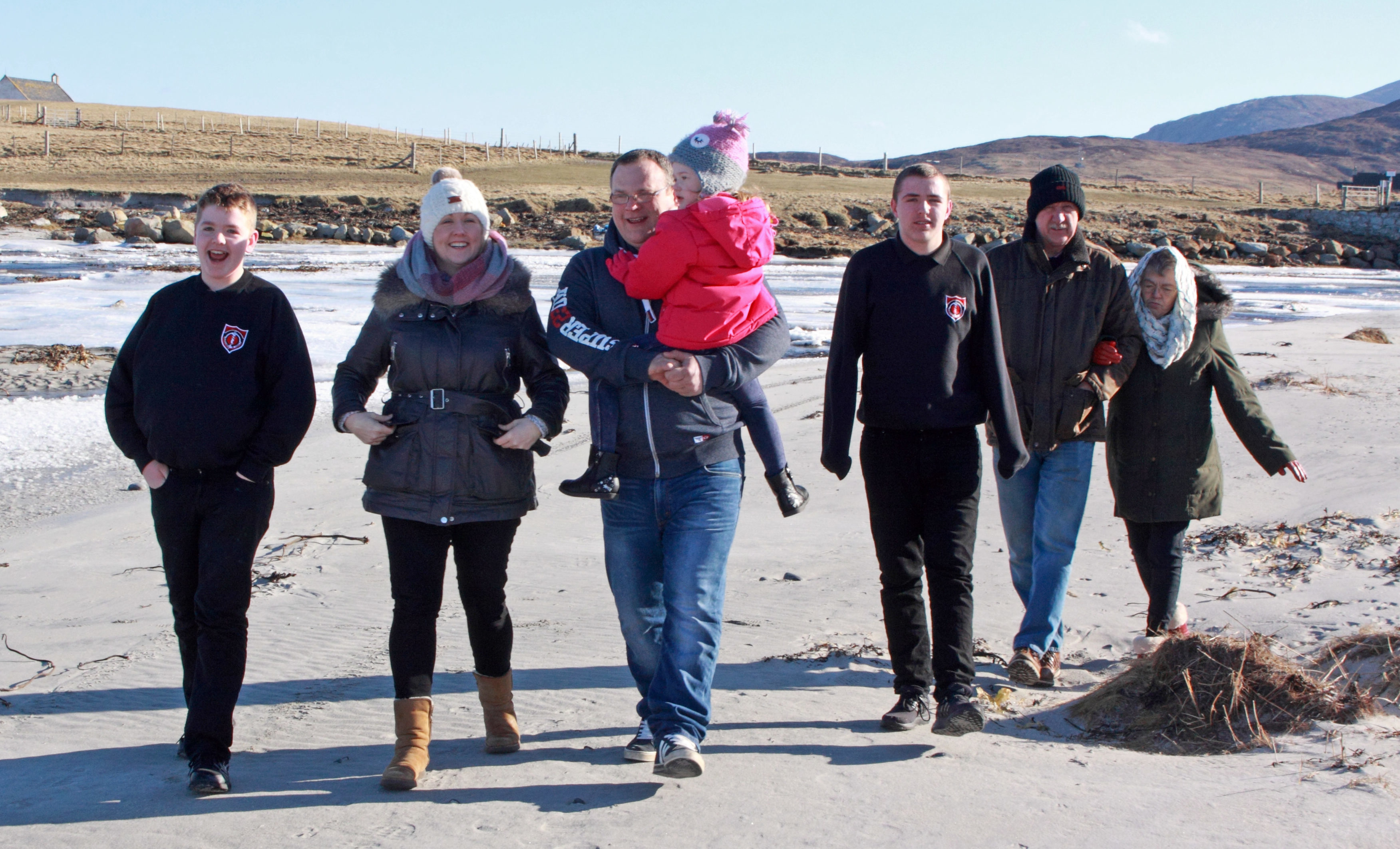 A MUM is bringing life-saving defibrillators to her island after the emergency kit saved her life when she suffered a cardiac arrest for 45 minutes.
Sarah MacMillan 37, collapsed while working at the Co-Op store on South Uist, but a nurse, who was shopping at the time, administered CPR for almost an hour before an ambulance crew arrived with a defibrillator to shock her back to life.
Since recovering, Sarah has raised funds to place five defibrillators around the island, saying: "I was so lucky, in so many different ways.
"I just want to give other people the chance to be as lucky as I was.
"We live in a beautiful place but when you need the kind of help I needed, it can sometimes feel a long way away."
Sarah survived after an air ambulance took her to Raigmore Hospital in Inverness.
There, A&E specialists, along with cardiologists, worked to keep her alive before she was transferred to intensive care.
Speaking from her island home in the town of Daliburgh, Sarah said: "I had just finished my shift at 3pm at the Co-op and met my friend who had been looking after my daughter Isla.
"I had just fastened her in the car when I went back to have a word with a colleague.
"As I left the shop I suddenly didn't feel well.
"I then collapsed. I'd suffered a cardiac arrest.
"My colleague Mathew Walker saw I wasn't breathing and immediately started CPR.
"My manager was phoning 999 and a customer, a retired nurse, pitched in to help Mathew. Then two GPs rushed from the local surgery and an ambulance appeared with a defibrillator.
"By some miracle they got me back to life 45 minutes after my heart had stopped.
"Through sheer luck there was a helicopter in the area which picked me up and flew me to Raigmore Hospital.
"There I was placed in an induced coma for three days before they tried to bring me round.
"On the first attempt I had another cardiac arrest and then awoke on the second one.
"But I but had lost a lot of memory.
"At first I didn't believe I was in Scotland and thought I was in York Hospital. I am originally from just outside the city.
"One of the saddest things was that I lost my daughter Iona Bethan when she was two days old in 2011 and had forgotten this. I had to be told this again and it was heartbreaking. Moreover, I did not remember having my daughter Isla, who was born in 2012.
"The cardiac arrest had taken a good part of my memory in the years up to it.
"I knew my sons, Bryn, now 14, and Seth, 15, though."
Sarah then faced the huge challenge of recovering from her collapse in July 2015.
"It can wipe memories from your brain.
"But the bond between my children and me is so strong I soon felt the warmth of maternal love for them.
"I am so lucky to be alive. Doctors call me a walking miracle. They say it is truly remarkable to survive after 45 minutes in cardiac arrest."
Sarah's husband Angus, 35, was working on a supply ship when his captain called him up to the office and told him to phone home immediately.
"There were 30 or 40 missed calls on my phone from family desperately trying to reach me," he said.
"I was shocked to the core and immediately headed north to Inverness. It was the worst train journey of my life. I dreaded the phone ringing saying she hadn't made it.
"When I got to the hospital she was in a coma in the intensive therapy unit.
"The children were being looked after by my family on Uist and were just told that 'mummy was not well in hospital'.
"We wanted to shield them from how seriously ill Sarah was."
Sarah's parents Kath and Keith live in Selby, and dropped everything to drive six hours to Inverness.
Kath, 60, explained: "We were besides ourselves with worry but so grateful Sarah had survived.
"To help her cope with her memory loss we put pictures of Sarah's life before her cardiac arrest all around the room.
"When she still refused to believe she was in Inverness her brother Jamie even took pictures of the hospital sign outside and showed her.
"Angus kept a bedside vigil, soothing and encouraging Sarah every step of the way.
"I wanted to get her well again and back with our family on South Uist."
Sarah said: "Two days before I left hospital I had a mini defibrillator fitted.
"It has since saved me by shocking me back to life after I suffered another cardiac arrest, visiting my parents in Selby.
"I was rushed to York Hospital with my heart racing at 350 beats a minute."
Sarah desperately wants to save any other cardiac arrest victims on South Uist.
Since her remarkable recovery she has fundraised to place five defibrillators on the island.
"But none of it would be possible without the lovely support of the kind people of South Uist," she smiled.
If you want to contribute to Sarah's fundraising, her Just Giving page is at https://www.justgiving.com/fundraising/sarah-macmillan1