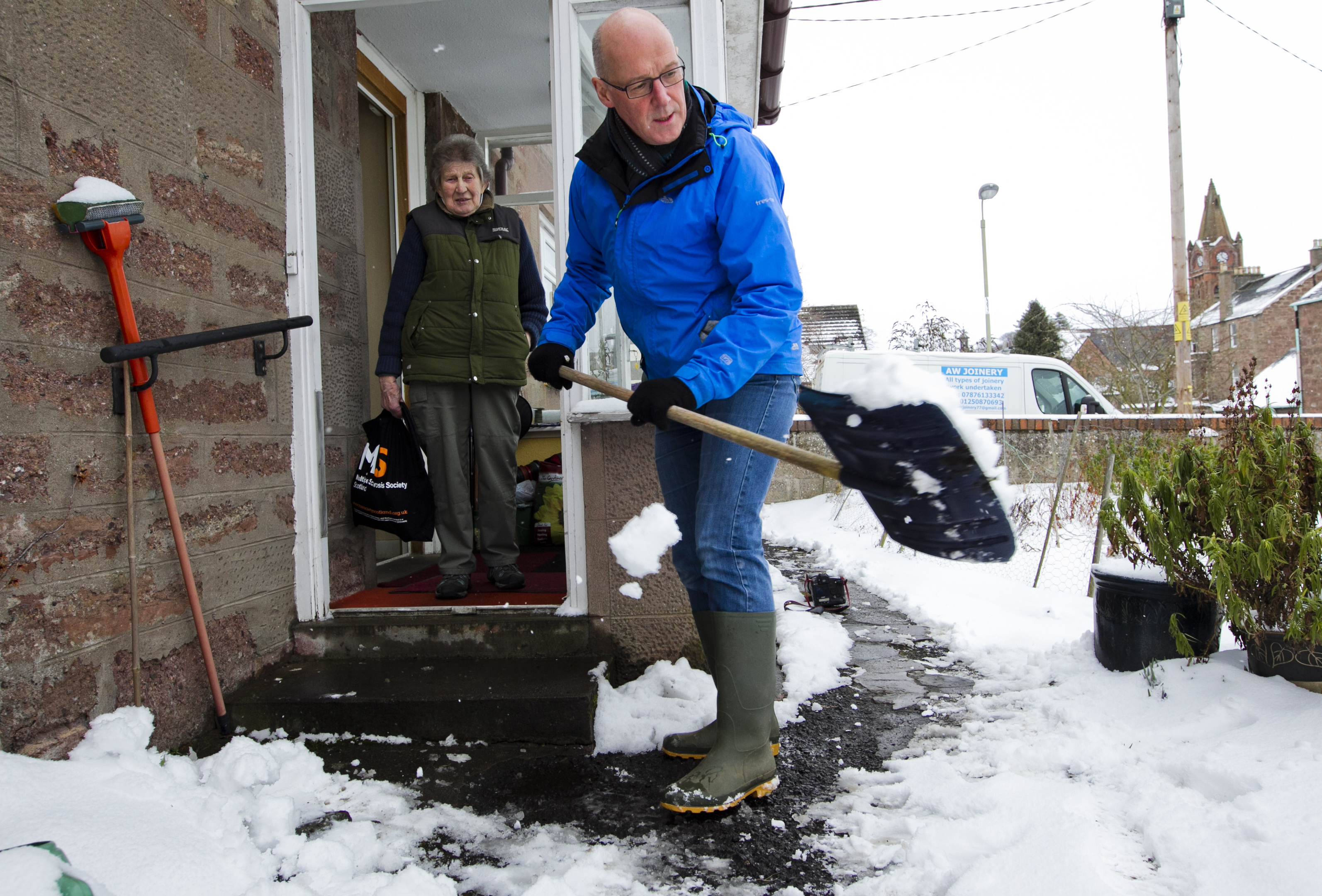 THE big freeze is expected to cost the Scottish economy up to £755 million, according to experts.
Thousands of offices, factories, schools and shops were forced to shut as the worst cold snap in nearly a decade battered Scotland.
Lost productivity from the three-day lockdown, which crippled the transport network, is expected to severely dent the country's already weak economic growth.
An emergency Scottish Government fund was last night opened for cash-strapped councils to try to reclaim the extra costs of dealing with the Siberian weather front branded the Beast from the East.
Scotland began the big dig-out yesterday as services began to get back to normal after many were shut down during a series of severe weather warnings.
Health boards are gradually returning their services to normal, following widespread cancellations of non-emergency appointments and operations.
And after days of panic buying, deliveries are beginning to get through to supermarkets and local shops.
With all main roads now clear and most schools expected to reopen tomorrow, the country is slowly getting back to normal but the financial cost of the freeze is only just emerging.
Mark Addley, partner and head of business recovery in Scotland for accountancy giant PWC, said: "In parts of our manufacturing client base we know that several days have now been lost for productivity where it has been unsafe to work outside or staff have simply not been able to get to work.
"The impact on the high street is clearly visible with several retailers not being able to remain open or footfall has reduced – adding to the woes of already difficult times.
"That being said, pubs and restaurants that have been able to remain open have generally seen increased trade over the past days.
"The challenge is to make sure that food and drink supplies can be replenished as soon as possible."
After the severe cold snap of 2010 the Office for National Statistics estimated the UK economy had shrunk by 0.5% as a result of the disruption caused by the weather.
Latest estimates put Scotland's GDP, excluding oil and gas revenues, at £151.2 billion.
If a similar contraction in Scotland's economy has occurred as a result of last week's three-day shutdown as happened in the 2010 freeze, then the cost to the economy could be as high as £755m.
The latest economic figures for Scotland showed GDP was only up 0.2% between July and September last year, meaning the weather could have a big impact on growth rates.
Phil Dorrell, managing partner of retail consultants Remedy, said: "Anything that takes footfall away from shops reduces spend and pushes spend towards the internet.
"In the short term, it's very much a disaster."
This warning comes after a "Black Wednesday" for the high street last week, when ToysRUs and Maplin went into administration, jeopardising more than 5,000 jobs.
New Look and Prezzo are among other high street firms looking to close stores after Byron and Jamie's Italian shut dozens of outlets earlier this year.
Howard Archer, chief adviser to the EY ITEM Club, a leading economic forecasting group, said: "There will obviously be a significant hit to UK economic activity from disruptions resulting from the severe weather."
Meanwhile, Finance Secretary Derek Mackay has said he will consider applications for financial assistance through discretionary fund after Borders Council requested help.
The so-called Bellwin Scheme is designed to help councils who face an undue financial burden as a result of large-scale emergencies.
It was recently activated in the wake of flooding by Storm Frank at the start of 2017, with millions of pounds given to repair damage in the Borders and Aberdeenshire.
Mr Mackay said: "We are committed to helping our communities remain resilient and this support will help local councils deal with any immediate and unforeseen costs resulting from the recent heavy snow falls and ongoing cold weather."
The cold snap wreaked havoc in the NHS last week but things will slowly get back to normal in the coming days, say health chiefs.
NHS Fife has cancelled its outpatient clinics today, but has not announced any other disruption for the week, while NHS Grampian said it isn't expecting any postponed appointments or operations this week.
Emergency surgeries are to go ahead tomorrow in NHS Lothian, along with outpatients' appointments.
Shoppers across the country reported bare shelves and snaking queues in supermarkets over the last five days, as thousands of people rushed to stock up on supplies.
However, supermarkets have advised customers their levels of essential goods are gradually returning to normal.
Sainsbury's reported a 100% increase in sales of winter vegetables such as turnips, leeks, potatoes and parsnips, and baked potato sales soared by more than a third.
As all of the main trunk and motorways are now clear, attention has turned to clearing secondary routes but many minor rural routes, remain blocked as a result of drifting snow.
Scores of bus and train lines remain shut across Scotland but most of the most popular routes are getting back to normal.
However, a bus industry source said the response from councils when it came to clearing the roads had been patchy.
The source said there was a lack of visibility of gritters and snow ploughs in many areas, with big housing schemes in urban areas, such as Drumchapel in Glasgow, not being prioritised despite having the biggest number of bus users.
Tom Mason, Scottish Conservative MSP for the north east region and an Aberdeen councillor, said:. "The severe weather of the past few days has really put the roads authorities to the test and highlighted what a fantastic job our council teams do during the winter months.
"However, chronic underfunding has left a huge backlog of roads maintenance.
"Far too many of our local roads were already scarred with potholes before this cold snap, which will undoubtedly result in further damage."
Minister gets busy as he calls for good neighbours
Scotland's Deputy First Minister led from the front yesterday as he urged Scots to check on their neighbours and do whatever they can to help them through the bad weather.
John Swinney is urging people to consider what help they can offer to those worst hit by the big freeze.
Yesterday morning he rolled up his sleeves to deliver some shopping to constituent Margaret Lindsay at her house in Blairgowrie, before also clearing her path.
He said: "If you have the capacity to help neighbours, or are the owner of large vehicles that could assist the clearance work on your local road, I'd encourage you to volunteer and look out for vulnerable people.
Margaret was grateful to her local MSP for the assistance.
"The snow has made it difficult to get out and about but there are lots of people in Blairgowrie who offer to help," she said. "It was nice to see John this morning and get a hand with the shopping."
Meanwhile, Age Scotland is warning that for many the problems posed by icy pavemments will continue into the week.
Older people are especially vulnerable to the impact of cold weather, which can worsen existing health conditions such as respiratory problems, heart disease and dementia.
The cold can also increase blood pressure, and breathing in cold air can increase the risk of chest infections in older people.
Adam Stachura, Age Scotland's head of policy and communications, said: "Older people can be particularly vulnerable to the effects of cold weather, especially if they have a health condition or live in a hard-to-heat home.
"Keep an eye on your older neighbours, friends and relatives and check if they need any extra help.
"Simply offering to do the shopping or popping in for a cup of tea and a chat could be a real lifeline for someone stuck their home."