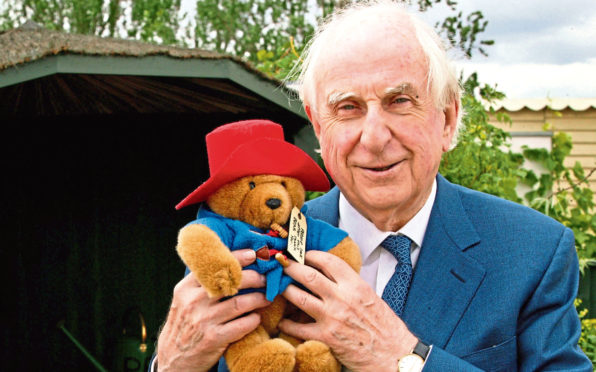 Authors often derive inspiration from most unusual sources and for Michael Bond it was a diminutive toy bear, bought as a stocking-filler from Selfridges one Christmas Eve.
While rushing past the London store in pouring rain, he took shelter and ended up in the toy section where he spotted a small bear looking sorry for itself.
The chance encounter in 1956 led to the creation of Paddington, the marmalade-loving bear from Peru.
Sparking a literary sensation, the bear's adventures resulted in 35 million plus books being published worldwide, an award-winning 1970s TV series narrated by the late Sir Michael Hordern and, more recently, two movies.
It's hard to believe that six decades have passed since Bond, who died in 2017, aged 91, introduced us to his furry friend whom Mr and Mrs Brown stumbled upon on a railway platform.
He bought the bear as a present for Brenda, his first wife, and they christened it Paddington after the train station that was five minutes from the writer's home.
A year later, when writing his first book, Michael Bond glanced across at the bear sitting on the mantelpiece and was suddenly inspired.
"Until then, I didn't know what to write about – my mind was blank. Then I asked myself: 'Supposing he had been found at Paddington Station. Where would he have come from? Where would he be going? To answer the questions, I just started writing."
Surprisingly, Bond never set out to write for children. "Even with my first Paddington story, I didn't write intentionally for younger readers – I wrote it to please myself.
"I never think of a composite child when writing a children's story because I might, subconsciously, begin writing down to my intended reader – children hate that," Bond explained during one of many chats I enjoyed with the late writer.
Bond's philosophy also explains why Paddington's popularity transcends the boundaries of children's literature and entertainment. As the bear's first adventure unfolded, Bond drew on personal experiences when forming new characters or adding colour to the storyline.
He based Mr and Mrs Brown, the bear's adopters, on his parents while Mrs Bird, the housekeeper, was influenced by a schoolfriend's relative.
Paddington's familiar attire included a duffle coat and hat, which is what Bond wore when the weather dictated. The bear's love of marmalade sandwiches, meanwhile, was introduced simply because the author preferred it to honey.
His father's characteristics were further exploited when shaping Paddington. "My father wasn't practically minded and always wore a hat, even when paddling during our family's annual Isle of Wight holiday, just so he had something to raise if he met someone in the water."
When asked to consider why the bear – who became a marketeer's dream to such an extent that traders on the Peruvian shores of Lake Titicaca sold homemade Paddington finger puppets – became such an enduring figure, Bond told me: "All characters with longevity don't alter.
"People envy Paddington's resistance to change, his politeness and old-fashioned ways of coping with things. He's a small man up against problems human beings create for themselves yet always comes out on top – that appeals to people."
If ever an incident exemplified the bear's worldwide popularity, it was at 40,000 feet when an airline pilot requested Paddington's company on the flight deck.
Michael Bond was embarking on a publicity tour of Australia and New Zealand in the 1980s. "I carried a Paddington Bear around with me and was invited to the flight deck frequently.
"But the pilots didn't want to see me, they wanted to see Paddington and would strap him in a seat and start talking to him."
On one occasion, the writer returned to his seat bearless. "A message arrived from the captain asking if I minded Paddington staying because he wanted to try landing the plane? I didn't tell the other passengers!" Bond recalled, smiling.
Paddington was adored by young and old alike and played a vital role in many people's lives.
"People treated the bear like a real-life character," Bond once commented, recalling a letter he received one frosty morning. "It was from a nun. She was dying and wanted to tell me what a comfort Paddington had been because she could talk to him."
Many purchasers of Paddington toy bears were girls heading to university, needing a "kind of father figure who would look after them in times of emergency".
In many ways, Paddington's success overshadowed Bond's other creations, including The Herbs, written when the BBC revamped the long-running Watch With Mother series.
While Bond supplied the stories, renowned animator Ivor Wood, who brought Paddington and Postman Pat to the small screen, took care of the puppets living in the secret herb garden.
The opportunity to write the TV series arrived unexpectedly one morning.
"A few days previous, I'd looked out of the window at my herb garden. I saw leaves of parsley blowing in the wind and thought they resembled a lion's mane," recalled Bond. Shortly after, Doreen Stephens, then head of BBC Children's Television, asked him to submit suitable ideas for Watch With Mother.
"Although I was extremely busy, I never like turning work down, so outlined an idea where characters were named after herbs. She asked for a pilot script and then commissioned 13 15-minute films."
Bond didn't possess any in-depth knowledge of herbs so when creating his popular characters, including Parsley the Lion and Dill the Dog, he bought a herb book. Its description of the plants generated ideas for the characters' personalities.
"A good example was belladonna, the ideal name for a witch because it's poisonous," said Bond. But the BBC was unsure about a witch appearing in a children's show and requested its removal from the films.
There was a magical quality to Bond's creation, exemplified by the old-fashioned walled garden owned by Lady Rosemary and Sir Basil. Viewers were only allowed in after uttering the magic words, "Herbidacious".
But our allotted time was short. After a brief moment in the company of Parsley, the clownish lion, Dill, the little dog who was always skittering around, desperately trying to chew off his fluffy tail, or any of the other characters, we were shown the door by good ol' Parsley until the following week's visit.
The opening episode, transmitted February 1968, caused controversy when a scene saw Sir Basil's gun accidentally being fired and blowing away Parsley's tail.
Although the tail was reunited with its owner by the end of the programme, and the underlying intention was to deter children from playing with firearms, Bond's plan failed and many viewers switched off.
But ratings recovered and the show became a favourite, spawning a 32-part sequel, The Adventures Of Parsley, shown in the pre-early evening news slot.
With the characters firmly established in his mind, Bond found the series easy to write. "I'd wake up in the morning without the ghost of an idea, sit down after breakfast and pluck a line out of the air, like 'Today isn't a Monday, a Tuesday, Wednesday or Thursday – it's a Friday.'
"Almost immediately Friday would become Flyday and by coffee-time I would have hammered out a workable plot about flying."
Born in Newbury in 1926, son of a dentist, Bond worked briefly in a solicitor's office before embarking on a career with the BBC, initially in the engineering department until the Second World War interrupted his progress.
He joined the RAF and trained as a navigator at Scarborough, later transferring to the army as a driver/wireless operator.
His final days in uniform were spent in Egypt, during which time he discovered his true vocation.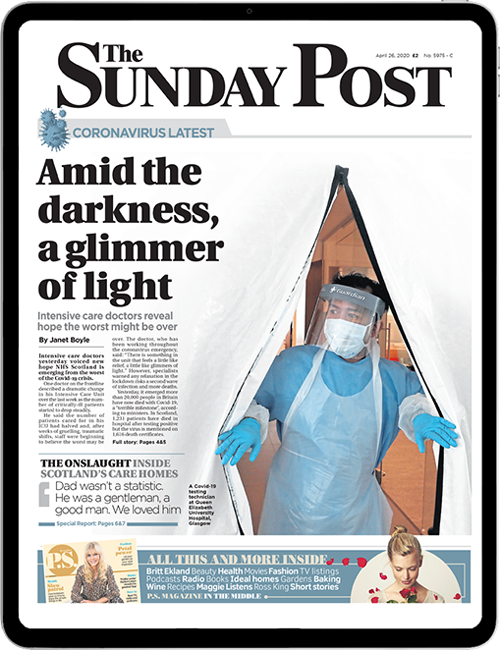 Enjoy the convenience of having The Sunday Post delivered as a digital ePaper straight to your smartphone, tablet or computer.
Subscribe for only £5.49 a month and enjoy all the benefits of the printed paper as a digital replica.
Subscribe