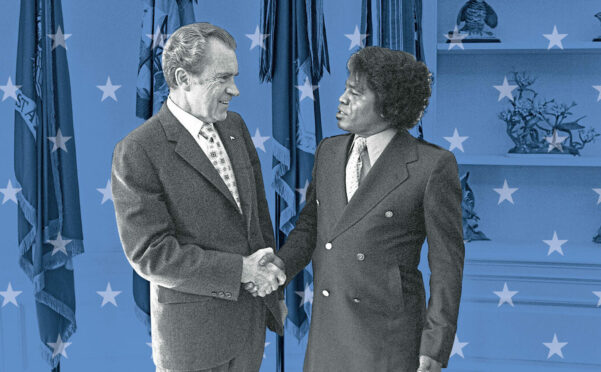 Broadcaster and author Stuart Cosgrove's trilogy of books – Detroit 67, Memphis 68 and Harlem 69 – weaved the story of soul into American social history across three incendiary years and three pivotal cities.
Now, in his latest book, Hey America!, he delivers another startling, detailed account melding music and politics as he charts how black music has coloured the White House, from telling how Eartha Kitt's views on the Vietnam War froze a ladies' luncheon hosted by First Lady, Lady Bird Johnson in 1968 to the inflammatory stand-off between Donald Trump and Black Lives Matter.
Here, he charts the odd relationship between the Godfather of Soul, James Brown, and soon-to-be-shamed president Richard Nixon.
---
James Brown, the Godfather of Soul, had suffered many indignities in life. He grew up in brutal poverty in Elko, South Carolina and spent much of his infant life living in his aunt's brothel.
His birth was troubled, and he was initially presumed to be still born until a midwife sensed a tremor of life in the baby that she had laid down beside her.
A force of nature kicked into life and James Brown came into the world shrieking like the wild wind. "I was stillborn", Brown said many years after.
"The midwives laid me aside, thought I was really gone. I laid there about an hour, and they picked me back up and tried again, 'cause my body was still warm. The Good Lord brought me back."
As a child, he earned a pittance begging by a canal bridge near Camp Gordon, a military installation south-west of Augusta, Georgia and at 16 he was convicted of robbery and incarcerated for the first time in a juvenile detention centre.
He stood in line waiting to be checked for lice in the Floyd County juvenile institute, a former tuberculosis hospital crudely repurposed as a home for delinquents.
Despite his brutal upbringing, one of James Brown's most humiliating moments came many years later as he tried to navigate a picket line outside the famous Apollo Theatre in Harlem in the May of 1973.
The crowd were protesting his endorsement of President Richard Nixon and accusing Brown of ingratiating himself with the Republican Party and so undermining the cause of civil rights. One of the most acerbic banners read – "James Brown Nixon's Clown". The Godfather of Soul who had blazed a trail for roughhouse funk music and had become synonymous with the sound of the ghetto was in the eyes of many of his contemporaries, a fool, a sell-out, and a dupe.
Brown was one of a handful of soul musicians who had been invited to perform at President Nixon's inaugural ball. He opened his fiery set with Say It Loud, I'm Black And I'm Proud. One of the leading black newspapers of the day, the Baltimore African American, carried the most detailed review. Their reporter wrote that: "After coaxing his audience several times, he persuaded many to respond to his familiar and popular song. When he said, 'Say It Loud,' many responded faintly by saying, 'I'm Black and I'm Proud.' And with a change of key, he belted out Papa's Got A Brand-New Bag and Please, Please, Please.
"When he finished, many of the younger set rushed to the front of his stage to shake his hands and to get autographs. By this time, Mr Brown had removed his jacket and stood blowing kisses to the audience in his shirt sleeves. He had a neatly trimmed bush haircut. Sparkling gold cuff links, a gold watch, and a sparkling ring on the little finger all glowed as he stood with outstretched hands … seemingly elated over his reception.
"Shining as though machine polished, were his black pilgrim type dress shoes. Truly, the James Brown who campaigned for the Democratic ticket and played for the incoming Republican President, was a star performer."
Ironically, James Brown, like most high-profile soul musicians had backed Democrat Hubert Humphrey during the 1968 presidential campaign but when the victorious Nixon team called to offer him the inauguration gig, he cancelled a Texas show and shipped his 20-piece band to Washington.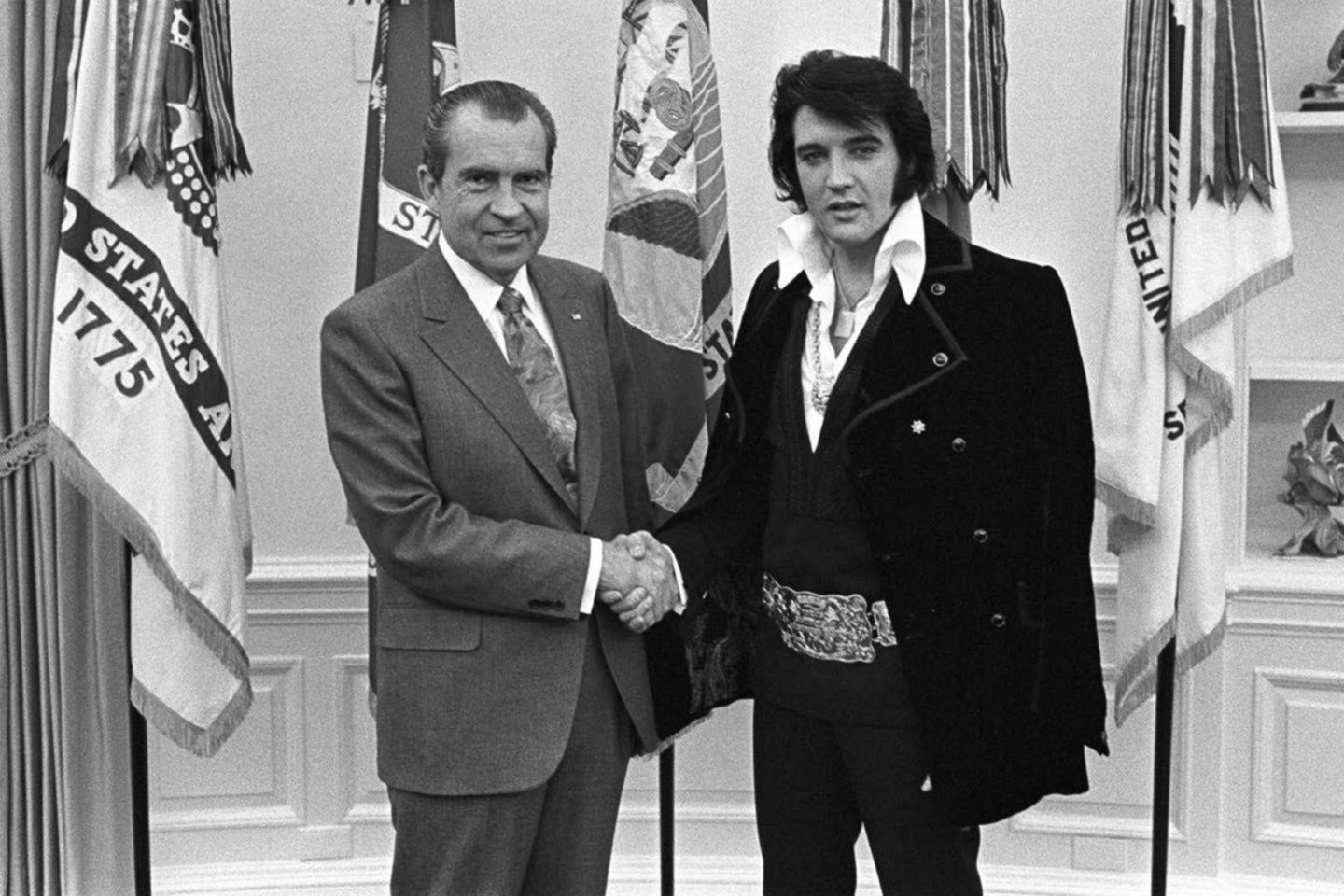 "I accepted because I want to give our new president a chance to bring the people of this nation together in every respect of our national life," he told Jet Magazine.
As a thank-you gesture, Brown visited the Oval Office on October 10, 1972. Compared with the now mythical meeting between Nixon and Elvis Presley two years earlier, Brown meeting Nixon was a perfunctory affair.
When Presley showed up at the White House in December 1970, he was decked in a purple velvet suit, a gold belt, and a Colt 45 pistol. Presley was in the middle of a successful comeback, selling out shows in Las Vegas. He came bearing a hand-written letter to the president which read: "I have done an in-depth study of drug abuse and Communist brainwashing techniques and I am right in the middle of the whole thing where I can and will do the most good." He then offered his services as a special agent who could help fight the war on illegal drugs.
Until now not much was known about James Brown's visit although strangely it turned out to be more historically significant. Throughout his visit to the Oval Office, Nixon's sound-activated taping system, a Sony TC-800B open-reel recorder cased in black Bakelite plastic worked secretly in the background.
It is one of the cruellest ironies of presidential power that Nixon had installed a sophisticated taping system to record his time in office, and in his paranoid mind, to ward off hostile surveillance from his many enemies.
Only two men in the Oval Office knew a tape recorder was running – Richard Nixon and his Chief of Staff, HR Haldeman. Nixon had even said to Haldeman: "You know, I always wondered about that taping equipment but I'm damn glad we have it, aren't you?"
Paranoia had taken over the White House. In time, Nixon became entrapped by his own deceit and the White House tapes would be at the centre of a national scandal. In June 1972, three months before James Brown came to the White House, a break-in at the Democratic National Committee headquarters in the Watergate complex in Washington DC led to an investigation that unravelled like a loose tape to reveal multiple abuses of power by the Nixon administration.
As suspicions around Nixon's part in the break-in deepened and investigative journalists pulled at every loose thread, the US Supreme Court ruled that Nixon must release the Oval Office tapes to government investigators.
Nixon was adamant they were his personal property and that any attempt to demand the tapes was political gamesmanship by the Democrats. It was not a defence that lasted and the tapes in their transcribed form revealed that Nixon had conspired to cover up activities around the break-in and had attempted to use federal officials to deflect the investigation.
The Watergate scandal unfolded and when the tapes were sequestrated by Congress the mumbled conversations of James Brown were investigated and then dismissed as background context, as the evidence against the president mounted.
Hey, America! by Stuart Cosgrove, published by Berlinn General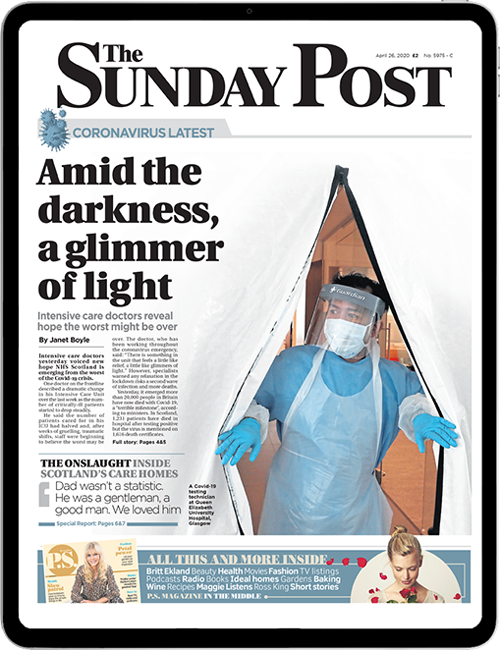 Enjoy the convenience of having The Sunday Post delivered as a digital ePaper straight to your smartphone, tablet or computer.
Subscribe for only £5.49 a month and enjoy all the benefits of the printed paper as a digital replica.
Subscribe