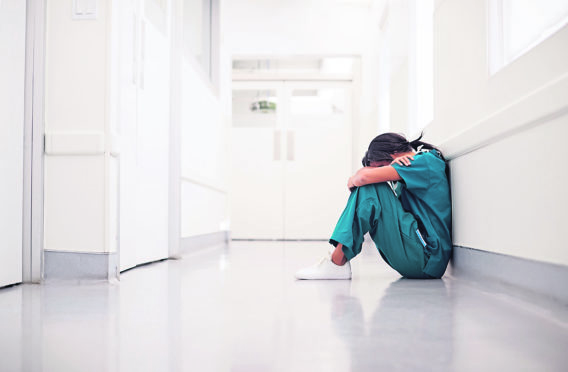 The father of a junior doctor who died after a series of exhausting shifts has demanded to know why the Scottish Government has redacted a report on clinicians' working hours.
Brian Connelly has been ­campaigning for safer working conditions for doctors after daughter Lauren, 23, died when her car veered off the motorway after a 12-hour night shift just weeks after she started work in 2011.
In 2018 the Scottish Government commissioned an Expert Working Group to examine how it could implement a 48-hour working week for hospital doctors. Mr Connelly says the report was completed in January last year and since then he has written to Scottish Health Secretary Jeane Freeman four times asking to see a copy.
When these approaches failed he submitted a Freedom of Information request for a copy. But when he was finally sent the report, its executive summary and conclusions had been redacted.
In total the 21-page report contains 37 redactions. Other missing sections include passages describing its findings on the impact of doctors' fatigue on patient safety; and how working hours and rota design can influence fatigue. Mr Connelly, from East Kilbride, said: "The report was given to Cabinet Secretary Jeane Freeman in January last year but, after repeated requests to see it, I had to submit a FOI request.
"I then got a copy so heavily redacted it is useless. The Scottish Government claim exemption from publication under the "public interest test". I have appealed against this. Publication is in the public interest and the report cannot be kicked into the long grass. Giving junior doctors safe working hours benefits their health and well-being and the public.
"Overworked and ­chronically fatigued junior doctors is a national scandal that must end. We have to take better care of those who take care of us.
"Doctors work long ­exhausting days to save patients' lives and should be given humane hours. We cannot let Lauren's fatal accident happen to any other young doctors. The first minister gave a commitment to the Scottish Parliament in March 2017 to implement the 48-hour working week without averaging for junior doctors. I am determined to ensure it delivers that promise."
Mr Connelly will now write to Holyrood's health and sport committee asking to see the unredacted report. Junior doctor Lewis Hughes, former chairman of the BMA Scottish junior doctors ­committee, echoed his call for the full report to be made available to Mr Connelly, saying: "He helped make this inquiry happen and should be given access to the report."
Professor Jim McCaul, a ­maxillofacial surgeon and former chairman of the BMA junior doctors committee, said: "Frankly I am at a loss to understand how an FOI request which has been granted can result in a redacted report. What are they hiding?
"We were fighting for safer hours for junior doctors 20 years ago and today the 48-hour week, driven by European Union legislation is breached regularly. Doctors do emergency cover for colleagues who call off sick or who have to isolate. Exhaustion is a serious risk to ­doctors and patient safety. Other doctors have died driving home exhausted."
When Mr Connelly was sent the report, included was an explanation why passages had been removed, stating: "Ministers and officials need to be able to consider all available options and debate those rigorously, to fully understand their possible implications.
"Their candour in doing so will be affected by their assessment of whether the discussions on Scottish Government policy for junior doctors will be disclosed in the near future, when it may undermine or constrain the government's view on that policy while it is still under discussion and development."
The Scottish Government said: "The ongoing response to the Covid-19 pandemic is the focus of our activity, and we have agreed with BMA Scotland that the final report and its important recommendations will be released when it has been fully considered. The health secretary meets regularly with BMA Scotland, and other stakeholders, where issues related to the wellbeing of medical staff can be discussed. A key concern at this time is ensuring NHS staff have supportive facilities in the face of the increased pressure of the pandemic.
"We are working to ensure a range of wellbeing and psychological support is provided to staff through the National Wellbeing Hub and a National Wellbeing Helpline for the health and social care workforce.
"Additional funding is being made available to NHS boards to enhance the support they provide for staff and planning is under way to establish a Workforce Specialist Service, which will help to support staff who experience difficulty accessing confidential assessment and treatment for mental health."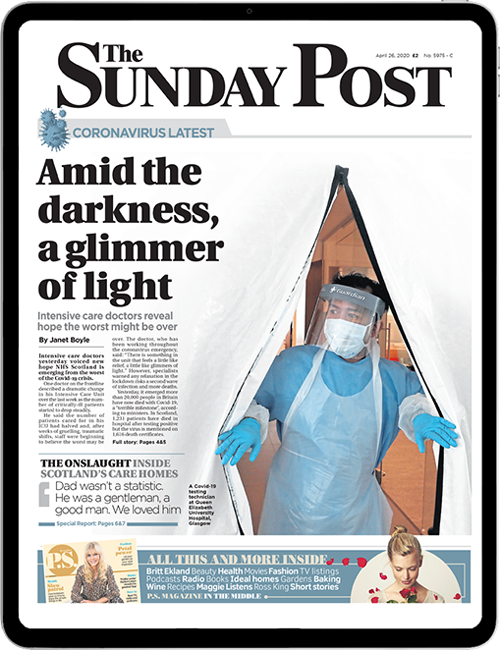 Enjoy the convenience of having The Sunday Post delivered as a digital ePaper straight to your smartphone, tablet or computer.
Subscribe for only £5.49 a month and enjoy all the benefits of the printed paper as a digital replica.
Subscribe