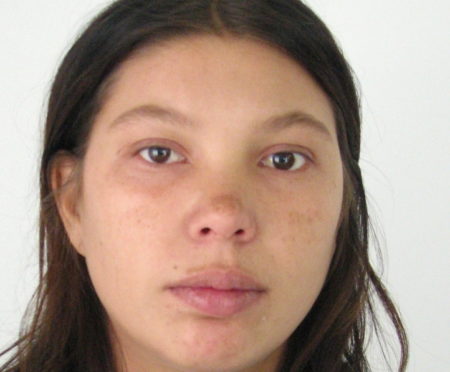 An international hunt for a missing Slovakian mum is under way amid fears she has been trafficked to Scotland.
Jana Kovacova, 28, is the ­subject of an official missing person inquiry in her home country after she was last seen in the village of Trebisov in 2016.
The remote settlement, home to a community of 4,000 poverty-stricken Roma people, is the same location from which a dozen women were trafficked to Glasgow by a gang smashed by a major police operation.
Three gang members and a man who bought one of the trafficked women were sentenced to a total of 36 years in prison at the High Court in Edinburgh on Friday.
The traffickers brought women from Trebisov, in eastern Slovakia near the border with Ukraine, to Govanhill, Glasgow, over a six-year period – covering the time Jana went missing.
Her parents told how one day in 2016 they had gone to search for scrap in the nearby town of Michalovce but when they returned Jana was missing.
When they failed to find her they contacted police. The family's concerns were heightened as their daughter had left behind her seven-month-old son.
The family told last week how their inquiries in their home town suggested Jana had been lured to Scotland with the promise of work.
Jana's parents, who have not heard from her for more than three years, are unsure if their daughter is still alive. They have now issued a desperate plea for help tracing her.
Her mum, Marta, said: "My grandson is here waiting for a call from his mother. We ask anyone – please help us."
A missing person case is lodged with the Interior Ministry in Slovakia showing Jana has been unseen by her family since March 2016.
Via sources in Trebisov, her parents have traced the identity of women believed to have been involved in trafficking Jana to Britain. It's understood the traffickers may have connections with the gang convicted in Glasgow last month, leading to the belief Jana could be in Scotland.
The parents said ­information they had gleaned suggested the traffickers in Jana's case were involved in selling girls to Pakistani men – a further connection to the Glasgow case where women were sold in sham marriages to members of the Asian community.
Jana's parents obtained a ­photo of their daughter via social media showing her face bloodied after apparently being attacked.
It's unclear if the attack took place in the UK or as Jana was transported through Europe.
The parents said the image had added to their distress and pleaded with anyone with information on her whereabouts to contact police.
The women involved are believed to have lived in recent years in London but the Met police said they were not involved in Jana's case. Police Scotland said: "Anyone with information on this person's whereabouts should call 101."
On Friday at the High Court in Edinburgh, a gang that trafficking eight women from Trebisov to Glasgow for prostitution and slavery between 2011 and 2017 were jailed.
Ringleader Vojtech Gombar, 61, was sentenced to 12 years, while his stepdaughter Jana Sandorova, 28, received seven years, and her partner Ratislav Adam, 31, was jailed for nine years. All are originally from eastern Slovakia. A fourth man, Anil Wagle, 37, orginally from Nepal, who bought one of the women, was jailed for eight years and six months.
Six other members of the gang are being tried in Slovakia.
We told how one women, Adriana Adiova, was lured to Scotland with the promise of work then sold into a sham marriage. She managed to escape and return home.
Detective Superintendent Fil Capaldi, head of Police Scotland's human trafficking unit, said the sentences served "as a warning to traffickers operating in Scotland".