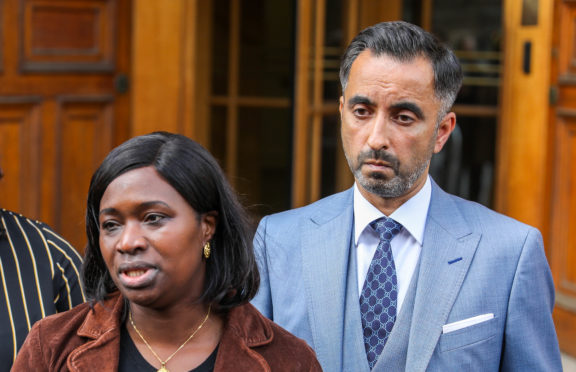 The family of a man who died in police custody will learn tomorrow if anyone will be prosecuted over the death.
Father-of-two Sheku Bayoh, 31, died after being restrained by up to nine officers in the street near his home in Kirkcaldy in May 2015.
It took the Crown Office until last year – three years after the death – to make an initial decision that no-one would face any charges.
The family invoked their right to a review of the decision and will learn the outcome tomorrow.
A source said: "It's a possibility, however remote, that some or all of the officers could face charges ranging from assault to culpable homicide or attempting to pervert the course of justice."
A Bayoh family source added: "The family know a fatal accident inquiry is mandatory for all deaths in custody but they do not wish an FAI as they feel it is a pointless exercise and wish a full public inquiry instead."
Sheku died after being restrained by police called to reports of a man brandishing a knife. He was taken to Kirkcaldy's Victoria Hospital but was pronounced dead around two hours after coming into contact with police.
His body was covered from head to toe in injuries, including gashes and scratches all over his face, a broken rib and petechial haemorrhages in his eyes – which is a sign of asphyxiation.
Tomorrow's meeting will be attended by Sheku's mum, sisters and brother-in-law as well as his legal team including solicitor Aamer Anwar.
Mr Anwar said: "This case is a fundamental test of the accountability of those who claim to be our guardians of law and order. In a civilised society there must never be a hiding place for officers who break the law."