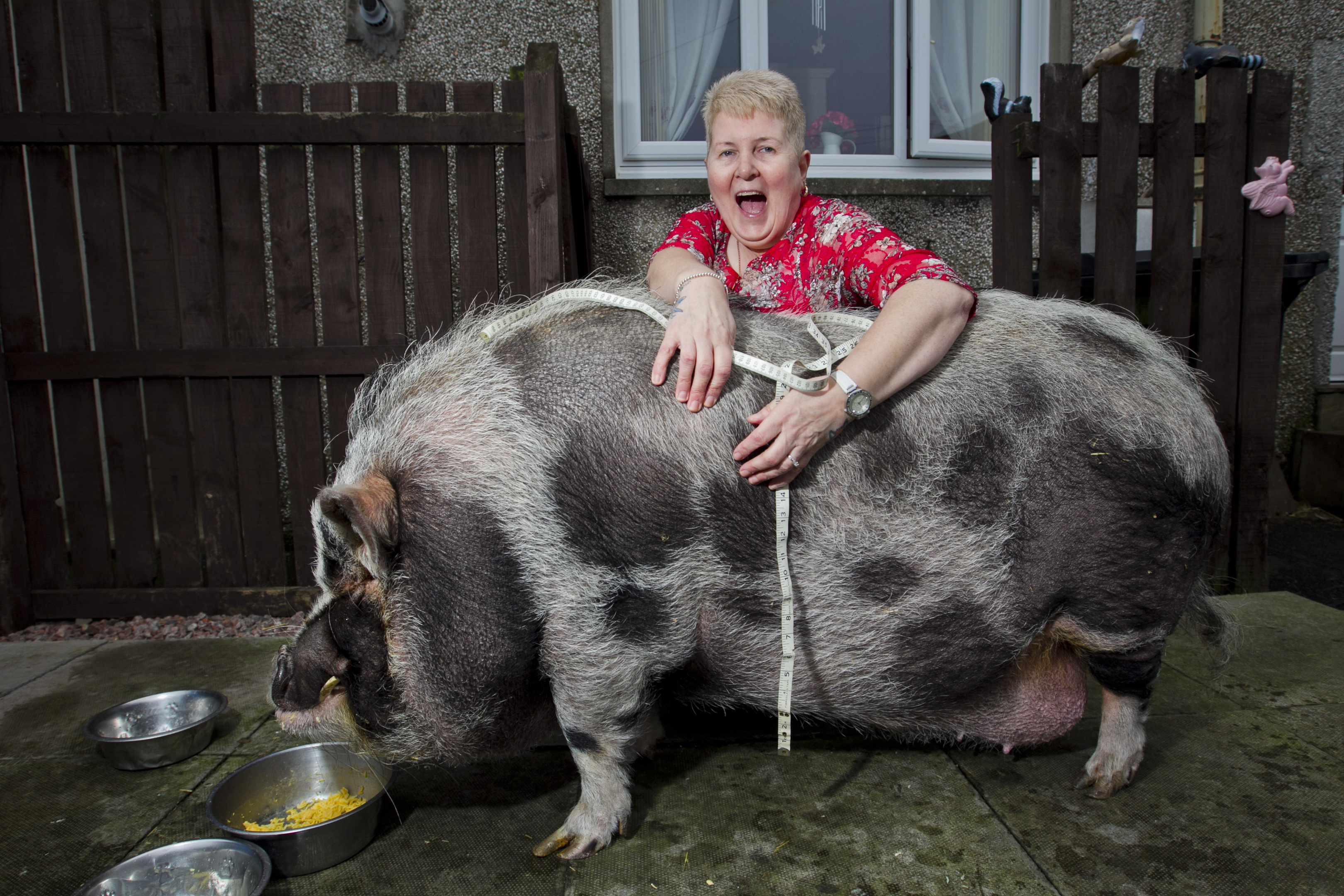 HE may be a giant porker, but that doesn't mean Dudley misses an opportunity to pig out.
The huge hog tips the scales at around 20 stone, but is piling on the pounds due to his cravings – for cakes, chips and vegetable curry.
Dudley loves nothing more than chomping on convenience food such as biscuits, crisps and fritters. He even loves a cheese selection!
But owner Catherine Dawes, 56, says it's high time her trotter trims down on the treats.
Yes, Dudley the "macro" pig, like many of us, is starting 2017 on a diet!
Catherine, who lives with Dudley and her partner Colin not on a farm but in a terraced home in Blantyre, said: "I try to watch Dudley's diet, but he's a greedy pig and will never refuse a treat.
"And Colin always lets him eat rubbish.
"He'll offer Dudley a wee bit of everything he's having, from toast (with butter on of course!) to crisps and even cream cakes, gateaux and trifle.
"And you should see him with a curry! He loves a vegetarian korma or chasni – and you can tell because of the 'mmmm' sound he makes when he's eating it!"
The youth worker added: "We've always let him have the occasional treat but Colin had a stroke a while back so he has been at home – and with Dudley all day long.
"They're thick as thieves when it comes to eating junk food when my back is turned.
"I think we'll need to nip that in the bud this year. It's hard because he loves his food and there aren't many things he doesn't like, but it's killing him with kindness."
Six-year-old Dudley has become Scotland's most famous pet pig since The Sunday Post introduced him to the nation back in 2013.
He's a pig of rid-oink-ulous proportions – especially as he was meant to be a micro pig.
Catherine bought him from a breeder in England, a treat for her 50th birthday.
He was supposed to grow no bigger than a small dog.
But six years on, the "miniature" piglet has grown to more than 5ft 8 ins long and 2ft tall.
Fully grown micro pigs weigh just two stone – Catherine reckons Dudley must be around 20.
"I don't think I have a set of scales to weigh him on that wouldn't break if he stood on them," she joked.
"Dudley did lose a bit of weight, but I'd say since Colin got ill, he's definitely put it all back on."
After his introduction in The Sunday Post, Dudley found global fame, hitting headlines across the globe – even trending on Twitter.
And it led to him living a much more celebrity lifestyle.
The super sow's hay-stacked coal shed in the back garden is currently undergoing a makeover with the addition of wooden cladding to make it more cosy.
And he got a Shetland pony coat for his Christmas.
Like most domesticated pets, the house-trained hog has spent the cold winter evenings indoors, watching telly in front of the fire, alongside Catherine and Colin's Bichon Frise Dexter and new addition to the family Harvey, who has taken a real shine to his big brother Dudley.
"Dudley is not dissimilar to the dogs when it comes to being inside," Catherine said.
"He'll give you a trotter when you ask and closes doors behind him.
"In fact, I would say he's cleaner – and more clever – than the dogs. They have a dog puzzle with treats hidden inside and neither of them can do it.
"Dudley seems to manage it every time.
"He's the perfect pet, and a big part of the family in more ways than one!
"But we'll be doing our best to help him whittle down his waistline. Well, I will. I'll just need to have words with Colin!"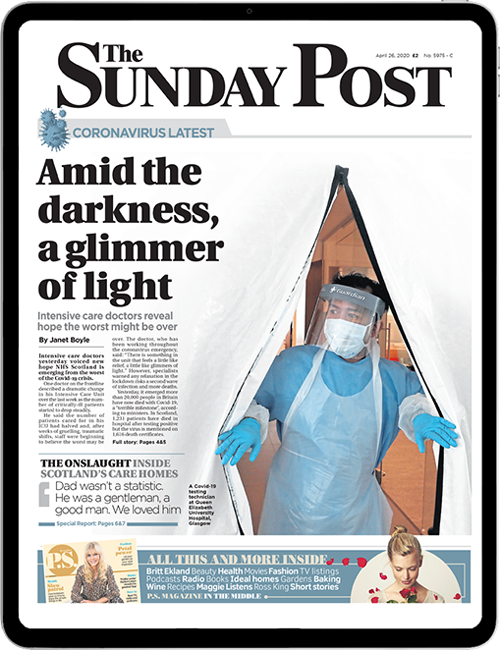 Enjoy the convenience of having The Sunday Post delivered as a digital ePaper straight to your smartphone, tablet or computer.
Subscribe for only £5.49 a month and enjoy all the benefits of the printed paper as a digital replica.
Subscribe