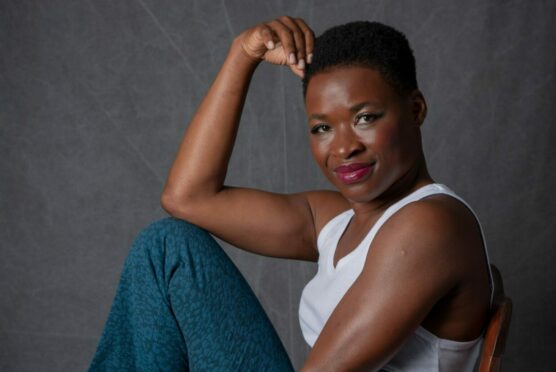 A witch, deceiver and murderer, Medea has been steeped in infamy since ancient times, and her compelling story of betrayal, rage and terrible vengeance has endured and fascinated for centuries.
Now the National Theatre of Scotland will ask a new generation of theatregoers to have sympathy for the devil in a retelling of her story and reshaping of her reputation as a woman terribly wronged.
Written in the year 431 BC, the play continues to resonate with audiences, with the role of Medea holding the record for the most Tony Award wins for the same female lead character. The latest production – to be staged at the Edinburgh International Festival next month – is a new version of Liz Lochhead's 2000 adaption of Euripides' play, with the majority of the characters speaking Scots.
Adura Onashile had moved on from acting to write and direct her own work both in theatre and film, winning multiple prestigious awards in the process. But when the chance came up to audition for the role of Medea it was an offer she could not refuse.
She said: "I think I had one acting job in five years, because it just wasn't a priority any more. I was writing and directing. When the audition came up I thought, 'absolutely I have to do this'. When I was only acting, playing Medea was a dream.
"I didn't think I would get it but I wanted the opportunity to meet the director Michael Boyd and to play with text with him, even in just an audition setting. When I got it, it was amazing because it was a dream come true. I stopped acting because I wasn't getting challenging parts any more and I knew I wanted to have more responsibility when creating something. So I went down the directing route. It's so amazing to get this opportunity – it feels serendipitous."

In classic Greek mythology, Medea was a witch who fell madly in love with, and married, the mythical hero Jason, helping him win the Golden Fleece through a number of misdeeds and spells, including killing her own brother and tricking the daughters of King Pelias of Iolcus to murder their father. Medea cut herself off from her family and everything she knew to make Jason powerful and successful. But, in the end, Jason left her for an advantageous political marriage to the young and beautiful princess of Corinth.
The play follows Medea in the days after she finds out about Jason's betrayal. Scared of her, King Kreon tries to run her out of Corinth. And so, pushed to her very limits, Medea orchestrates his and his daughter's gruesome deaths on the day of her wedding to Jason. When Jason comes to find Medea after the deed, he discovers she has murdered their children in revenge for his cruel treatment of her.
"The taboo of killing young children is a huge part of why Medea endures," said Onashile. "It is anathema to us to imagine a mother that causes harm to her children. Medea justifies it saying they are better off dead than alive but ultimately she is also taking revenge. That is hard to negotiate or fathom but we keep coming back to it. It touches on something that maybe we all know we are capable of if we were in the right circumstances. Maybe that is why her story is so fascinating to us."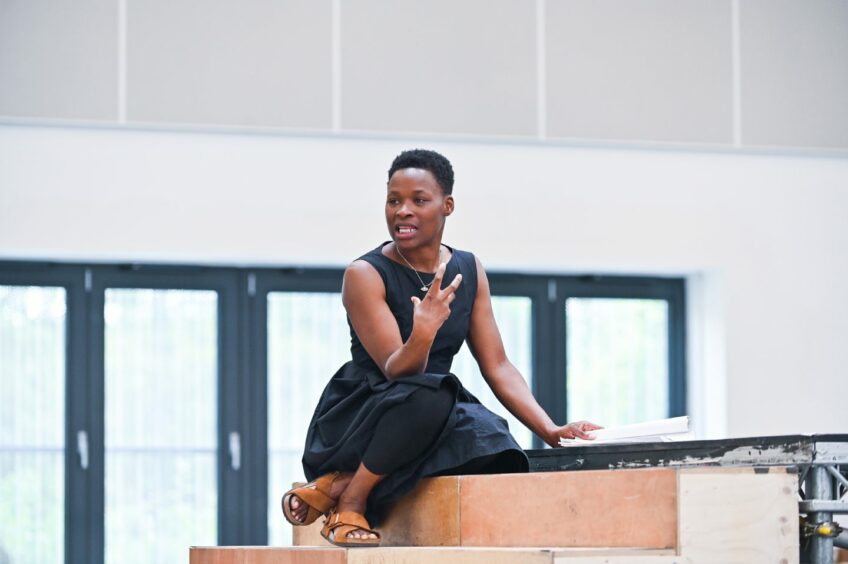 The play calls on the gender dynamics between men and women, especially when they are in close, romantic relationships with each other.
Lochhead recalled how, when the adaptation was first staged in the early 2000s, women would stop her on the street to tell her how much that production resonated with them. She said: "Euripides wrote this play with such passionate arguments for a woman, with sympathy for her as well as fear of her. These stories are not posh stories, and they mean a lot to normal people.
"People who had seen the first production would stop me at the bus stop and tell me about the breakdown of their marriage. That happened again and again. People took it very personally. That's what good drama is – it makes you see a story as something that could happen to you."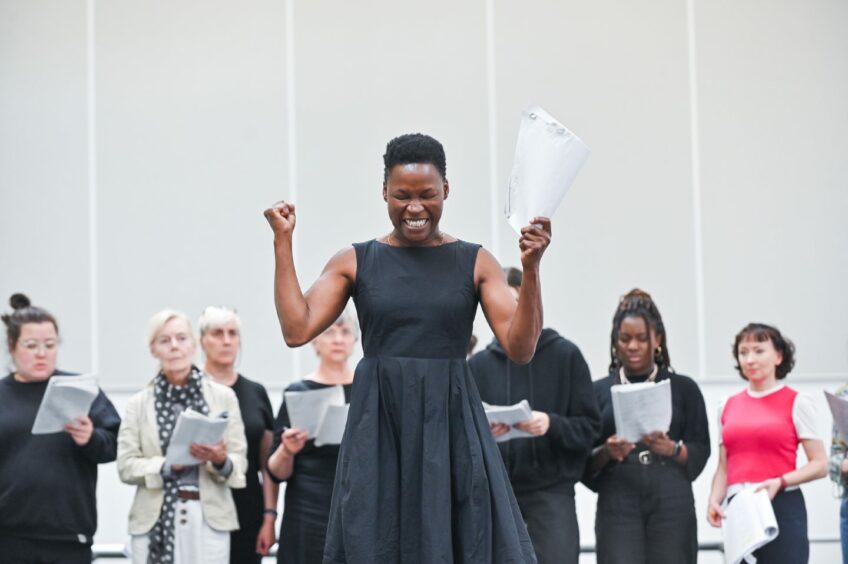 Michael Boyd, director of the production, said: "It's a woman's play. In the end, and I think the men in it would agree, the dominant voices of the play are Medea and the chorus. They are both funny, and angry, and hurt about their mistreatment by men.
"I think it's a call for compassion that might avoid terrible things like infanticide. It doesn't in any sense try to justify it. We're not trying to explain or rationalise everything away. These are extraordinary characters, and the audience are a bit like the chorus in a way. The women in the audience certainly are, and the men at times will feel absolutely in tune with the chorus and at other times a bit uncomfortable – hopefully."
Onashile knew that getting to grips with Medea would be a challenge, so much so she made the conscious decision to completely separate it from her own personal life and family.
She explained: "I realised I had a responsibility to myself and to my daughter not to use our relationship as a foundation for understanding and getting into the emotion of what Medea does.
"I think that would be irresponsible of me as a mother, and so it becomes, for me, about expressing rage. The expression of rage is something that I have never done much in my life, and have not been supporting in doing, as a lot of women aren't. Exploring the epicness of Medea's rage allows me to explore what she does because of that rage. The epicness of her rage means there needs to be an epicness to her actions, and that is my way in.
"I can't speak for all women but I feel that, to a certain extent, women are much more watchful of how we are seen in the world, how we behave, and how we are judged. I think men are allowed to be a lot more unpredictable.
"Part of my exploration of her is, 'what if I don't care what anyone thinks of me? I have no morality around any judgment that anyone has of me – I literally do not care!' That sounds like a simple thing, but it's actually huge because so much of why we behave the way we do is because of how we perceived.
"We have to live with that difficult contradiction. It's a play about: 'what do we do with all our rage? What do we do when we have the power to express that rage, and we don't have the limits that society might put on us to stop us?'
"It reminds me of a revolution. In a revolution, you have to get everyone on board, as Medea does with the chorus, and then in revolutions there is sacrifice and, in this case, the sacrifice of the children.
"There's something of that in Medea. This play holds all those truths. It's incredibly intimate and awful, but it also epic and empowering. Those feel like contradictions, but they are all in the play, and I think that is why it will always endure. When theatre is at its best, it's saying more than one thing, and sometimes those things are complete contradictions."
Acclaimed writer on why ancient drama remains such a play for today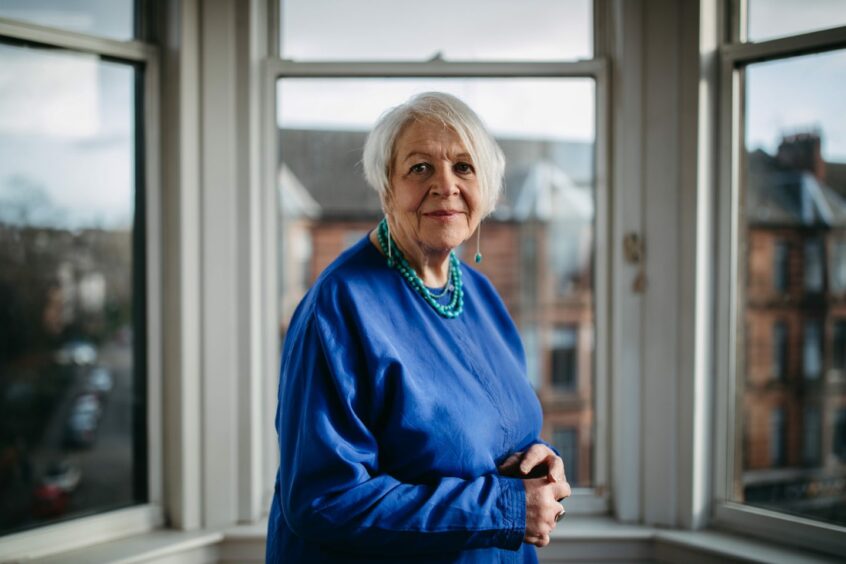 "I thought the National Theatre of Scotland would do a play of mine eventually – you know, once I was dead," jokes Liz Lochhead.
Lochhead is too modest – 75 this year, she has been one of Scotland's most prominent poets and playwrights for 50 years and has no intention of slowing down. "I hope that I write another play. I hope this production of Medea will clear the decks and make me write another play. I have an idea but something has to happen to make it begin – I want to write a play about three sisters.
"There's got to be something else that comes from the left field to make it happen."
Lochhead said she had lobbied NTS to stage Medea years ago but nothing came of it. Then she received a phone call out of the blue. "It must have been four or five years ago, not long after she took over the role as NTS artistic director. Jackie Wylie phoned and asked me to come into their offices for a blether. It is always nice to hear from the head of your national theatre. She told me she thought Medea was fantastic and she wanted to do it."
Poetry in motion: Liz Lochhead on her 50-year career, pulling all-nighters at 74 and why she refuses to slow down
Wylie was not the only one to think it was fantastic; of all her plays it was Lochhead's late husband Tom Logan's favourite. "He loved this play, I wish that he could see this version. I lost him 12 years ago and I know that he would be very proud that it was happening again. He thought it was almost the best thing I'd ever written."
Of Lochhead's script, director Michael Boyd said: "It's where Liz the poet really comes together with Liz the dramatist, more than anywhere else. She's getting a little bit of help off Euripides and she is astonishingly faithful to Euripides but also she takes very brave steps herself. It reminds me of Memo For Spring, her amazing first poetry book. The power of the language is just tremendous."
---
Medea is part of the Edinburgh International Festival and will run from August 10 to 28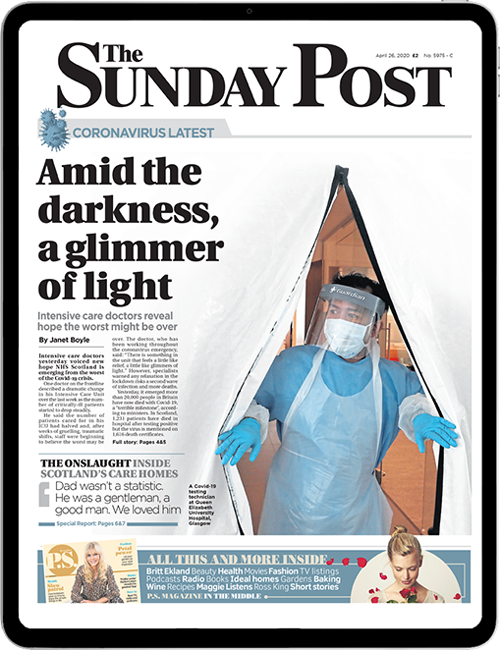 Enjoy the convenience of having The Sunday Post delivered as a digital ePaper straight to your smartphone, tablet or computer.
Subscribe for only £5.49 a month and enjoy all the benefits of the printed paper as a digital replica.
Subscribe