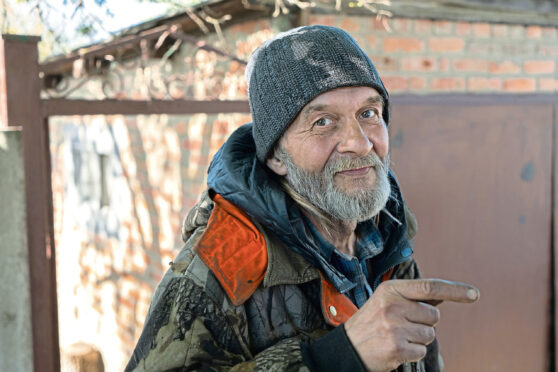 Slatyne's only hospital stands abandoned, its windows shattered and doors blown open by shelling. The interior, although spared from looting, is long abandoned, the pot plants that lined the corridors now yellow and dead. Although people are dying daily in the surrounding countryside, there is no sign of a doctor.
This rural town of 6,000 people just 12 miles from the Russian border has been violently contested since the invasion began in February. While the Ukrainian government declared it liberated in mid-April, local forces maintain just a tiny presence in an area that is essentially no man's land.
Across the street from the hospital, Yuri Koptyug, a 60-year-old factory worker, stands outside his house smoking a cigarette. He had remained in Slatyne throughout the war, surviving off humanitarian supplies delivered by volunteers.
Koptyug's family heritage is Russian, with his mother and father from Belgorod just across the border. His sister lives in their parents' hometown, while his daughter and grandson live in Moscow. He also has relatives in the Kharkiv region who, like Koptyug, consider themselves Ukrainian.
Although one of the mottos from the Russian propaganda campaign promoting the war is "we do not leave our own" – a reference to the claim that Russians in eastern Ukraine are facing ethnic persecution – Koptyug scoffed at the notion that he is in need of protection from his fellow Ukrainians.
"Who were they to come to liberate the 'Russian world'?" he said, invoking a term favoured by the Kremlin in support of its territorial ambitions, adding he enjoyed a good life before the invasion.
Unlike many other Ukrainians, Koptyug said he agrees with the notion that Russia is a fraternal nation but such kinship makes the destruction all the more painful, he added. "God forbid, I never in my life could even imagine that it could become like this," he said.
During an overnight visit to Slatyne, shells flew overhead at all hours amid a near-constant duel between Russian and Ukrainian artillery outside the town. Much of Slatyne has been destroyed, with many of the remaining structures heavily damaged. Graffiti on the walls of the bombed-out railway station, which connects Kharkiv to Belgorod, reads "Welcome to hell".
No businesses remain open, with storefronts broken and looted. Stray dogs and cats, many wearing collars, run around the empty streets, their owners gone or lost. A recently-built school has been largely shattered by explosions.
As is the case on most of Ukraine's battlefields, the line is ill-defined here. While a few Ukrainian soldiers occasionally appear in the streets, they are not a constant presence. Venturing too far north carries the risk of running into a Russian position without warning.
A few neighbourhoods, especially those closer to the Ukrainian positions on the southern end of town, are relatively lively. On one residential street, residents who had remained behind mingled just before the 5pm curfew. They were mostly elderly, either unable or unwilling to evacuate their homes. Although utilities were disconnected, there were plenty of fresh eggs, pickled tomatoes and kompot – a traditional Ukrainian fruit drink – to go around.
Lyudmila Artemova, a 73-year-old pensioner, cried as she lamented the actions of a nation that she had once loved. "I used to love Russia so much, but now I don't know," she said, adding that she herself has Russian roots. The Russians would find no oppressed compatriots in Ukraine, she added, and certainly nothing resembling the fascist government that Putin insisted must be destroyed in his televised speech in February, when he announced the "special military operation" to "de-Nazify" Ukraine.
"The Nazis were the ones who arrived here," she said, referring to the Russian soldiers. A neighbour, Tatiana Mileeva, 62, said she was less surprised by how events turned out. Originally from just outside Kyiv, she has spent most of her life in Kharkiv region with her husband, who was born in Ukraine to Russian parents.
"We unfortunately thought it would be like this," she said, adding that many of her neighbours had been in denial until the war began unfolding on television. The roof of Mileeva's elderly neighbour's home now has a hole thanks to the shelling, although the couple managed to partially repair it. Their dog is perpetually distressed, constantly having to be brought back home as he runs manically at the sound of explosions.
Another neighbour, a 71-year-old who only offered her first name Nadezhda, admitted to having previously held political sympathies for a "Russian future" in Ukraine. She added, however, that she had never expected Russian troops to attack her country.
Her home is now in ruins after an artillery round landed on top of it. While the building still stands, it will require professional renovations before she can sleep there again. She now lives in the adjacent cellar with her 13-year-old granddaughter, waiting for the day that Russia pulls out of the Kharkiv region for good.
"Putin was great, I always said. I never believed that there would be a war with Russia," said Nadezhda.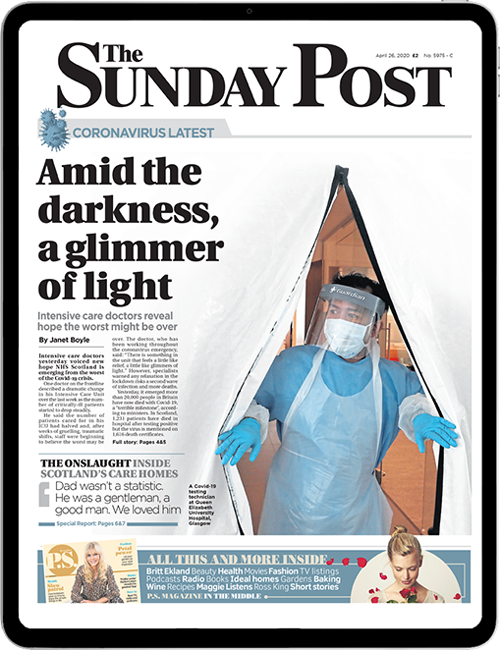 Enjoy the convenience of having The Sunday Post delivered as a digital ePaper straight to your smartphone, tablet or computer.
Subscribe for only £5.49 a month and enjoy all the benefits of the printed paper as a digital replica.
Subscribe