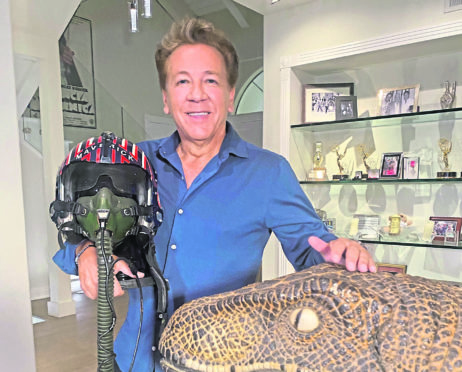 Wear a mask? How about one costing a cool £50,000?
Last week I visited a very special auction here in Los Angeles, one that's set to raise a cool £5 million.
I got my hands on the helmet worn by Pete "Maverick" Mitchell in the Top Gun movie all the way back in 1986.
What do you think – £50,000 for a mask to wear to the shops? I think there was one point in April where paper masks cost the same!
More than 900 rare movie memorabilia items from more than 100 famous films and TV shows will be auctioned online from Hollywood next month.
The prize item is no doubt the Top Gun pilot's helmet – especially with the new movie out later this year.
Top Gun: Maverick, as the movie is called, was originally scheduled to be released in July 2019 but was then pushed back almost a year to June this year – and then again to last month.
However, due to the ongoing coronavirus pandemic the film has now been pushed back to December 23.
Who knows, maybe wee Tam himself will fancy bidding for the piece of movie history?
I loved picking through some of the magic exhibits.
One of them was more magical than others. Harry Potter's Hogwarts acceptance letter from the movie Harry Potter And The Philosopher's Stone is up for auction, too. It's expected to fetch £6,000.
For that price I'd expect a taxi directly to Hogwarts.
There are many unique items being made available to bidders by the company, Prop Store, in one of the world's largest live auctions of film and TV memorabilia, which is taking place on August 26 and 27.
I'll be tuning in, and I fancy placing a bid for an original Darth Vader promotional costume from Star Wars: A New Hope in 1977. However, it's estimated to go for upwards of £120,000.
But what if it gives me Force powers? Social distancing in shops will be a dawdle if I can use the Force to lift up a loaf and put it in my trolley. Not that anyone will want to get too close to Darth Vader.
Ron Burgundy's blue suit from Anchorman: The Legend Of Ron Burgundy in 2004 is on sale for around £3,000.
In it he plays a TV presenter who wears '70s fashion that's way out of date. That sounds perfect for me!
There's also the suit worn by Michael Corleone – Al Pacino, of course – in The Godfather: Part II.
I'd look good in it, but with a price expected to reach £16,000, I think I'll make them an offer I can refuse…
This year's biggest seller is set to not only burst your wallet – but also your garage door.
It's an 11-foot model of the giant Nostromo spaceship from iconic movie Alien, which is expected to fetch at least something like £300,000.
Now, that really is an astronomical sum!
I'll bid you farewell for now.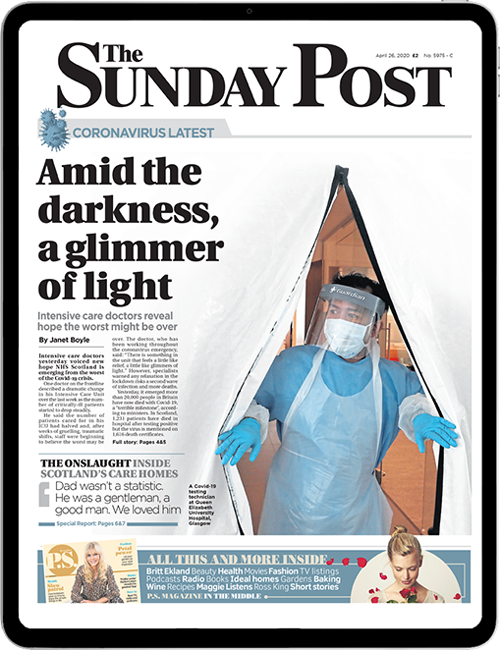 Enjoy the convenience of having The Sunday Post delivered as a digital ePaper straight to your smartphone, tablet or computer.
Subscribe for only £5.49 a month and enjoy all the benefits of the printed paper as a digital replica.
Subscribe