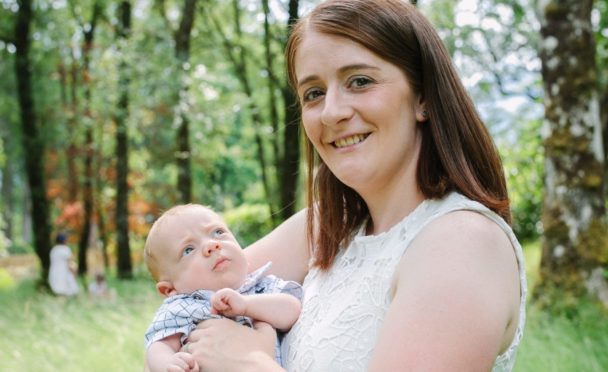 He might only have just arrived but baby Seoneidh Dickson has already put 1,200 miles on the clock.
Mum Natasha has revealed that it took mammoth road trips during her pregnancy to ensure she and her baby stayed alive.
The mum of five lives with her husband Christopher in the village of Glencoe in the Highlands, but developed seriously high blood pressure in her seventh month of pregnancy and had to be monitored carefully with regular hospital checks.
She and Christopher, a garage mechanic, had to drive a round trip of 164 miles every week for five weeks to Raigmore Hospital in Inverness.
Besides that, they had to clock up the 32-mile return trip, three times a week, for four weeks, to Belford Hospital in Fort William for regular antenatal checks.
Natasha, 31, was suffering from pre-eclampsia, one of the most dangerous conditions during pregnancy. Mothers risk life-threatening strokes and their babies are at a high chance of dying before birth if the condition is not carefully monitored and treated.
By her eighth month Natasha's blood pressure soared so high doctors warned her the baby would have to be delivered quickly to save both of their lives.
Natasha, a pupil support assistant at Ballachulish Primary School, said: "We had clocked up more than 1,200 miles to keep me and my baby alive but it had to be done.
"Now I had reached the point where if I had continued the pregnancy we both risked dying.
"My last few weeks of pregnancy were marked with searing headaches, all hallmarks of pre-eclampsia.
"It had been a bit of a tightrope to walk, continuing the pregnancy until Seoneidh was big enough to survive safely outside the womb but not too long as to risk both our lives."
He was born eight weeks early by caesarean section at Raigmore Hospital, weighing 5lbs 3oz, and rushed off to its intensive care baby unit.
Christopher got a fleeting look before his son was whisked away down the corridor and secured into an incubator by paediatricians.
But even after giving birth, Natasha's blood pressure would not fall, as expected. "I was transferred to high dependency where doctors worked to stabilise me," she added. "I was there and Seoneidh was in the baby ICU unit but after 17 days we were well enough to head back to Glencoe. We stopped three times to make sure he was OK."
Now just two months old, he's being fussed over by big sisters Sophie, 9, Isla, 7, and Leah, 5, and big brother Ruaridh, 2.
Christopher smiled and said: "We have a lovely family and live in one of the loveliest parts of Scotland.
"It's been a bit a drive to keep Natasha and Seoneidh safe, but worth every mile."
Natasha's family in Glencoe were unable to see wee Seoneidh until last week because of lockdown, except through the livingroom window.
"My sister Charlene Cattanach works in ICU in Glasgow but we have kept in touch through FaceTime," Natasha added.