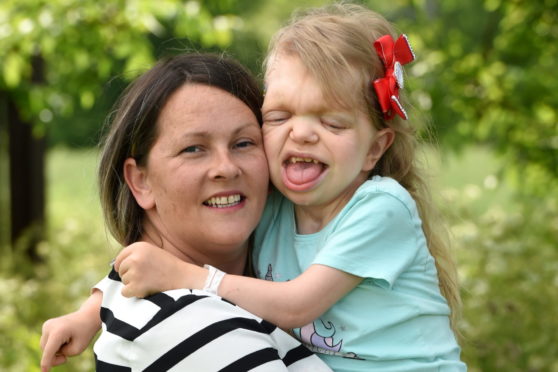 Her mum calls her Happy Hannah because she loves to laugh and sing but to Judith Davis, her daughter's smiles are all the more precious because she has watched her endure a lifetime of pain.
The seven-year-old has Pfeiffer Syndrome, a rare genetic disorder affecting one in 100,000 children. The incurable condition causes the skull to prematurely fuse in the womb, distorting the shape of the head and face, with the risk of crushing the growing brain.
Now Hannah has endured more than 50 excruciating operations in her young life to combat the dangerous effects of the condition including having her entire face deconstructed and put back together again.
Hannah, who also uses a hearing aid and uses a wheelchair, had her most recent operation in December. But it is likely she will have to cope with more gruelling procedures until her body stops growing.
Last night Judith, 43, paid tribute to her brave little girl who has smiled her way through her ordeal. She told The Sunday Post: "Hannah is amazing. She just has the drive to survive. She loves being alive and she loves music. She is the number one fan of pop-rock group The Vamps. Her favourite song is Wake Up. She really is a happy Hannah."
Hannah has been defying the odds since she was born at Aberdeen Maternity Hospital in December 2012.
Judith, who lives in Pitmedden, Aberdeenshire, with her partner Phil, 50, daughter Rebecca, 15, and son Keiran, four, revealed: "We had no idea during pregnancy there was risk. I was admitted to have her but her heart rate dropped rapidly. She was close to death before she was born and I had to have an emergency caesarean.
"She was taken to the neonatal unit and was stabilised but we were not able to see her until 11pm that night, more than seven hours after she was born. The next day a consultant told me she suspected she had Pfeiffer Syndrome. I had never heard of it before.
"The first week all I did was cry, I was in shock. After that I got on with it. After nine weeks doctors confirmed she had the condition. The prognosis was poor. They said she would struggle to live a year."
Hannah, a patient of the Royal Aberdeen Children's Hospital, was referred to the specialist cranial facial team at Yorkhill Hospital, now Glasgow Royal Children's Hospital. They discovered she was also suffering from hydrocephalus, a life-threatening build-up of fluid on the brain. At just weeks old Hannah had her first surgery with a shunt inserted to drain fluid from her brain. She spent nearly three months in hospital.
Judith said: "We were panicked and worried but we had no idea of what was still to come."
After finally returning home Judith noticed her daughter struggled to breathe when sleeping. She was admitted to the Aberdeen hospital's high dependency unit and transferred to Glasgow for a tracheostomy – a tube inserted into the windpipe to allow air to enter the lungs. Then in August of 2013 little Hannah had her first cranial facial surgery at Glasgow Royal Children's Hospital.
Her mum explained: "Hannah's bottom jaw grows normally but her forehead and mid face don't. The surgery involved fitting a cage to her face that pulled it forwards. It also opened up the closed airway. The operation took 13 hours and she stayed in hospital for 13 weeks."
But by the spring of 2015 the shunt in her brain blocked twice, sending her back to hospital in Glasgow. Judith said: "It was becoming clear there was no space in her skull for her brain to grow and that was why the shunt was blocking. So her surgeons decided to remove a strip of bone across the top of the skull to relieve pressure." She rallied and came home after three weeks only to be hit by further setbacks. The shunt in her brain blocked again, and complications in the ventilation process left her in a fight for her life. Judith was told to phone Phil and tell him their daughter might not survive. But again Hannah battled through.
A series of further surgeries followed, including gruelling facial surgery in May 2016. Judith explained: "They dismantled her entire face and rebuilt it on a frame. The operation started at 9am and we didn't speak to the surgeons until after the operation at 11.30pm."
Hannah suffered a series of infections and remained in hospital throughout that summer before coming home.
As well as the pressure of having a chronically ill child, Judith has also had to endure internet trolls targeting their family because of Hannah's appearance. In May last year doctored images of Hannah were sent to Rebecca via social media. Judith said: "It is disgusting and cruel. If they had an understanding of what happened to Hannah throughout her life they wouldn't find that amusing."
She added: "People do stare at Hannah. I don't mind if it's children because they are curious, but if it's teenagers or adults, I stare back. It is unforgiveable for them to do it. And I find it strange because Hannah is at a mainstream school where everyone adores her."
In September last year Hannah was back at Glasgow Royal Children's Hospital where surgeons inserted metal rods and springs into her skull to relieve pressure. They were removed in December.
Surgeon Raju Sangra said: "Both Hannah and her mother have been very brave throughout the whole experience and very trusting of the medical staff and grateful for her care."
Judith said her daughter has thrived in lockdown, protected from viruses and bacteria that are potentially lethal for her and she learned to crawl for the first time.
She said: "We do not know what the future holds for Hannah. But we are trying to give her the fullest life possible. It is all about building memories."
---
The surgeons: It has been a pleasure to care for Hannah
Hannah's surgeons are now optimistic about her future after a series of life-saving operations.
Raju Sangra, a brain surgeon at Glasgow Royal Children's Hospital, said: "I am always very positive for these children and for Hannah there has only been one incident where I really thought she might not live and that was when she was in critical care and had stopped breathing."
His colleague David Koppel, who specialises in skull, face, neck and jaw surgery, paid tribute to the seven-year-old's family.
He said: "The demands on Judith as a mother are incredible. She has been amazing. She tells us when Hannah is unwell and she is always right about that. It has been a real pleasure looking after Hannah."
Mr Sangra added: "Coping with an extended period of medical care takes a superhuman effort and you have to wonder if you were in a similar position whether you'd have the strength to get through it."
The pair have carried out multiple operations on Hanna's skull to increase its volume and accommodate her growing brain, and have twice rebuilt her face.
This procedure is known as monobloc advancement by distraction osteogenesis. Only 30 per year are performed in the UK.
Mr Koppel said: "The expectation is that Hannah would have a normal life span.
"By and large once growth is completed the child or adult by then is in a steady state and the necessity for close observation diminishes, but they still might need some interventions."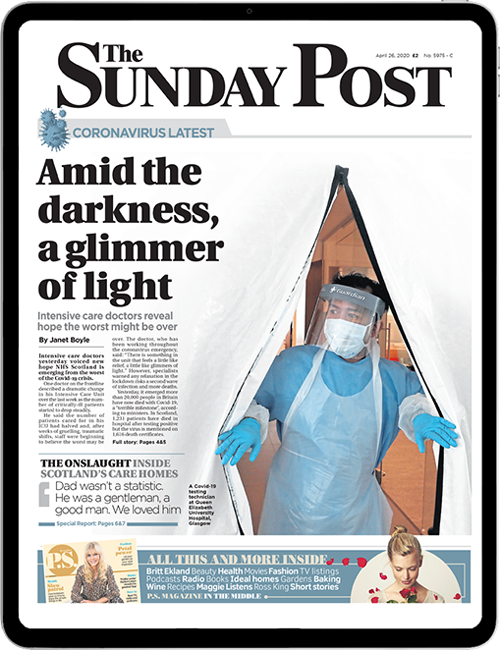 Enjoy the convenience of having The Sunday Post delivered as a digital ePaper straight to your smartphone, tablet or computer.
Subscribe for only £5.49 a month and enjoy all the benefits of the printed paper as a digital replica.
Subscribe