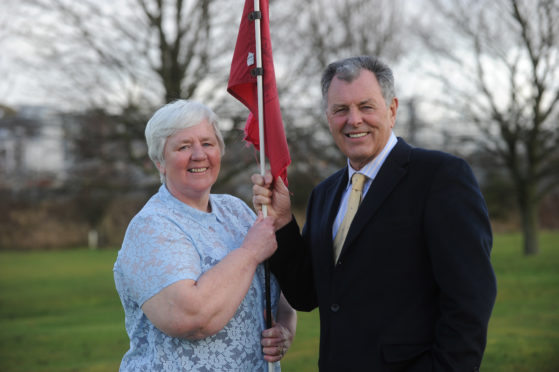 When golf legend Bernard Gallacher suffered a cardiac arrest in Aberdeen six years ago, he was lucky to survive thanks to a defibrillator.
But new research has found two-thirds of UK golf clubs still don't have one of the lifesaving machines.
Rose McLaren performed mouth-to-mouth resuscitation on the former Ryder Cup captain for more than 30 minutes after his attack.
The former nurse tells her side of the story for the first time and has stressed the need for more defibrillators in public places.
---
Rose McLaren has known Bernard Gallacher all of her life – but never did she think she would save his.
Five years his junior, Rose was brought up in the same town as the former Ryder Cup captain and went to the same school.
It was always with a sense of hometown pride she spoke of fellow Bathgate native Bernard and that's why she was at the Marcliffe Hotel in Aberdeen in August 2013.
By the end of the night, she was administering cardiopulmonary resuscitation (CPR) to a seemingly lifeless ex-Ryder Cup captain who had collapsed moments into giving an after-dinner speech.
"When he arrived he didn't look well, but then I hadn't seen him for a long time," said Rose, who moved from West Lothian to Aberdeenshire 30 years ago.
"Bernard had flown in from Spain the evening before and had been out golfing all day, so he must have been tired.
"He didn't eat much, so you could tell there was something wrong but it wasn't evident what. When he stood to speak, he was slurring, and then he poleaxed, falling backwards without warning."
Before moving into social care, Rose had been an anaesthetic nurse from 1971 to the late 80s.
She and a male guest, Colin Leyden, rushed to the stage and began administering CPR.
"It was evident Bernard had suffered a cardiac arrest," she continued.
"There was no pulse.
"When there is no other aid available, CPR is how we sustain."
Rose, 65, who lives in Inverbervie, said there were all sorts of emotions running through her mind.
"Having not been in nursing for a number of years, it felt good to be of assistance to someone, especially when it was someone I knew. I would have done the same for anyone, but that connection made it more emotional.
"He was famous in the town as I was growing up, everyone knew him and we were proud.
"Forty years down the line, here I was thinking this is Bernard, we have to do this."
After 20 minutes, someone brought a defibrillator forward. "Colin was well versed in defibs, but I had never used one before," said Rose.
"When I was a nurse, it was only doctors who used them, but anyone can use one now and save someone's life."
Bernard's heart stopped three times between his collapse and making it to Aberdeen Infirmary, where he was placed in an induced coma.
A mini-defib was implanted in him and he has now made a full recovery.
Rose, who met with Bernard and his family once he was back to health, says his campaign is an important one.
"It's lovely to think Bernard's getting to enjoy his well-earned retirement.
"In a small way, due to the campaign, what I had a hand in doing has led to many more lives being saved."
A defibrillator donated by Bernard's campaign to Bathgate Golf Club has already saved a life.
"Hopefully more and more places will purchase one. After all, you can't put a price on life."
Swinging into action
Bernard says he is concerned at how many golf clubs still don't have a defibrillator.
In a bid to combat that, Golf Care, of which Bernard is an ambassador, and Arrhythmia Alliance have launched the Saving Golfers' Lives campaign to get more defibrillators installed in clubs.
Golf Care has donated £1,000 to the charity and will make further contributions throughout the year.
The two organisations are also writing to clubs outlining the importance of defibrillators and CPR training.
"Clearly, work still needs to be done to raise awareness of the importance of defibrillators," said Bernard, 70.
"The fact nearly two-thirds of clubs still don't have one is especially concerning to me as defibrillators are essential for survival in many instances.
"That's why I give my full support to this initiative and I hope it saves many more lives in the years to come."
For more information on the campaign and to make a donation, visit https://www.golfcare.co.uk/defibrillators-golf-courses.aspx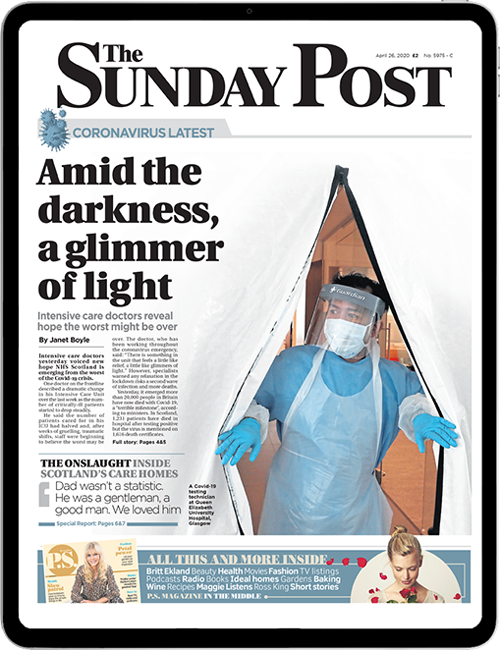 Enjoy the convenience of having The Sunday Post delivered as a digital ePaper straight to your smartphone, tablet or computer.
Subscribe for only £5.49 a month and enjoy all the benefits of the printed paper as a digital replica.
Subscribe