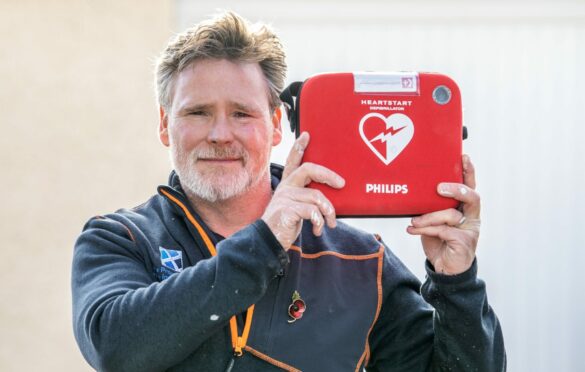 People living in Scotland's richest areas have nearly 10 times as many defibrillators as those in the most deprived, we can reveal today.
Experts confirm the figures collected by The Sunday Post and warn deprived areas – where people were more likely to suffer cardiac arrest – are far less likely to have the life-saving devices.
One of the country's most deprived areas – Ferguslie Park, Paisley – only had two defibrillators while the Kingsborough Gardens area, one of the most desirable addresses in Glasgow's West End, had 10.
Another area of high deprivation, Bonhill, West Dunbartonshire, has one public defibrillator while Morningside, Edinburgh, has nine.
Dr Terry Brown, of Warwick University, has researched the location of defibrillators across the country and links to economic and social deprivation.
He said: "This can be a postcode lottery. People will buy a defibrillator because someone they know died from cardiac arrest. When there are mass purchases, there has previously been no co-ordination on who applies for them and where they are put. People who apply for funding tend to come from more affluent areas.
"The irony is that cardiac arrests occur more often in deprived areas but defibrillators are more likely to be found in areas where the population is more affluent, predominantly identify as white ethnic, and with high socio-economic occupations. With these devices, the survival rate can more than double. Cardiac arrest rates are higher in more deprived areas with higher population density with a higher proportion of people from ethnic minorities.
"But defibrillators tend to be in areas with lower population density, with lower deprivation and a smaller proportion of people from ethnic minorities."
We found there are 5,435 registered defibrillators in Scotland – equivalent to an average of one for every 1,000 people. There are around 3,200 out-of-hospital cardiac arrests every year and only one in 10 people survive.
Each of the 14 ambulance services across the UK has its own defibrillator database. The Circuit national defibrillator network brings this information together into one database.
Last month, an MSP called for the UK to follow the Irish government by dropping VAT on defibrillators. Jenni Minto, MSP for Argyll and Bute, made the appeal after the Republic of Ireland's minister for finance announced the equipment will be exempt from VAT from next year.
Defibrillators are currently subject to a 20% tax. The VAT does not apply to councils and charities but Minto fears the added cost could deter individuals, businesses or community groups.
The Scottish Government said: "We are focused on ensuring defibrillators are publicly accessible and registered with the Scottish Ambulance Service.
"There are currently more than 3,700 defibrillators registered for use in communities across Scotland. We are committed to improving survival rates from cardiac arrest through our involvement in the Save a Life for Scotland Partnership."
Joiner fits life-saver in van: 'I was a first responder in army and know importance of having good kit'
A former soldier – who saved lives in Iraq – has fitted a heart defibrillator to his works van so he can now also give lifesaving aid as a joiner.
Ex-British Army sergeant Chris Wieczorek had the £400 equipment fitted after he saw how useful defibrillators were when he saved civilians on the frontline in Erbil.
His new defibrillator is one of more than 5,400 currently registered across Scotland – a key weapon in frontline healthcare as thousands of Scots suffer what is termed an out-of-hospital cardiac arrest each year.
Wieczorek, 50, of Bo'ness, Stirlingshire, said: "It has been really rewarding already. I let people know I was getting the heart defibrillator and then I started receiving messages of support.
"One text was from someone whose son had suffered a heart attack even though he was very young. He survived, thankfully, and she was delighted that I was getting the equipment. That really hit home how important this is.
"I was a first responder in the army and saw the importance of having good kit when I was out in Iraq. When I was working in Erbil a good few years ago there was a road traffic accident. I stopped and jumped out and patched up a good few of the injured.
"I wanted to be able to help again if the situation arises in civvy life. It was important to me to be able to help out in this job as a first responder too."
In Scotland, there are 5,435 defibrillators registered on The Circuit – the national defibrillator network. There are about 3,200 out-of-hospital cardiac arrests every year in Scotland and only one in 10 people survives. Wieczorek, who now runs his own business, Wizz Properties, after leaving the army, has worked to help fellow veterans after leaving the military.
He offered a flat rent-free to a homeless squaddie in 2015 and received 30 approaches from veterans who had fallen on hard times within 24 hours.
Hours later he had 1,000 friend requests and scores of applications for the £380-a-month home in Falkirk. Strangers, including an ex-Royal Marine, hailed him as an inspiration. Wieczorek, who left the army in 2004, said: "It would be great if other businesses got the heart defibrillators too as you never know when you might need one. It is certainly not the type of gear you find in a joiner's van.
"Who knows? Maybe I am one of the first tradesmen to get a defib fitted in his works van. It may be that I may never need to use it but it is good to know that it's there always ready to be deployed at a moment's notice."
Each of the 14 ambulance services across the UK has its own defibrillator database for its area. The Circuit national defibrillator network brings this information together into one database.
As defibrillators are registered on The Circuit, their location and status are synchronised with the emergency services' systems, ensuring information is always up to date and ready to help save lives.
Judy O'Sullivan, of the British Heart Foundation, said defibrillators could be the difference between life or death for someone suffering a heart attack. She said: "Every second counts when someone has a cardiac arrest and we know prompt CPR and defibrillation can double the chance of survival in some cases.
"That is why the British Heart Foundation has a wide range of programmes to help people learn CPR in their school, workplace or even at home.
"We are also proud to have worked in partnership with the Scottish Ambulance Service, St John Ambulance and the Resuscitation Council UK to set up The Circuit: the national defibrillator network.
"The Circuit allows defibrillator owners or guardians to register their defibrillator online and 60 seconds later it will be visible to the ambulance services in an emergency. This means it is more likely to be used during a cardiac arrest."
She added: "If you, or somebody you know, owns or looks after a defibrillator then we urge you to register it on The Circuit today. It only takes a few minutes to register and it could make the difference between life and death for someone 60 seconds later."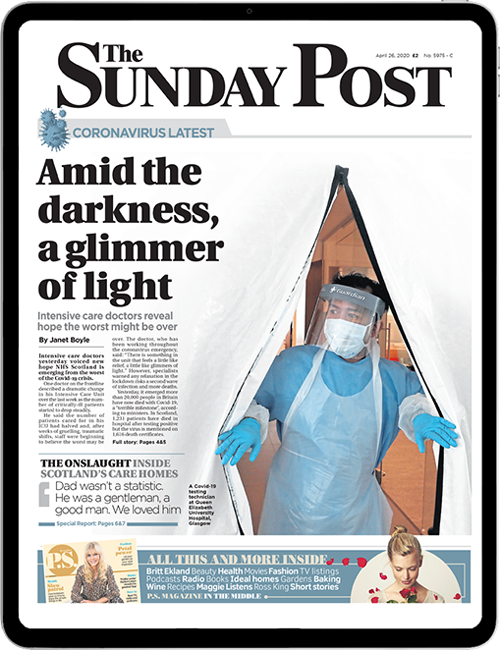 Enjoy the convenience of having The Sunday Post delivered as a digital ePaper straight to your smartphone, tablet or computer.
Subscribe for only £5.49 a month and enjoy all the benefits of the printed paper as a digital replica.
Subscribe