THE Rolling Stones have paid a moving tribute to the Scot who set them on the road to superstardom.
The rockers took time to film a personal video tribute before piano player Ian Stewart is honoured at a prestigious music awards ceremony this week.
Guitarist Keith Richards said the debt the band owed Stewart – known as Stu – was immeasurable.
He said: "We are only here because of Ian Stewart. Without him, the band would never have existed.
"He hooked with Brian and then Mick and I sort of waltzed in and it became The Rolling Stones."
Sadly Ian, who came from Pitten-weem in Fife, passed away in 1985 aged 47, but will receive a special hall of fame award at the SSE Scottish Music Awards on Saturday.
Presented by music therapy charity Nordoff Robbins (Scotland), the award will be accepted by his wife, Cynthia and son, Giles at the star-studded ceremony at Glasgow's Old Fruitmarket. And the Stones – Mick Jagger, Richards, Ronnie Wood and Charlie Watts – will be there in spirit – and on video.
They will recall their days on the road and in the studio with the supremely talented musician, who insisted he was the lost Laird of Pittenweem.
Ian had been there from the start, forming the rhythm and blues band in 1962, with guitarist Brian Jones.
They recruited Jagger, Richards, Charlie Watts and Bill Wyman but, Ian was dropped from the line-up by their then manager, Andrew Loog Oldham.
He felt that six members were too many for a pop group and that his burly look was the wrong image to appeal to female fans.
So Ian became their road manager, played piano on stage with them and was integral to their sound on many of their biggest hits and classic albums,
Cynthia said: "Andrew thought his face didn't fit in the Stones. But Stu said to me, 'I'm going to stay on because where else will I be able to tour the world and play golf?'
"That's exactly what he did. As their road manager he sorted out tour contracts and arranged to stay in hotels near his favourite golf courses."
But that played havoc with the Stones' love lives when hordes of screaming girls used to chase them during the 1960s.
Richards said: "So we're 15 miles out of town and we're ready to rock and roll… 'What the hell are we doing here, Stu?'" Richards said.
"He'd say, 'Best place for you … away from the crowd'. Meanwhile, you'd find out it was because there was a golf course… ha ha!"
In a previous tribute, Jagger said: "I felt he was a very close friend of mine. He means a lot to the history of the band and his musical influences on us endures.
"The core musical component of the band is still the same as it was when Stu was a key member. You feel that you are still playing his music and his influence is very strong."
Ian's no-nonsense, straight talking approach endeared him to the band. He famously refused to play piano on their classic 1968 album, Beggar's Banquet because he didn't rate the songs.
Drummer Charlie Watts said: "He liked straight ahead things. If he didn't want to play something, he wouldn't play it.
"But what he liked and what he played was unique and admired by a lot of piano players."
Guitarist Ronnie Wood recalled how Ian was very supportive when he joined the group in 1975.
"He was always encouraging to me throughout my opening days with the Stones and in all of the rehearsing I had to do and swotting up," he said.
Cynthia says her late husband would have been thrilled at the special Hall of Fame award.
She said: "Stu would have loved the fact this award came from the Scottish music industry more than you will ever know.
"He was a Scot to his true heart. Everything about Stu started in Scotland. He was born in his grandparents' home at Kirklatch Farm and as a child learned to play by ear on an old upright piano there.
"This is the one award we know Stu would have absolutely loved."
In 1965, Cynthia was set up on a date with Ian by Glyn Johns, record producer of The Who and Led Zeppelin.
"Stu was so Scottish – an extremely unemotional person – but I have to say it was love at first sight," recalled Cynthia.
"We got engaged soon afterwards then married in St. Andrew's Church in Surrey on January 2, 1967.
"We had a reception for our family and the Stones threw a party for 300 people later that night."
Cynthia and Ian were happily married for 18 years. But when Giles was born normal married life proved difficult.
Ian was at the band's side throughout their controversial career during historic events including their drugs busts and the concert at Altamont when a fan was stabbed to death by Hell's Angels.
When the band was inducted into the Rock 'n' Roll Hall of Fame in 1989, they insisted he was included in the honour.
Cynthia said: "Stu was an unusual character and not a terribly good husband simply because he was never there. He was an absent father through no fault of his own."
In 1971, the Stones became tax exiles while recording their classic album, Exile On Main Street.
Cynthia said: "In those days, I didn't fly, which was my fault.
"So when Giles was born in '71, I stayed home to look after him. In that year, when the Stones left the UK, Giles saw very little of his father. But when he did come home, he was very into watching his son grow up.
"Stu was a very modest man. He was extremely solid and very un-showbizzy. I definitely think that was all to do with his Scottish-ness.
"If he didn't like something, you couldn't change him. And I know the Stones respected Stu for that."
In 1985, Ian returned from a recording session with the band in the Bahamas.
He was ill and diagnosed to be suffering from sarcoidosis, a form of lung disease.
Ian visited his doctor but became unwell in the surgery waiting room and died of a massive heart attack, aged 47.
Richards, Eric Clapton and Jimmy Page were just three of the top musicians who paid their respects at his funeral.
Cynthia and Giles remain rightly proud of Stu.
She said: "It was incredibly exciting to watch my husband go all around the world with the biggest rock 'n' roll band in the business. I don't think any of us realised just how enormous the Stones were.
"To us, they were just … the boys.
"When Honky Tonk Women or Brown Sugar come on the radio, I always turn the volume right up so I can hear his piano.
"Giles is also very proud of his father. He has a room in his house devoted to Stu, full of records and photographs. I baby sit for Giles' four little ones.
"In a room of their house, where I sit after the kids are asleep, there is a painting of Stu by artist, Peter Blake.
"I look at it and it makes me think of all the lovely times we had together. I miss him terribly."
This is Ian's band… we're still working for him
Keith Richards insists Ian Stewart was the founder and driving force of the Stones and, in his autobiography Life, remembers meeting him for the first time.
"I went to the Bricklayers Arms, a seedy pub in Soho, for the first time for the first rehearsal for what turned out to be the Stones.
"I think it was May of '62, a summer evening. Just off Wardour Street. I get there, I've got my guitar with me.
"And as I get there, the pub's just opened. Typical brassy blond old barmaid, not many customers, stale beer. She sees the guitar and says, "Upstairs." And I can hear this boogie-woogie piano, this unbelievable Meade Lux Lewis and Albert Ammons stuff.
"I'm suddenly transported in a way. I feel like a musician and I haven't even got there! I could have been in the middle of Chicago, in the middle of the Mississippi. I've got to go up there and meet this man who's playing this, and I've got to play with him. And if I don't measure up, it's over. That was my feeling as I walk up those stairs, creak, creak, creak. In a way I walk up those stairs and come down a different person.
"Ian Stewart was the only one in the room, with this horsehair sofa that was split, horsehairs hanging out. He's got on a pair of Tyrolean leather shorts. He's playing an upright piano and he's got his back to me because he's looking out of the window where he's got his bike chained to a meter. All the while this Leroy Carr stuff is rumbling off his fingers…
"Ian Stewart, I'm still working for him. To me, the Rolling Stones is his band."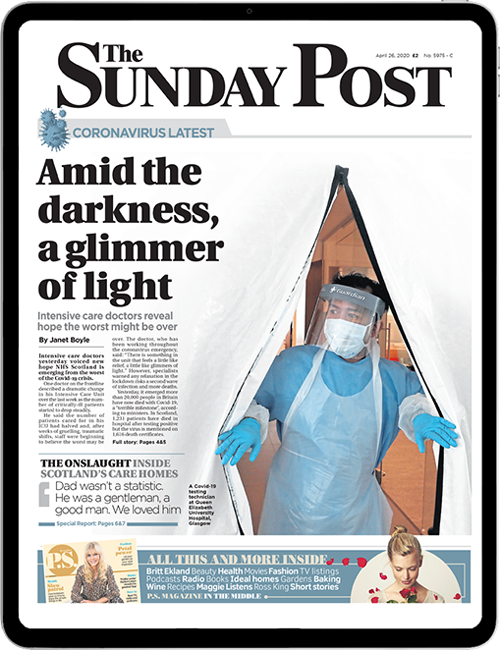 Enjoy the convenience of having The Sunday Post delivered as a digital ePaper straight to your smartphone, tablet or computer.
Subscribe for only £5.49 a month and enjoy all the benefits of the printed paper as a digital replica.
Subscribe