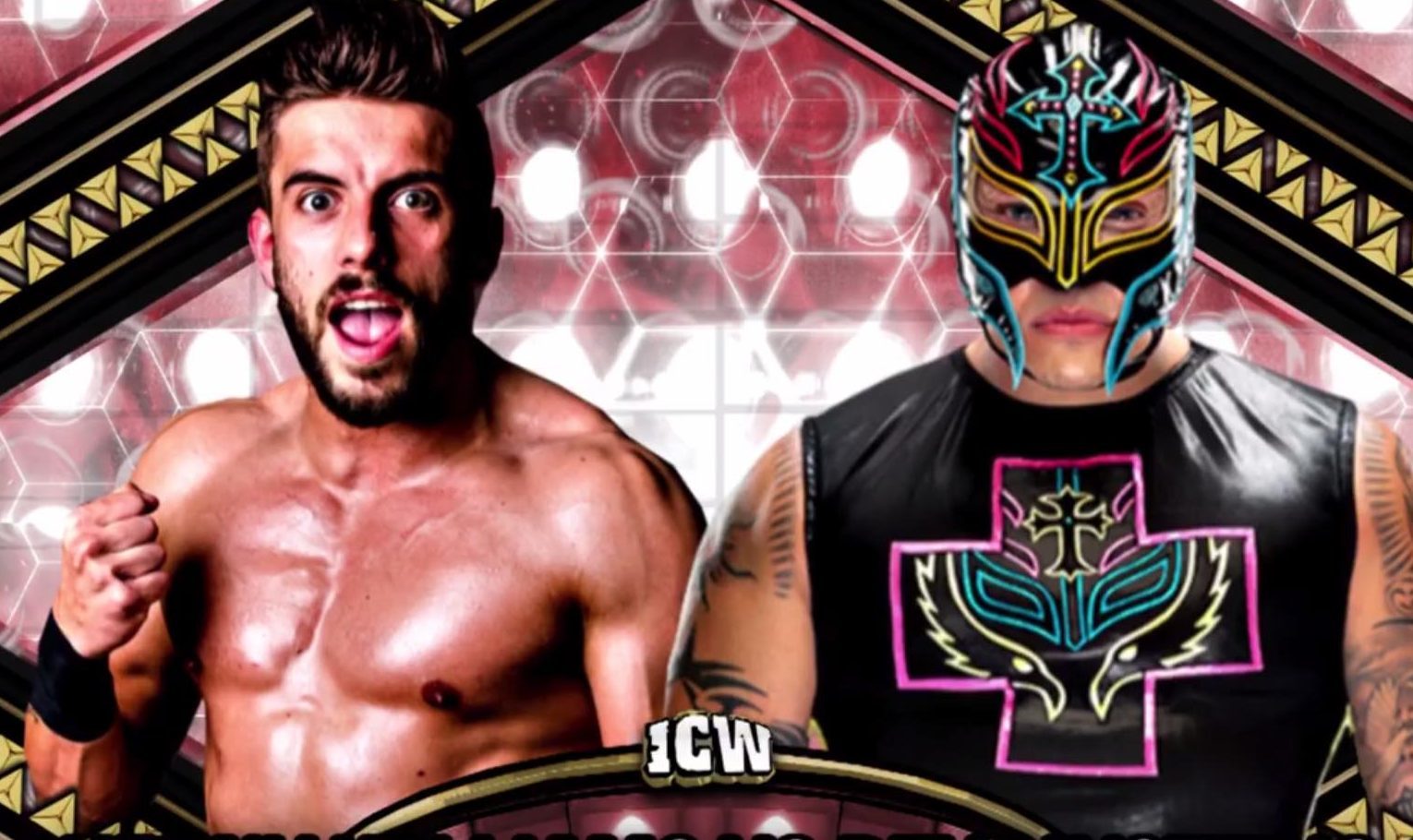 NEXT month sees Glasgow-based Insane Championship Wrestling put on their tenth annual Fear and Loathing show.
It has grown every year, switching to bigger iconic Glasgow venues as it attracts more and more fans.
Starting off in Maryhill, the show has brought ICW's unique brand of action to The Garage, Barrowlands and the SECC.
And last year, the show broke records by with a huge crowd at The SSE Hydro, where this year's event also takes place.
Scheduled to perform are ICW favourites including Wolfgang, Kenny Williams, Lionheart and Jack Jester.
Also on the billing are WWE legends Rey Mysterio, Rob Van Dam and guest commissioner Kevin Nash.
Here, we talk to three key players in the Williams v Mysterio match – announcer Simon Cassidy, referee Thomas Kearins and Williams himself –  about performing at The Hydro, being in the ring with legendary stars, and how ICW has become one big family.
---
The wrestler: Kenny Williams
WHEN Kenny Williams was growing up, he had action figures of WWE star Rey Mysterio.
Now the Glasgow grappler is set to face his hero in a match at Fear and Loathing.
"It's hard to put into words," he tells The Sunday Post as he cools down from a gym workout ahead of one of the toughest challenges of his career.
"My mum found out about the match and she doesn't normally know any of the people I'm wrestling. She said: 'I can't believe you're wrestling one of your toys!'"
Williams's high-flying style was influenced by the legendary luchador, and finding out he'd be facing the former WWE champion ranks as one of his top career moments.
"If you would've told me when I was 12 years old that I'd be standing in The Garage challenging Rey Mysterio I'd have called you an idiot!" he laughs, still sounding like he doesn't quite believe it.
It's the latest in a line of opportunities that being a part of the ICW roster has presented Williams, who has spent four of his five years as a wrestler in the company.
He says: "I started off as a stand-in replacement for someone who pulled out last minute. The crowd took to me, and the fact they've continued to support me, you can't repay that.
"Getting to open the show at the Barrowlands in the first wrestling event there for thirty odd years was a great moment too," he recalls.
"I've been up and down the country on tours, tour buses… We're like the best rock and roll school that money can buy!"
"You go to a rock concert, you go there and stand for a couple of hours and sing the songs. You go to a wrestling show promoted by ICW you're going to laugh, cringe, wince in pain, cheer, shout, there's nothing like it. ICW is its own entity within wrestling and within entertainment." – Kenny Williams
Williams is a three time ICW Zero-G Champion, and reckons the promotion's backstage family is key to its success.
"British wrestling has grown and grown and there are a lot of rosters up and down the country with a lot of people who are out for themselves, thinking about number one, but ICW… there's not a roster in the country like it," he insists.
"The boys know what their position in the show is and what they're going out to do, they're not going into business for themselves, they're going out there as a team.
"It is a family, I'm going to one of my mates from the wrestling's wedding next year and some of the boys are going too. It's taken a couple of years to get to that point but I'm happy we've got there."
Retro-styled Williams is an all-action performer, known for his speed and agility and aerial moves.
"In wrestling you get small guys and big guys… I'm a small guy!" he explains.
"I run about the ring and you'll be lucky if you see me because I'm moving that fast! If you've ever seen Back to the Future, when he gets that engine up to 88mph you're going to see some serious stuff… That's how I'd describe it. Blink and you'll miss it."
https://twitter.com/KennyWilliamsUK/status/914574067981803520
He can't wait to get back to The Hydro, having starred as a last minute ladder match addition at last year's Fear and Loathing.
"You can't put into words how that makes you feel, especially in your home country," he says.
"Last year I was standing in front of 6,000 people on a ladder. I was unannounced for the show and Mick Foley, someone I watched on the telly when I was a wee guy, introduces me as the last minute addition and I go on to win the match and the belt. I'm getting goosebumps just thinking about it!
"This time around I'm going to be standing across the ring from someone who pretty much inspired me to be a wrestler and made it possible for me to be a wrestler. It's going to be out of this world." 
ICW owner Mark Dallas on Hydro show, working with WWE and wanting to bring wrestling to Hampden
---
Thomas Kearins, the referee
IN charge of in-ring proceedings is ICW's senior referee Thomas Kearins.
Also a trained wrestler, he's delighted to be involved in the Williams v Mysterio clash.
"There's a lot of people that I grew up watching that I'm now working with, one will be Rey Mysterio," he says.
"The wrestling figures you've got in the attic, about three quarters of them are guys working in companies we're working with. It's surreal but you must be doing something right if you're working with these big names."
Kearins reckons his most memorable moment in the ring was when he officiated former WWE tag team Paul London and Brian Kendrick in ICW.
"My mum took me to see them in 2005 I think at the Braehead Arena, defending their WWE titles – the first match I'd seen live," he recalls.
"That always stuck with me and a couple of years ago I was refereeing a match in ICW when they won the championships in our company. That was it, full circle!"
Stepping out at The Hydro last year with his parents watching ranks was also a highlight for the 22-year-old, especially when he was in the ring for Joe Coffey's match against WWE Hall of Famer and Olympic gold medallist Kurt Angle.
"To be across the ring from someone like that, and at the time when everyone knew he was going back to WWE, it was one of those ones where you try not to stress too much and enjoy it for what it is."
"Mark Dallas's whole ethos just now is to listen to the crowd. He could have a plan in his head from now to next year but it's all dependant on how they react.  If the crowd tell you they want something and you don't give them it they will hold you to it!" – Thomas Kearins
The conversation comes round to the notion of ICW being one big family.
"Everybody's out for the same thing, to make this a success and to make a living from it. It's very close knit," says Kearins.
"It's like a family, if you argue with someone by the time you leave the building at night you've apologised and vice versa."
Taken after #ICWFightClub @BBCScotland Documentary aired. Changed times but we're gonna explode in 2018. Watch this space. @Simon_Cassidy1 pic.twitter.com/5f8P9qSQWa

— Thomas Kearins (@ThomasKearins) October 9, 2017
It's not all serious business when officiating, and Kearins has seen his fair share of shenanigans as a ref.
"There's a character called Dirk McIntosh which originally was a bit of a laugh in a Scottish Rules Match," Kearins explains.
"They wanted an old school WWF ref with the moustache and mullet so I went out and bought the costume. It was a one time thing but the crowd responded well to it so we've come back to it again and again!
"It actually led to a match that I had at the ABC back in July there, that was weird in itself the fact that I was wrestling.
"I found myself going on before a WWE UK title match, it was crazy! It was billed as ref v wrestler and was definitely something I'd never planned on."
Wrestling's all about enjoying yourself. For those of you who didn't lose sight of that, I hope you enjoyed my match as much as I did! #SHP4 pic.twitter.com/mv3Vz8QwgB

— Thomas Kearins (@ThomasKearins) July 31, 2017
Stepping out once again at The Hydro will be another crazy moment for Kearins.
"I don't even know how to explain it. The year before we did it last year was at the SECC in front of 4,000 people and that alone was massive compared to what we'd been doing. To go from that to The Hydro was just nuts."
Simon Cassidy, ring announcer
"PEOPLE always say, oh you must be looking forward to The Hydro and the answer is… not really – it's mildly terrifying!" laughs ICW ring announcer Simon Cassidy.
He is, of course, relishing the job of hosting proceedings at Fear and Loathing, but admits the nerves will kick in before he steps out in front of thousands once again.
Cassidy says: "I don't tend to get nervous about shows until the moment before I walk through the curtain because it suddenly clicks that I need to remember things, cues, the running order. I need to remember the name, where they're from…
"I remember last year just breathing a huge sigh of relief and from that point on I had the best night just floating on the buzz of it. I can't wait to do it again, but I'm also aware in the couple of days leading up to it I will have the fear!" 
You loved it. x pic.twitter.com/2OgoCAyulf

— Louise Westie (@WeeWestie25) October 11, 2017
Cassidy's booming voice, declaring that the contest is scheduled for one fall – followed by a pause for the loyal fans to shout it back – has become iconic throughout the UK.
He had always wanted to become involved in wrestling in some capacity, even briefly training in the ring when he was 18.
"I realistically knew I was never going to become a wrestler," he says, "There was no delusion that someone in New York would think 'you know what we need? That five foot eight, wee blonde pasty guy from Scotland, that's what we've been lacking!'"
He turned his focus to the presentation side, having studied journalism at university and built up a website, WrestleShark, and a podcast alongside his friend and ICW star DCT.
It was grappler Big Damo that reached out and gave him a trial run as an announcer in the ring in a family show after hearing about his ambitions.
And Cassidy got a huge surprise when he saw his friend, now performing in WWE's NXT as Killian Dain, on the card at Wrestlemania.
"I didn't realise it was happening until about two minutes before the show went on. 
"To see him go down to the last three in that match, a guy who was essentially an unknown in that situation, to get that amount of faith put in him was incredible.
"He was always one of the hardest working, selfless guys around. I did message him after it saying 'how was that for you?' and he just replied saying 'there are no words!'"
Once Cassidy had been announcing local shows for six months, he was asked to cover a night at ICW.
He recalls: "It must have gone ok because I got a message the next day from Mark Dallas which simply said 'You're the new ring announcer, buy a suit!'"
The suit will be donned again at The Hydro for Fear and Loathing, and Cassidy can't wait to introduce his good friend Kenny Williams in front of thousands.
"Kenny is often overlooked as possibly the best cruiserweight in the UK, he's consistent in the ring and I don't think I've ever seen him have a bad match. To see him get a chance to go up against one of the all time greats in that building, in The Hydro, is incredible.
He adds: "Rey Mysterio is for my money the greatest cruiserweight / luchador to step foot into a ring anywhere. And it's not like he's coming at the end of his career, past his prime or a tribute act, he's still working a heavy schedule going out there doing match after match after match. He's still one of the best going."
"I've only actually been doing it four years so to go from four years ago with no microphone at a small gym at Pollokshaws in front of maybe thirty people to more than six thousand in the busiest arena in the country was fairly overwhelming." – Simon Cassidy 
It's moments like stepping out at The Hydro that have provided special memories for Cassidy.
"You have to stand back and think wow, most people don't get to do this, it almost isn't real life. Myself and DCT made a point of doing the Shawn Michaels and Triple H DX pose on the ramp. He posted on his Instagram a picture of us doing it aged 16 and then one at The Hydro!"
ICW's first crowd of over 1,000 at their Dave's Not Here Man event at Edinburgh Picture House also ranks highly.
"I'll always remember that moment because Sabu was in the main event and for some reason there was speculation he wouldn't be there but the moment his music hit, the entire place just erupted. You felt you were part of something special and that was the first time you knew that ICW was onto something."
Everyone connected with ICW The Sunday Post has spoken to has said the company is like a family – and Cassidy agrees.
"That's probably the best part. When you do the tours you're spending eight to nine hours in a car down south, the show's great but only lasts a couple of hours and then you're back in the car again. You need that bond of friends and family around you.
"From a personal standpoint even just being around these wrestlers and folk that run the company and seeing all these different aspects that go into making it what it is, it's brilliant. Some of the stories I could tell, but never will, are fairly impressive!"
ICW: Fear and Loathing X, The SSE Hydro, November 19. Visit http://www.insanewrestling.co.uk for tickets and info.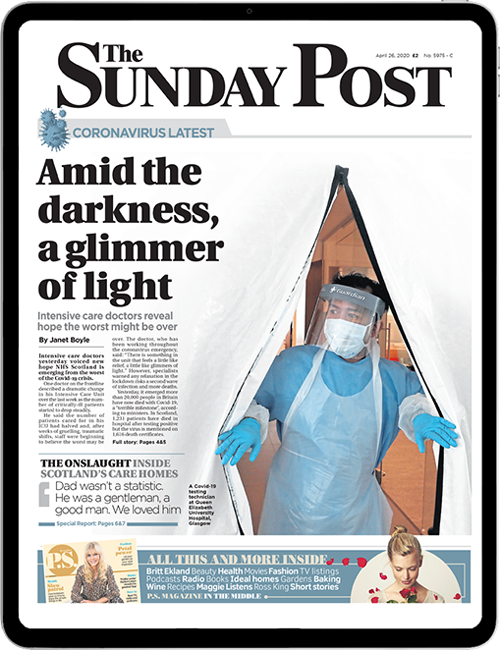 Enjoy the convenience of having The Sunday Post delivered as a digital ePaper straight to your smartphone, tablet or computer.
Subscribe for only £5.49 a month and enjoy all the benefits of the printed paper as a digital replica.
Subscribe