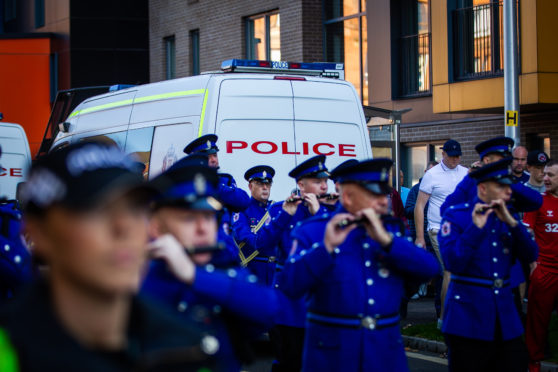 Sectarian violence could surge in Scotland in the wake of a no-deal Brexit, ministers have warned.
Ministers said they are "aware any changes in the levels of sectarian behaviour in Northern Ireland could impact Scotland" just weeks after violent street clashes between Republicans and Loyalists in Glasgow.
The Scottish Government warned of more trouble linked to sectarianism after a council dossier, outlining the potential impact of Britain crashing out of the EU without an agreement, said an end to peace in Northern Ireland could lead to "greater sectarian tensions" in the west of Scotland.
The Scottish Government said: "Sectarian hatred is completely and utterly unacceptable to the Scottish Government and the vast majority of Scots. We remain determined to ensure that any instances of antiquated bigotry are eradicated from modern Scotland, and we support Police Scotland in taking appropriate and proportionate action to safeguard public safety.
"We are aware any changes in the levels of sectarian behaviour in Northern Ireland could impact Scotland, and are therefore working with partner agencies to ensure we are able to respond appropriately."
The comment follows rioting at marches in Glasgow and the head of Northern Ireland's police expressing concerns that the return of a hard border could revive paramilitary groups.
It also follows the release of the UK Government's Operation Yellowhammer document, which warns of potential protests and counter-protests across the country.
North Ayrshire Council's Brexit risk register, updated on September 17, said: "The legal status of the Irish border in a no-deal is unclear, danger of recurrence of Irish troubles. Greater sectarian tensions in west of Scotland, including North Ayrshire."
Boris Johnson has insisted the Irish backstop – a contingency plan to avoid a hard border with Ireland – should be removed from the EU divorce deal.
But opponents warned that a hard border could reignite the conflict that was ended with the Good Friday Agreement more than 20 years ago.
Last month Simon Byrne, the chief constable of the Police Service of Northern Ireland, said the row over Brexit and political uncertainty there had become "a sort of breeding ground for dissident hate" towards his officers.
Recent weeks have seen police officers in Scotland tackling a riot on the streets of Govan after an Irish unity march and counter-protest.
A massive police presence has kept the peace as Orange and Republican marched in the city, including four marches in Glasgow yesterday.
Terrorism expert and award-winning writer Kevin Toolis, author of Rebel Hearts, said: "During the Troubles, there was a degree of terrorist activity in Scotland – Loyalist gun-running and the IRA Brighton bombers using Glasgow for their safe houses.
"Only a tiny minority of people on the island of Ireland voted for Brexit. There is a real risk, not of a return to the Troubles, but the notion that somehow Boris Johnson will be able to impose a no-deal Brexit in south Armagh and the people there think it is OK is just delusional.
"Will that spill over into Scotland? There is a small possibility of isolated incidents."
He added: "It is strange that the rise of these sectarian marches in Glasgow seems to be occurring even though the violence of the Troubles is 20 years behind us. Somehow Brexit has unleashed these forces that were dormant.
"The tragedy of Brexit is that we have lost a national consensus. Britain is a much more difficult place to govern. There is a real potential for small amounts of violence in that we just don't agree where the country is going any longer."
Dave Scott, director of anti-sectarian campaigners Nil by Mouth, said: "It would be naïve to think events across the water don't have an impact here.
"One in four people in Scotland have family from Ireland or Northern Ireland and, when you consider all the history – good, bad and ugly – that comes with our shared and complex past, the situation across the Irish Sea will always have ripple effects here.
"Northern Ireland's Assembly has been suspended for more than two years and the region is becoming increasingly political unstable. Throw in the crisis of confidence in Loyalist areas and the growing threat of Republican dissident groups and things don't look promising even without the chaos of Brexit.
"Those trying to predict what happens if no-deal occurs can't just ignore these realities as Scotland won't be immune to them."
Duncan Morrow, Professor in Politics and Director of Community Engagement at Ulster University and author of Scottish Government report Tackling Sectarianism in Scotland, said: "Sectarianism in Scotland, especially the west of Scotland, has always had as much to do with Irish politics and disputes over the British state as with religion.
"The most volatile issue on the table at the moment is the way in which Brexit has shaken up the politics of both the UK and Ireland, and there is a chance that some people could make connections or seek to manipulate the tension to create incidents at local level, and then cause wider community concern."
On Friday it emerged over £8 million has already been spent by Police Scotland on contingency planning for Brexit. The spending includes the creation of a "force reserve", which has already been deployed at football matches and protests. A total of 360 officers are on standby to deal with Brexit-related incidents.
A Police Scotland spokesperson said: "We are preparing for the operational impact of a no-deal Brexit, including the possibility of delays at borders and ports, the potential for protest and disorder, and possible mutual aid requests from other forces. We have not received any mutual aid requests.
"We have no intelligence to suggest a rise in crime or disorder at this time, but we are considering worst-case scenarios.
A Police Service of Northern Ireland spokeswoman said: "PSNI has been actively involved in planning and preparation to ensure we are in the best position possible to respond to any challenges, in line with all other police services across the UK."
North Ayrshire Council's Brexit risk register warns of business failures, unemployment, delays at ports and the return of foot and mouth and mad cow disease due to disruption of veterinary supplies. A council spokesperson said: "This document is designed to prepare us for the potential worst-case scenarios in the event of the UK leaving the European Union without a deal.
"Risks have been identified and assessed on the likelihood and impact. The greatest area of assessed risk remains the impact on the economy and we believe the risk of greater sectarian tension to be low."
A UK Government spokesperson said: "We are accelerating Brexit preparations so that we are ready to leave the EU on October 31, deal or no deal. That work includes extensive engagement with the Scottish Government.
"The Scottish Government have received almost £140 million in funding for EU exit preparation. It is the responsibility of the Scottish Government to decide where this money is spent."
Calum Steele, general secretary of the Scottish Police Federation, said: "Clearly anything that risks heightening tensions in Northern Ireland has a very obvious potential to spill over into the west of Scotland.
"One need only look at events in Glasgow over the past weeks to see how tensions on the other side of the North Channel can have a direct bearing on activities on this side of it."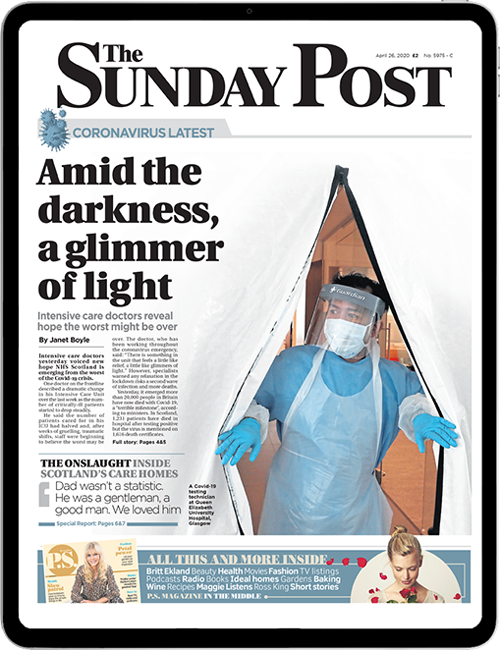 Enjoy the convenience of having The Sunday Post delivered as a digital ePaper straight to your smartphone, tablet or computer.
Subscribe for only £5.49 a month and enjoy all the benefits of the printed paper as a digital replica.
Subscribe