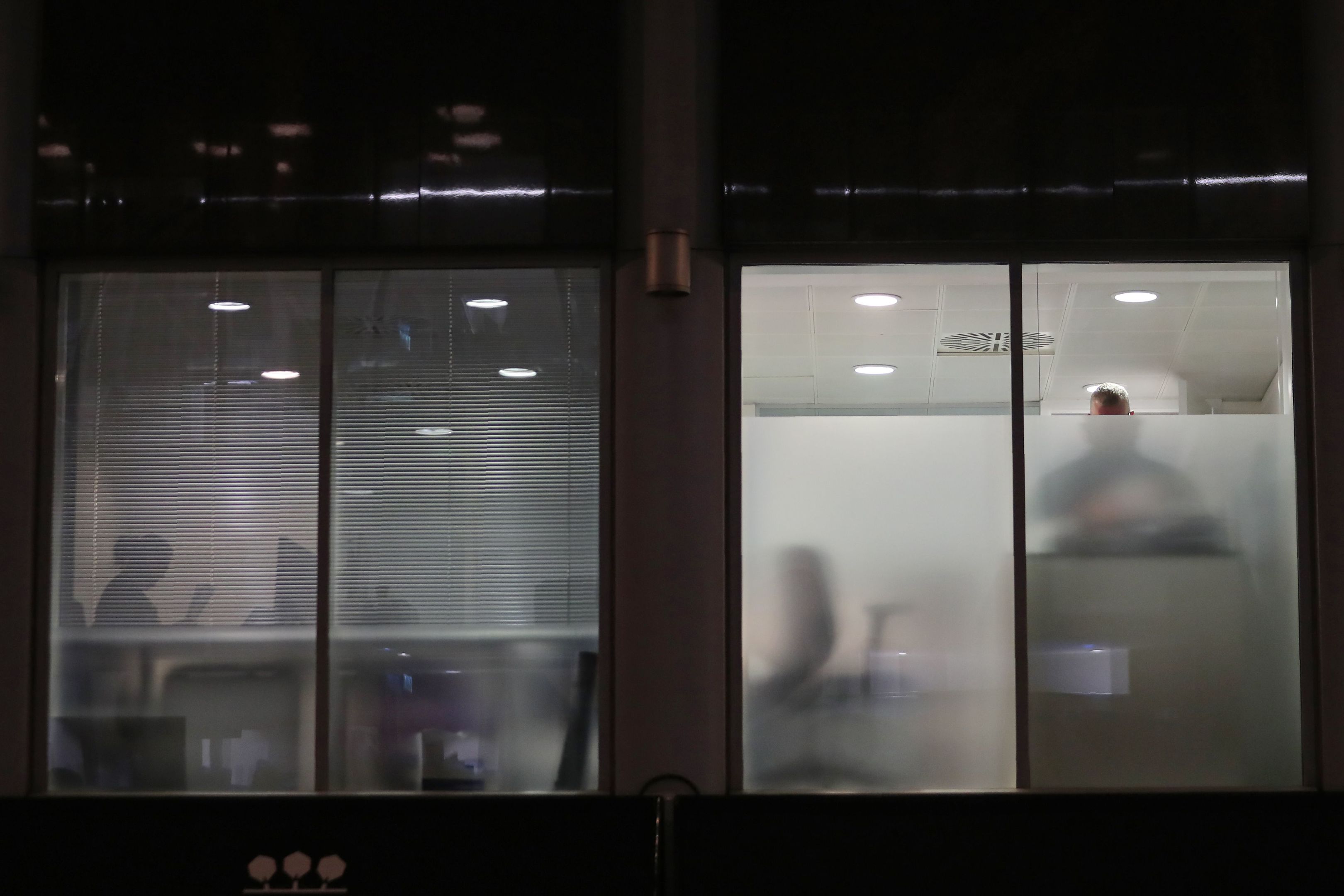 ELECTION watchdogs are investigating how online campaigning and social media swung votes in the independence referendum, we can reveal.
The Electoral Commission has launched an inquiry into digital campaigning in the UK as controversy surrounds a firm accused of harvesting the Facebook data of 50m users to target voters during the US presidential campaign.
The London offices of Cambridge Analytica were yesterday raided by enforcement officers from the UK's information commissioner.
The election watchdogs are investigating how digital campaigning influenced recent polls in Britain, including the 2014 independence vote, general elections in 2015 and 2017 and the EU referendum in 2016.
They want to know if parties mined voters' social media history to target them with political advertising and if and how so-called fake news was generated and spread online.
In a report produced three months after the referendum, the Electoral Commission highlighted "numerous inquiries and complaints from the public" made to itself, the police and the Government about claims of alleged vote rigging after false rumours of ballot boxes being deliberately lost were spread online.
The report said: "Many of these concerns arose from images appearing on TV and across social media which were understandably misunderstood by those members of the public who have little understanding of the detailed processes for the verification and counting of votes."
Experts blamed fake Twitter accounts, many of them linked to Russia, for generating and distributing fake news.
We revealed last year that almost 400,000 Twitter messages about Scottish independence were posted by fake accounts in 18 months.
Edward Lucas, senior vice president at the Centre for European Policy Analysis, warned MPs that there was strong evidence that Russian-backed Twitter users were driving the claims that the independence referendum was rigged.
He said: "Once you have identified those accounts you then need to say: are they introducing new ideas, wrong ideas, into the debate — so, for example, claiming that something has not happened when it has happened, or spreading a scare story or hoax, or something like that."
Mr Lucas added: "For example, in the Scottish referendum — and we have very good evidence on this — the Russians sowed seeds of doubt about whether the referendum was fair. We have never had that in this country before. We have all sorts of disagreements about our politics, but no one has ever — not since, I think, the 1830s has anybody really had the idea that we stuff ballots, or don't count them properly. We are always pretty good at doing this.
"Yet we saw, after the independence referendum in Scotland, the Russians pushing out the idea with pictures of ballot boxes and votes being moved around, saying: 'This is being rigged.' That had an effect on the public."
How private companies and political parties harvest information about voters through their online presence is under the spotlight after Cambridge Analytica was accused of mining the date of millions of voters in swing states to target them with tailored political adverts and secure Donald Trump's victory in the race to the White House. The firm is accused of using similar methods when working for the Brexit campaign in the 2016 EU referendum.
Both Cambridge Analytica, whose chief executive Alexander Nix was suspended after telling undercover journalists how his firm could help entrap politicians, and Facebook deny any wrongdoing.
Mark Zuckerberg, the social media giant's founder, has been called on to give evidence to MPs.
The Information Commissioner's Office, whose search of the firm's London building ended yesterday, said: "This is one part of a larger investigation by the ICO into the use of personal data and analytics by political campaigns, parties, social media companies and other commercial actors".
Its probe includes the acquisition and use of Facebook data by Cambridge, its parent company SCL and academic Dr Aleksandr Kogan, who developed an app – a personality quiz – used to harvest the data of participants and their network of friends.
Timandra Harkness: This is no different to what the parties have been doing
SNP MP Martin Docherty-Hughes, said politicians should not shy away from "discussing any possible manipulation of social media and campaign finance from foreign entities."
Mr Docherty-Hughes, a member of the House of Commons Defence Committee, said: "These worrying stories of fake news promoted about our referendum, along with the millions of pounds of donations to the Conservative party from Russian donors, show how we must always question the motivations of those seeking to influence the electoral process."
Part of the Electoral Commission's investigation, which is separate to the Information Commissioner's, will learn lessons from the 2014 vote, including plans to make online campaign material state who has published it, like its printed equivalent.
Bob Posner, the commission's director of political finance and regulation, said: "We are taking a wide definition of digital campaigning for these inquiries, including the use of data held by parties, campaigners and social media companies to target campaign messages, how political ads are used on social media, and the use of bots."
Data row boss hailed SNP's digital strategy
The suspended boss of the firm at the centre of controversy surrounding the harvesting of voters' online data once hailed a huge digital survey launched by the SNP.
Alexander Nix, who was suspended by the board of Cambridge Analytica, which he founded, after being filmed by undercover reporters, praised the Nationalists' plan to canvas two million people on independence and Brexit.
He hailed the so-called national survey, launched by First Minister Nicola Sturgeon in the aftermath of the EU referendum.
Speaking when the questionnaire closed in December 2016, Mr Nix said: "If they have managed to achieve somewhere in the region of two million completes, that's a phenomenal achievement and that data is going to be incredibly valuable to driving their campaign."
He added: "If they have that much data, they can begin to break down that homogenous mass of voters into individual constituents, and that's going to allow them to be much more targeted in the way they communicate."
Cambridge Analytica was not involved in the SNP survey. It asked people, on a scale or one to 10, how important issues like Scottishness, the EU and pensions were to them.
The information, collected before the party lost 21 seats in last year's snap General Election, was widely thought to be being gathered as part of a renewed push to a second independence referendum.