FOR many, the Christmas holidays are a time spent at home with family and loved ones.
For the large numbers of displaced people seeking refuge in Scotland however, the festive period will be one of trauma, separated from family and full of uncertainty.
But, thanks to Glasgow based refugee and migrant homelessness and human rights charity, Positive Action in Housing (PAIH) and their Rooms for Refugees network, around 100 men, women and children in Scotland from refugee backgrounds will have a home this December.
The idea is simple – those with an available spare room are matched with a refugee or asylum seeker in need of somewhere to stay while they attempt to rebuild their lives. And, from the Shetland Islands to the Borders, Scots are embracing it.
"New people offering rooms come forward every week, and we've seen a big surge especially in the run up to Christmas," said Sunny Singh, casework coordinator for PAIH.
"We have a large number of hosts in Glasgow and Edinburgh, but there are also people right across the country opening their homes to those in need."
In the beginning, the charity had only 50 hosts and was purely Scotland based, but after images of washed up Syrian toddler, Alan Kurdi, went viral in 2015, they now have over 7000 hosts across the UK.
"Those images seemed to ignite a fire in people to help, and offering shelter seemed like a good place to start," said Sunny.
The most common reason for homelessness in asylum seekers occurs when their claims are refused by the Home Office. Once that happens, payments of just under £38 a week stop and they are forced to leave their accommodation.
Many appeal or re-submit claims, but, still officially barred from working, end up completely destitute in the process.
"Some people are destitute for years, decades even. And the irony is, they want to work – many are extremely well educated and had good jobs before they had to flee," said Sunny.
"The Home Office want to make it as difficult as possible a process so people just want to return to their countries of origin, but many people physically can't go back. Entire houses, streets and villages have been wiped out by war.
"And for many, if they return, they could be killed.
"When hosts open up their homes however, it gives people who have been denied many of the basics of life we take for granted, the chance to feel human, normal and safe again.
"Many of the people we are helping haven't felt this in a long time."
---
Jo and Kushi's story 
One is an 80-year-old retired lecturer of librarianship. The other is a 53-year-old refugee fleeing death threats in Pakistan.
Their backgrounds are very different but Jo Haythornthwaite and Khushi Khan have forged a true bond, sharing a taste in handbags, a sense of fun… and a home.
Now retired, Jo has hosted twelve asylum seekers since 2010, including Khushi, her longest resident.
"I started to feel a bit guilty when I moved into this flat and had two big double rooms lying empty, knowing that some people have nothing," said Jo.
"So I took the plunge and decided to give one of them to an asylum seeker."
Her most recent and her most "kind" guest, Khushi has lived with Jo for almost four years, aside from a traumatic few months which saw her taken to Dungavel Detention Centre near Glasgow and then to Yarl's Wood Detention Centre in Bedfordshire.
"Khushi had been living with me for over a year when she was involved in an incident in town and she was asked to give a statement," said Jo.
"She hadn't done anything wrong, but when the police realised she was a destitute asylum seeker, they locked her in a room and later she was taken to Dungavel. It was awful."
Jo made sure to visit Khushi every week, making the two-hour round trip at her own expense.
"At least when she was at Dungavel, I could go and see her and make sure she was ok," said Jo.
"Then, next I heard, she'd been woken in the middle of the night, bundled into a van and taken down to Yarl's Wood in England. I was very angry, but this is what they do – get people when they're half asleep and wont struggle.
"It was horrible because I couldn't visit. But the lawyer got her a bail hearing, so finally I had the chance to bring her home."
The pensioner, who was recently awarded a British Empire Medal for services to asylum seekers in Glasgow, rallied support from her neighbours who each gave her £10 towards her air fare to bring Khushi back home. All apart from one.
"One of them said to me, 'I'm sorry Jo, I'm not going to give you £10 – I'm just going to pay your whole air fare!' They were all very supportive.
"So I got a flight to Luton, a train to Bedford and then a taxi to Yarl's Wood all on my own to get her back. Luckily we had a very nice judge who was kind and said 'I think she's been shut up for far too long – take her home!'"
Having had her asylum claim refused previously, Khushi is currently waiting on the results of a fresh claim. The only money she has is a small allowance from PAIH.
She escaped Pakistan with little but her life after her family disowned her for marrying the man she loved. She was intended for another man, whose family threatened to murder her after she disobeyed the arrangement. Her husband, a chef, stayed in Pakistan and still believes it is too unsafe for Khushi to return. The couple haven't seen each other in five years and they have no idea if they will ever see each other again.
"My husband is the first person who was kind to me," said Khushi.
"In Glasgow, with Jo, my heart is happy, but I still miss him very much. It's hard for us to talk often as he has to pretend he doesn't know where I am for my safety."
Although she's had to go through much hardship, Khushi says her life with Jo has been a "God send," and the lengths of kindness she has gone to for her are immeasurable. But it is reciprocated.
"Khushi is the most considerate and generous person and always tries to repay me with the very little she has," said Jo.
"Last week she got me a beautiful vase from a charity shop. It was only 99p but I'm forever telling her not to spend anything on me. She also got me a red handbag after I said I liked one she has, so now we match!
"Whenever she finally gets her decision from the Home Office and has to leave, I'll miss her. But I don't think we'll ever lose touch."
---
Sally's story 
Treat others the way you would like to be treated. It is a motto many of us try to live our lives by, but for 83-year-old Sally Beaumont from Glasgow, her life has been shaped by it.
For eight years, Sally opened her small home in Partick to 25 asylum seekers, in part because of her own life experiences.
"I was evacuated as a child in 1939, during the Second World War, to a very nice place in Canada. But when the money that went with us over there stopped, we were refugees. We relied on the kindness of others," said Sally.
"Asylum seekers are just normal people who are in trouble. I'd like to think if I was ever in trouble again that someone would help me."
Sally, who lives in Glasgow, is now widowed and was living alone when she went to a Scottish Refugee Council conference and heard about the destitution many asylum seekers face.
The grandmother of eight then signed up to Room For Refugees, organised by Positive Action In Housing, and within a matter of days had been recruited as a host.
Sally has had many people come and go, but one of the most surprising was a young man who stayed with her for just a short while.
"He came into the kitchen with a picture of himself in military regalia," she said.
"It turned out he had been bodyguard to the president of Iraq. So I felt pretty safe with him in the house!"
Sally is no longer fit enough to host, but keeps in touch with many of her guests and their families, including Ngqabutho, 26, from Zimbabwe whose mother was one of Sally's previous guests.
Another guest is Kzak, 54, originally from Somalia, who Sally says is now like "a grand-daughter to her."
Kzak witnessed her entire family massacred by rebels.
"When I first came to Sally's house it was very hard," said Kzak. "I would still cry."
"She would weep and weep," continued Sally. "But I taught her English and also how to tell the time, which I remember her finding quite funny.
"So eventually, we began to smile together, and then, one day, to laugh."
---
Find out more about Positive Action in Housing and Room For Refugees at  www.paih.org
---
Film and footage by Megan McEachern.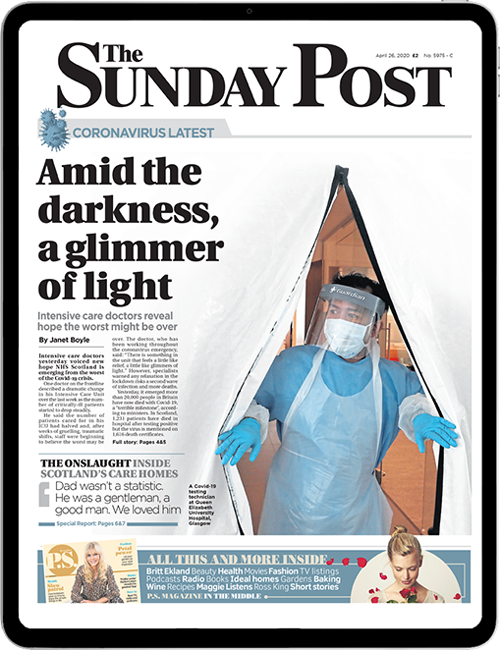 Enjoy the convenience of having The Sunday Post delivered as a digital ePaper straight to your smartphone, tablet or computer.
Subscribe for only £5.49 a month and enjoy all the benefits of the printed paper as a digital replica.
Subscribe