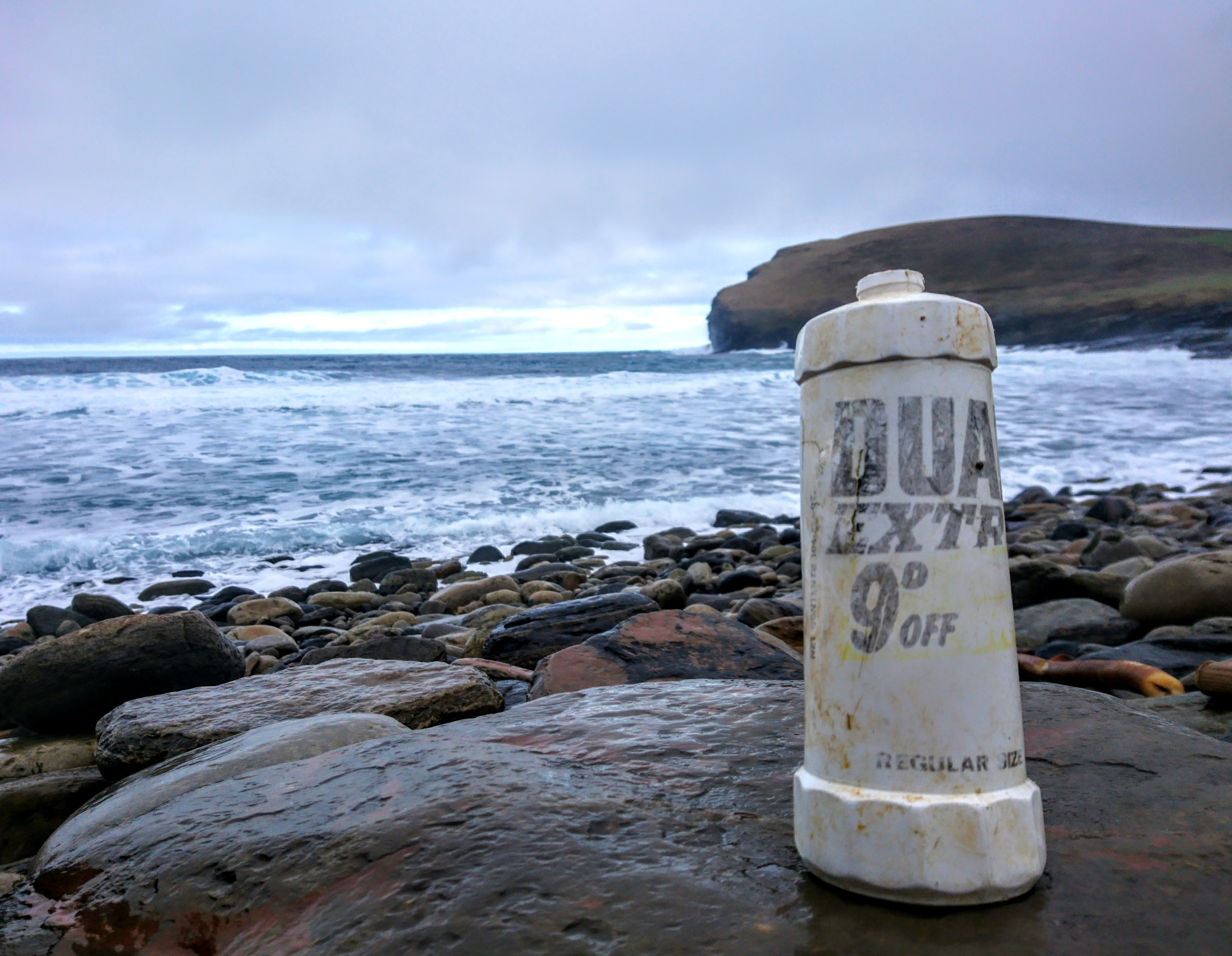 RUBBISH dumped in coastal landfill sites decades ago is washing up on Scotland's beaches, campaigners have warned.
A 50-year-old plastic bottle, which once contained floor cleaner, was discovered on a beach in Orkney last week.
The bottle, bearing an offer giving 9d off the usual price, was found on Orkney by Martin Gray, 53, a naturalist guide and conservationist, who said stains on it show it has been buried in landfill.
He said: "It's clearly from before decimalisation in 1971, it could be from the 1960s.
"It's still in reasonable condition, legible and with some original colour.
"There is no marine growth but importantly it's a bit rust stained. This is a sign of having been buried in proximity to ferrous metals, and stained by them."
Martin said that being buried can keep some plastics in "stasis".
He said: "It doesn't get brittle. The plastic does not decay, it's just preserved.
"Through forces of nature, such as rising sea levels, landfills or things that were dumped in a spot that was far from the sea are not anymore, and this old reservoir of plastics is being released."
---
Have you found rubbish from years gone by washed up on the shore? Get in touch at news@sundaypost.com
---
Experts fear thousands of landfill sites around the UK risk being compromised by flooding and coastal erosion, leaving their toxic contents free to enter rivers.
Other decades-old rubbish found include a washing-up liquid bottle sold before decimalisation, a 25-year-old crisp packet, fishing gear from the '80s and 40-year-old Smarties sweet lids.
But the vast majority of plastic going into the sea remains undetected as it degrades so much it can never be identified.
It will never break down completely and instead becomes microscopic pieces which are ingested by marine animals.
Campaigners sound alarm after hundreds of plastic ties traced to Irish fish plant wash up on Scottish west coast
A 2016 study by Queen Mary University of London found 1,000 landfill sites on the coast of England and Wales are at increasing risk of being breached by erosion.
Campaigners say the same problem exists here.
The Scottish Environmental Protection Agency (SEPA) says it monitors 255 closed landfill sites, but has no data on sites closed before 1996, which are the responsibility of local councils.
Official figures show Scotland now has 304 closed landfill sites, some dating from the '70s and '80s, many in coastal areas.
Friends Of The Earth (FOE) Scotland say consequences range from the immediate, such as rubbish on our beaches, to far-reaching and less understood long-term impacts on habitats, food chains and human health.
Dr Richard Dixon, director of FOE Scotland, said: "Discarded materials can be an immediate danger to marine wildlife or it can break down into tiny microplastics that are eaten by animals.
"Many pieces of plastic might be labelled as 'single-use' but when they remain in our environment for decades, this seems like a cruel joke," added Dr Dixon.
The Sunday Post contacted campaigners and beachcombers from across Scotland, who reported several recent finds of decades-old rubbish.
Beachcomber Lorna McShane said a '70s landfill site at Kelburn Park, Port Glasgow, which has since been turned into a park, is suffering from erosion and its contents are washing into the Clyde.
She said: "I come across all kinds of plastic. It's such a shame as this park was only opened in the '80s, not to mention the impact of landfill washing into the river."
Michael Philp, from Musselburgh, found a plastic car badge from a 1979 Datsun 100A at his local harbour.
An empty bottle of one of the UK's first brands of washing-up liquid was also found on a beach in Angus last year.
The Sqezy bottle was marked "6d off" and promised a price reduction of "a tanner" (sixpence) in Britain's pre-decimal currency.
And Smartie lids from the '50s and '60s have been discovered on beaches in Thurso, Culzean and Port Glasgow.
Duncan Cameron regularly finds crisp packets that are more than 10 years old as he collects discarded plastic.
Oxford University academic Dr George McGavin, whose investigation into historic landfill sites was shown on BBC4 last year, said: "You can't produce indestructible materials and expect them to be hidden forever. Every toothbrush that's ever been made is still out there somewhere waiting to be found.
"I was horrified when I made my film on landfills. To take out clothes from the '80s that could be washed and worn again was shocking," he added.
"It's appalling. I'm glad we are aware of this but it still goes on."
A survey by the Marine Conservation Society in September found plastic accounted for 67% of the litter collected on Scotland's beaches.
In just three days, volunteers collected an astonishing 2,503kg of rubbish from Scottish beaches.
The amount was 14% higher than found during the same survey in 2017.
SEPA says that anyone aware of waste which they believe is from a landfill site should call its 24-hour hotline on 0800 80 70 60.
We must begin to clean up this mess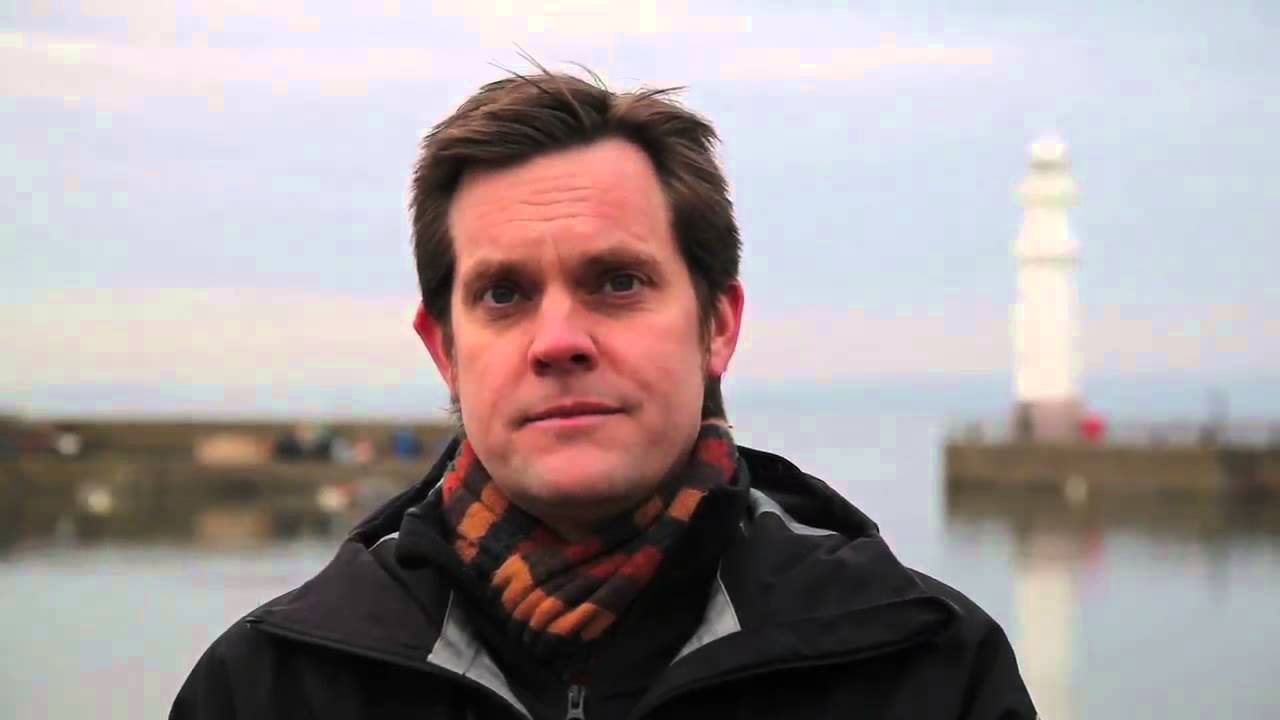 By Calum Duncan, Head of Conservation Scotland at the Marine Conservation Society
Many might walk along a beach and think it's clean, but a closer look at the tideline often reveals plastic mixed up with the seaweed, driftwood and shells.
This plastic tide can include food wrappers, drinks containers, cotton buds, wet wipes and bulkier items like discarded or lost fishing gear.
Plastic has been recorded from the Arctic and Antarctic to the deepest parts of the ocean and everywhere in-between, creating a planetary crisis because these items don't biodegrade – they just break into smaller and smaller pieces.
During Beachwatch surveys, our volunteers have collected crisp packets with branding that shows they have been swilling around for decades largely still intact.
Once fragmented, the tiniest pieces of plastic remain round our shores, in the water column, on the seabed and in amongst the grains of sand and mud.
Scotland has laudable ambition when it comes to environmental levies, commitment to introduce a deposit return system for drinks containers, reuse and recycling but we need to go further and faster.
There are certain materials, such as black plastics, polystyrene and non-recyclable single-use films and wraps, that should be banned altogether.
We need to stop adding to this plastic tide whilst cleaning up the filthy legacy that's already been left behind.
Project to cut down plastic use reaches crowdfunding target to set up Glasgow refill shop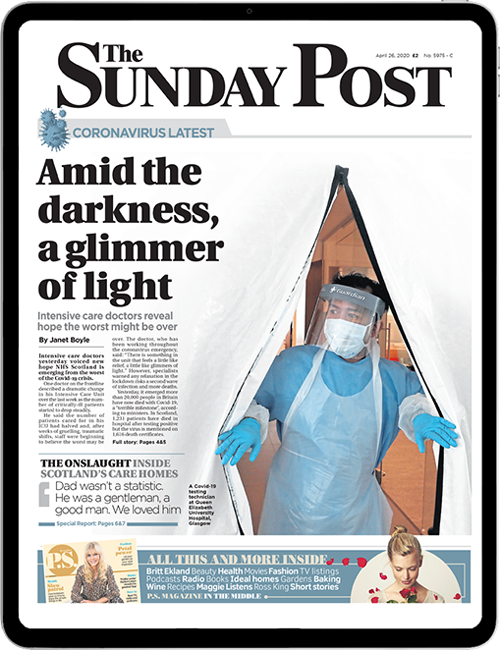 Enjoy the convenience of having The Sunday Post delivered as a digital ePaper straight to your smartphone, tablet or computer.
Subscribe for only £5.49 a month and enjoy all the benefits of the printed paper as a digital replica.
Subscribe